Any kind of kitchen renovation can cost a pretty penny, so it's important to know from the outset that you're not getting yourself into something you might regret later.
Kitchen trends for 2023 are in! So let's see how we can help you make a better design investment, something which will remain relevant even several years down the line.
Top kitchen trends in 2023
Playful pink accents
Although blues and greens have largely dominated in terms of kitchen colours, it appears that pink and yellow are making a comeback. From bluish to hot pink, designers everywhere are taking note of how pink painted kitchens are on the rise.
If you want to add a little contrast, pair hues of pale pink with darker ones like dark grey or black, as this will create a fair amount of depth. If you want to soften up your kitchen space, pink cabinetry with light grey or white as the backdrop would be perfect.
You'll also find that peach, pink, and scarlet tones are popping up everywhere, so this is one colour homeowners should pay heed to as the warm, rosy tones can easily fill any kitchen with limitless joy.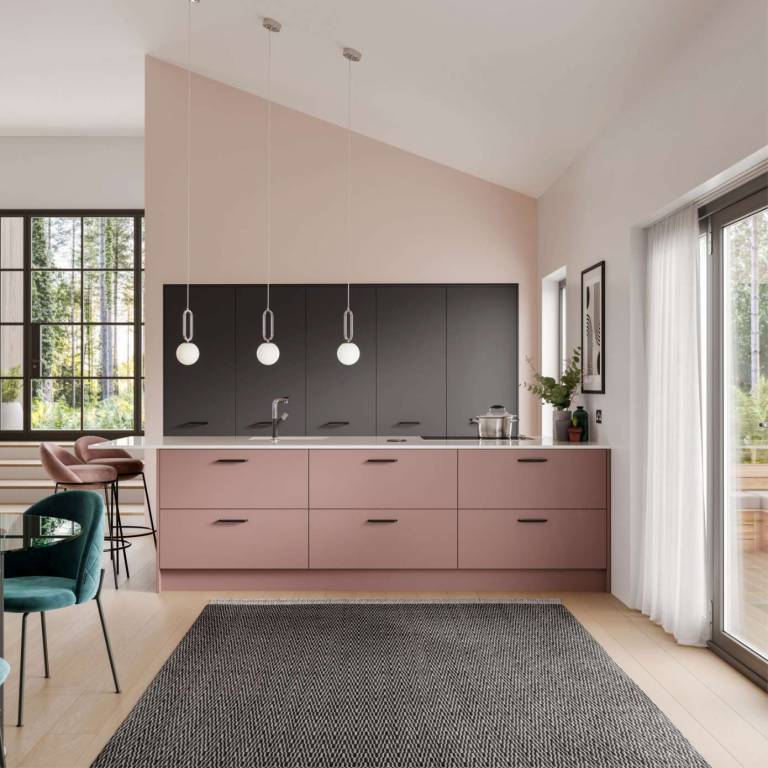 Freestanding furniture
More homeowners are now moving away from the traditional furniture style in their kitchens, so freestanding furniture will be among the kitchen trends 2023 to watch out for.
That's not to say that traditional fitted kitchens will likely ever go out of style, but freestanding pieces are now more in demand – with baker tables on legs now replacing kitchen islands, for instance.
With a freestanding piece, your island will still feel like a piece of furniture, giving you a place to sit and ample storage space.
Mixed metals
Mixed metals is another major kitchen trend in 2023, where if you choose just the right mix, you can easily create a stunning statement and focal point in your kitchen design.
This year, don't be surprised to see a generous amount of blending between different finishes – from nickel and stainless steel to brass and bronze. I'd recommend sticking with just two to three metal finishes first to keep a cohesive and consistent look. A 70/30 ratio would be ideal.
For example, go with a 70% dominant metal and coordinate that with 30% accent metals, creating a truly exciting and visually rich kitchen space.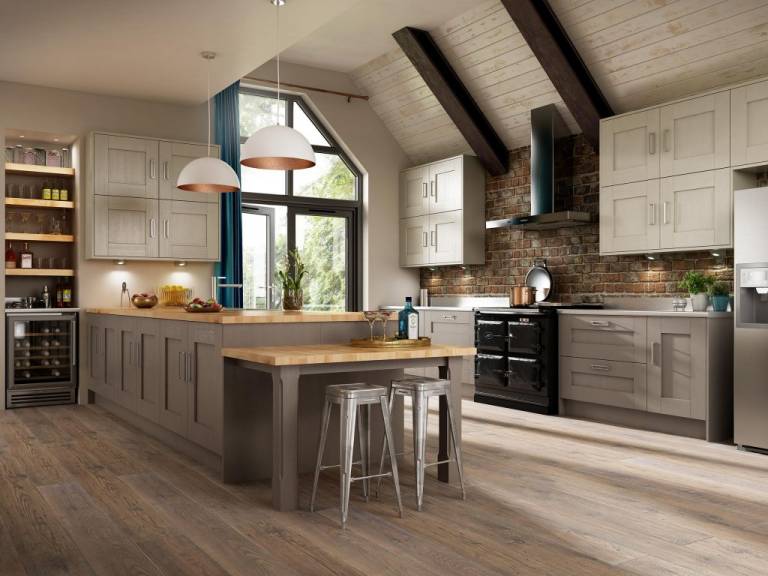 Warm colours
White will likely continue to be a common choice for kitchens this year, but you can definitely expect to see more people experimenting with colourful tones as part of kitchen trends in 2023. In fact, homeowners are now eagerly embracing bold pops of colour and warmer tones, instead of the typical white and grey farmhouse-style kitchen colours or monochromatic minimalism inspired by Scandinavian style kitchen design.
Choose a trend that will last
While some of these trends may seem unconventional, they offer a unique and exciting approach to kitchen design that can stand the test of time. Whether you're renovating your kitchen or just looking to update its look, keeping an eye on these top kitchen trends can help you make the best design investment for your home.
__________________________________________________
Need help designing your dream kitchen?
As a kitchen designer, I love creating a stunning space where life is easy and memories are made! If your kitchen needs upgrading, modernising or a complete renovation, let's have a conversation and see what you could do with your space.
A new kitchen with a specialist design is more cost-effective than you may think – just get in touch with us today for a free in-store kitchen design consultation and we'll show you how.
Emma Reed – Kitchen designer – 01792 712000
A few more from us…