We all crave a getaway every once in a while. But what if you could capture the serenity of the seaside in your own home?
Creating a coastal palette could be the secret to transforming your kitchen into a seaside oasis! Whether you prefer neutral tones or colourful hues, you can capture your favourite beachside characteristics whether you live out in the country or in the bustling city.
So, for those who are craving the calm of the coastline, here are some coastal palettes to incorporate into your kitchen:
Ocean blues
When picturing the coast, the first thing that comes to mind is the vast blue ocean. After all, nothing says 'seaside' quite like the sea. So how do you capture the serenity of the sea within your kitchen?
Well, there are several ways you can incorporate blue into your coastal palette. The first (and simplest suggestion) is to invest in new accessories. Bright white kitchens lend themselves perfectly to the nautical theme. Blue-toned crockery, cushions and custom prints all subtly suggest a seaside setting without committing to too much colour.
Alternatively, opting for navy blue cabinetry can add real depth and drama to your kitchen. Pair with a white backsplash and gold hardware to incorporate the brighter elements of your coastal palette. Then add light wood floors and furnishings to mimic driftwood or opt for deep mahogany if you want to create a more masculine feel.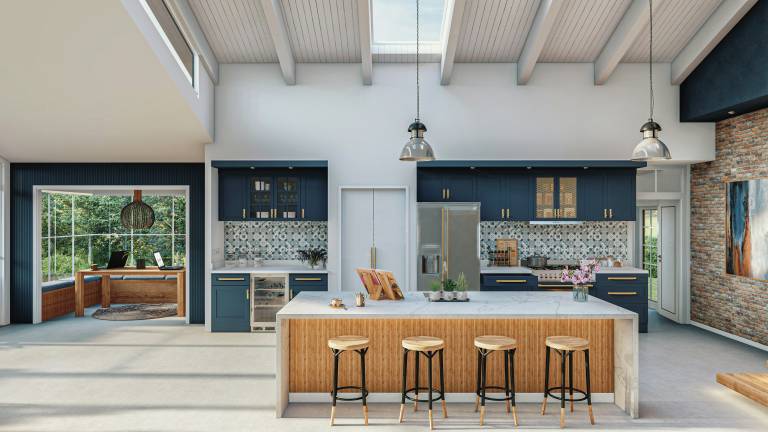 Golden sands
If you want to capture the essence of the seaside (without hitting the nautical theme right on the nose), consider opting for a gold-toned colour scheme.
Creams, whites and golds allow you to capture the warm summer sands within your kitchen without calling for too much colour. White walls and cabinetry create a light, bright backdrop for the space, whilst gold hardware adds warmth and glamour to the design. You can continue the theme by adding gold veined marble countertops - the texture of the stone beautifully emulates the movement of the waves.
However, don't forget to ground the space with some warming tones and natural textures. Pale wooden floors perfectly mimic the golden sands, whilst wooden furnishings create the illusion of a beachside bar. Finish off with plenty of soft cushions and warm lighting to perfect your calming coastal palette.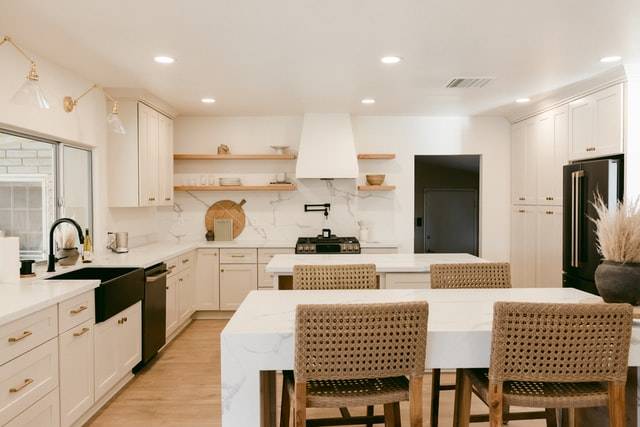 Playful pastels
If you're feeling adventurous, why not opt for a quirkier coastal palette and add some pastels into your kitchen. After all, colourful beach huts and bubble gum ice creams are essential parts of the beachside experience.
Colourful cabinetry is an exciting place to start - mint greens and pale pinks make a stunning statement against a white backdrop. Pair them with lots of beautiful houseplants and beach themed accessories, and allow yourself to be transported to the tropics.
Again, wooden elements are a must in any coastal kitchen. So, consider opting for some wicker stools, wooden shelving or even a rattan light shade. Not only will they add warmth, but they will also ensure your kitchen retains some natural coastal textures.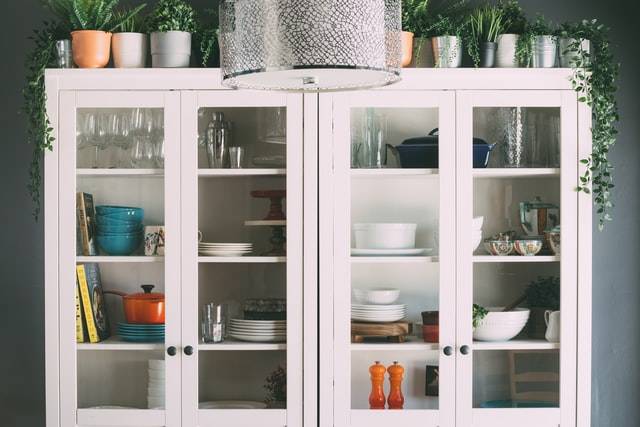 Which coastal palette will you choose?
So there we have it! Our favourite coastal palettes. Whether you're craving golden sands or the navy blue shoreline, we hope we've inspired you to recreate a serene seaside setting in the comfort of your own home.
---
Need help designing your dream kitchen?
As a kitchen designer, I love creating a stunning space where life is easy and memories are made! If your kitchen needs upgrading, modernising or a complete renovation, let's have a conversation and see what you could do with your space.
A new kitchen with a specialist design is more cost-effective than you may think – just get in touch with us today for a free in-store kitchen design consultation and we'll show you how.
Emma Reed – Kitchen designer – 01792 712000
A few more from us…