With so many decisions to be made when designing or renovating a kitchen, cabinet fronts seem to take a back seat. Maybe this is just crazy to me since I am a kitchen designer, but I think that they should be one of your biggest considerations! Think about it. Cabinets take up the majority of the wall space and most of what you see when you walk into the room. While a full-scale cabinet remodel is going to cost some pounds, replacing cabinet fronts and handles is an easy and inexpensive way to enhance your kitchen and give it a whole new look. Now are you thinking more about your cabinets?
Cabinets can seriously make or break the interior design of your kitchen so you need to decide what you want from them. Do you want them to act as a point of visual interest or to be understated to give your kitchen a sleek and effortless look? Do you want them to reflect your unique personality or to be timeless in the world of kitchen design? To help you make these decisions so that you can create the kitchen that you desire, here are the top kitchen cabinet door styles.
Popular kitchen cabinet door styles - which one is right for you?
1. Painted and matt doors
Marks, scratches, smudges and fingerprints will not be easily visible on the surface of painted and matt doors. They don't tend to chip easily either and they are easily maintained and repaired. Of the many advantages that painted doors bring, people tend to love the choice and flexibility that they provide. From an unlimited range of colours, textures, and design options, a completely bespoke kitchen can be created which has a premium look and feel.
*Painted doors come with a higher than average price tag due to the work involved in the process.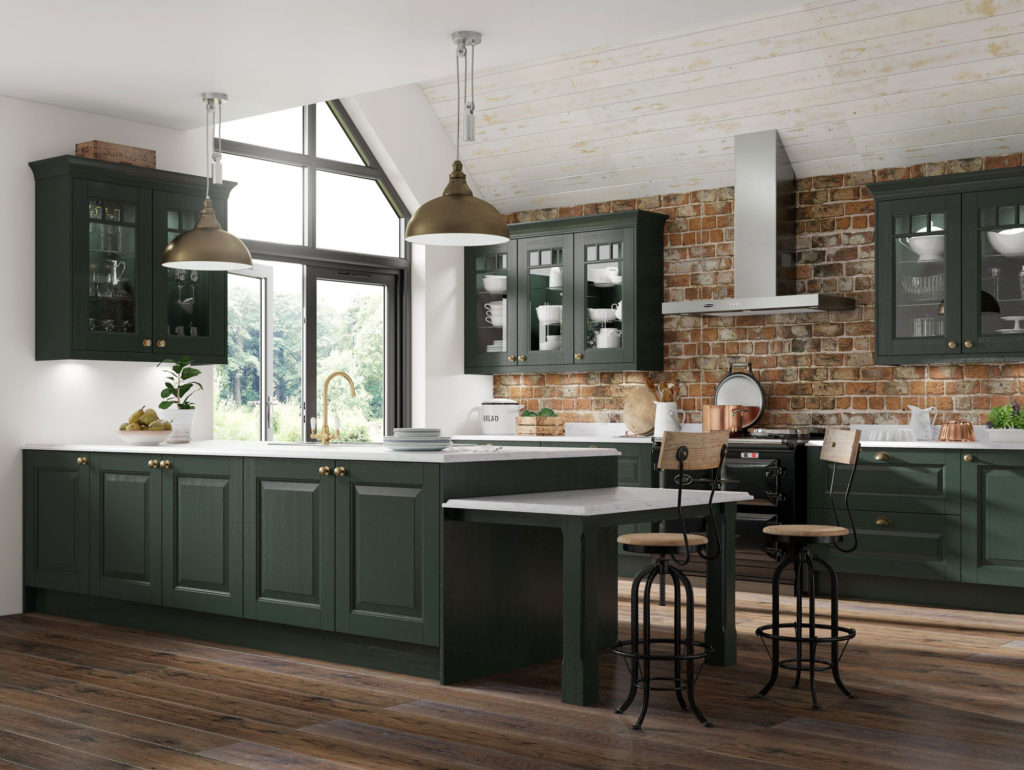 2. Painted vinyl or vinyl wrapped
Highly durable and resilient, painted vinyl or vinyl wrapped cabinet doors are a very popular and economical choice. They are also very versatile as the vinyl faced MDF panels that the high-quality paint or vinyl wrap is applied to can be designed and routed to lots of different profiles. Whether you want contemporary-look flat doors or traditional woodgrains, you can choose from a huge variety of colours and textures to make your own unique combinations. As well as being scratch and chip-resistant, vinyl is also great at keeping moisture out so it can be wiped clean and never needs repainting.
*Always buy from a manufacturer you can trust who uses high-quality products. You can tell if vinyl doors are poor quality if they have an 'orange peel' like finish. As soon as heat or moisture penetrates the vinyl seam, the vinyl will peel off!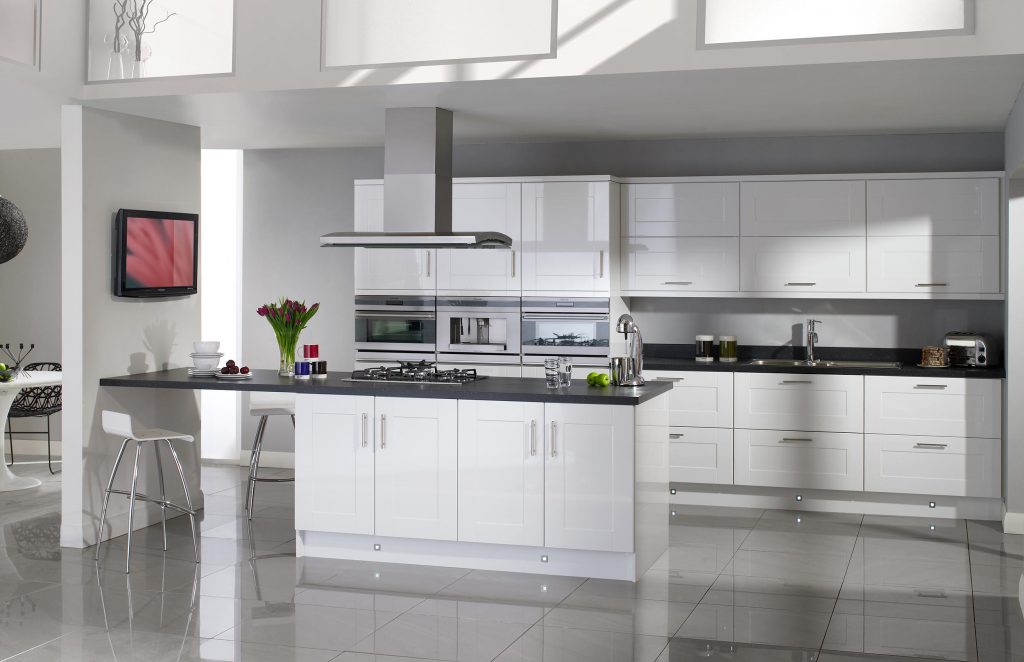 3. Natural wood veneered doors
If you love wood but can't afford it, natural wood veneered doors are a great alternative. A wood veneer is a thin layer of real wood which is treated with varnishes and stains before being glued to the MDF or plywood. When choosing a wood veneer, thickness, grain pattern, and colour should be considered. Porcelain veneers will be the most expensive, but they look more natural and will last far longer than resin veneers.
*Wood veneer can be less durable but it is less prone to warping than most other finishes. Take care and avoid scratching or gouging these cabinets. They are prone to damage and are not as easy to repair as real wood.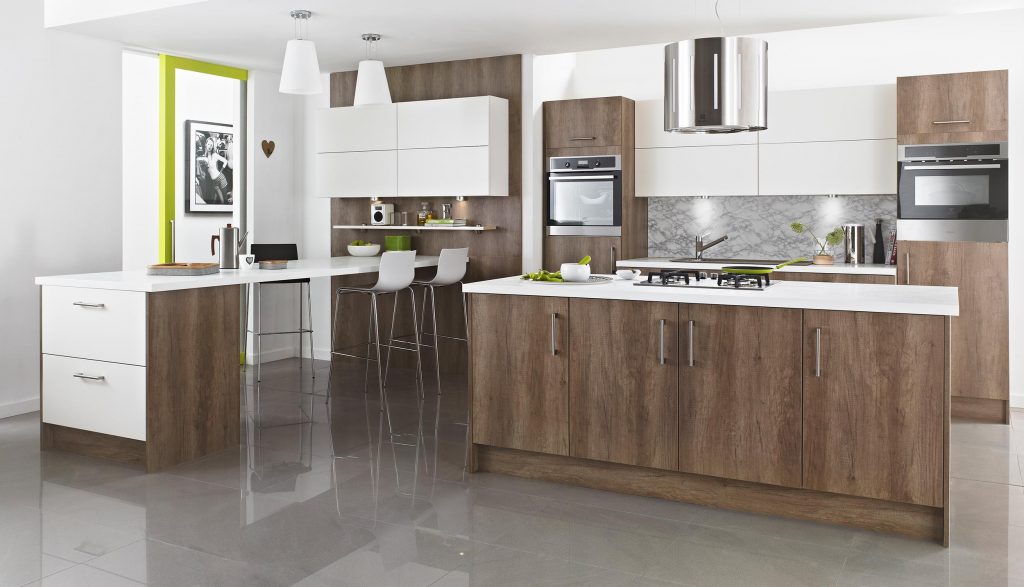 4. Solid timber doors
Out of all the kitchen cabinet door styles, solid timber doors just have to be my favourite. Simply because they are more than worth the money. If you weigh up the pros and cons of solid wood materials compared to others, they always come out on top. High-quality cabinets that are durable, strong, and can last you a lifetime. What better investment can you make than that?
As well as durability, solid timber gives you options too. They can be left untouched for a natural look, they can be painted, varnished or stained for a sleeker style, or they can be adorned with character handles and manipulated to look distressed for a more vintage feel. All timber doors can be easily touched up when required, whatever you choose. It just takes a bit of sanding.
*Cherry wood will be among the most expensive woods for cabinets, while Maple will among the most budget-friendly choices.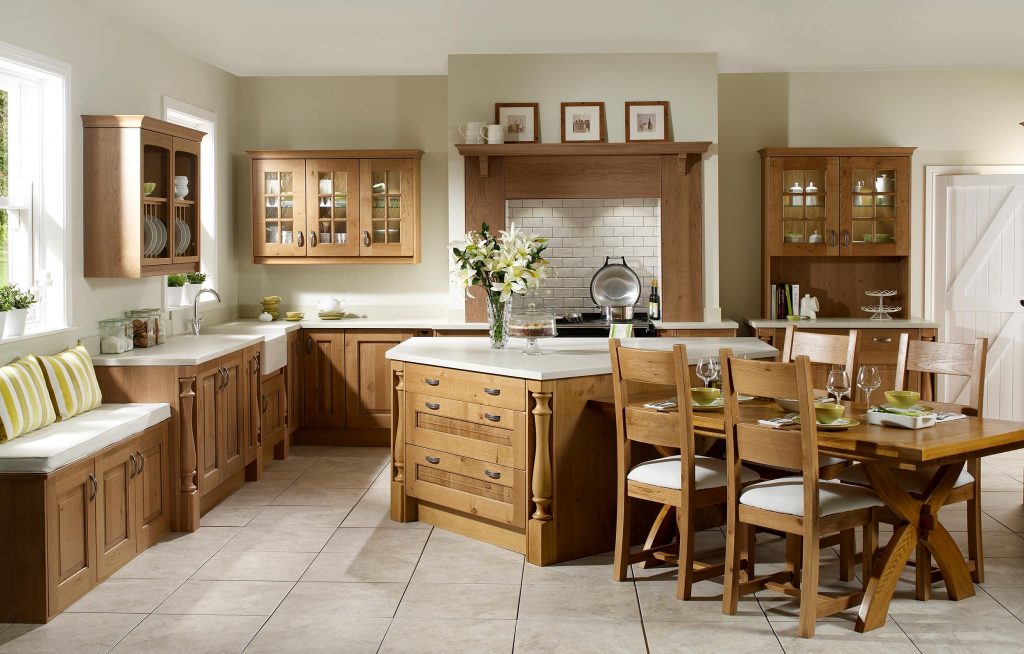 5. Laminate doors
Along with wood, laminate doors are one of the most popular choices for kitchen cabinet door styles. Why? Because they are one of the most budget-friendly, they are incredibly easy to clean and maintain, they are durable and resistant to heat and water, and they look aesthetically pleasing. Available in most patterns, colours, and textures when compared to other options, you can design any kitchen you want with laminate doors.
*Quality varies massively between manufacturers so be careful when selecting who you buy from. A good laminate will be bonded on the edges to withstand heat and prevent de-lamination.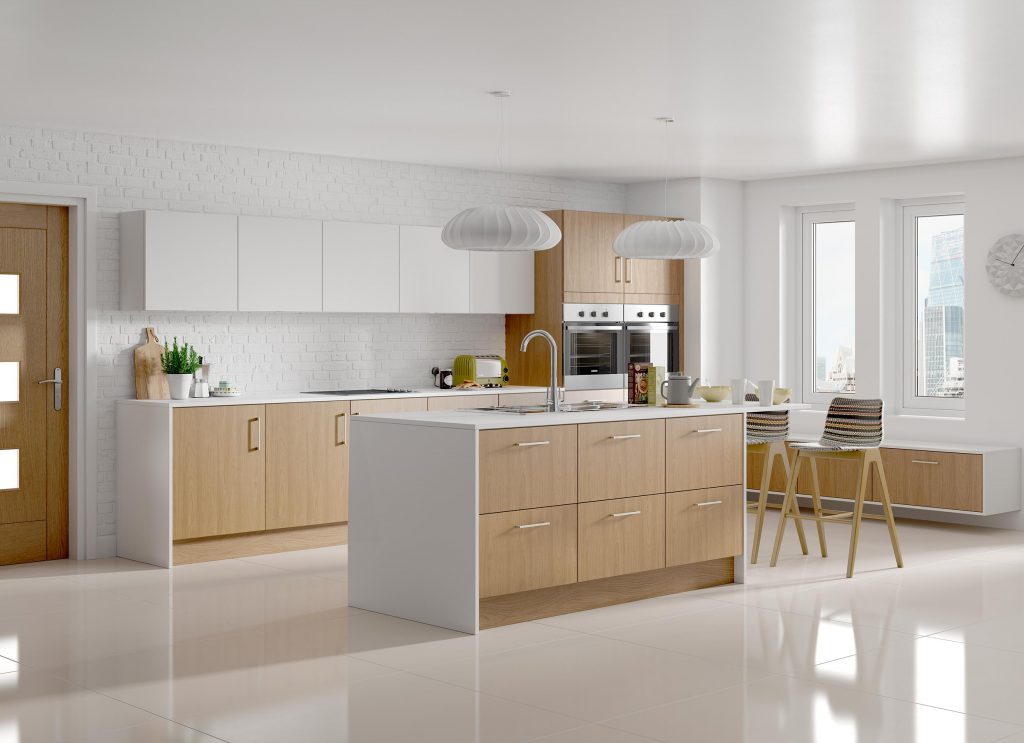 6. Foil wrapped
Much like vinyl wrapped cabinet doors, foil-wrapped doors are vinyl coverings which are shiny, sleek, and flexible. Thermos and high-gloss are examples of foils and they tend to be commonly used to provide a contemporary and modern look. Foil (which is a layer of plastic vinyl or paper mixed with resin) is bonded to an MDF substrate to create durable cabinets which are resistant to chipping and cracking. Not to mention that they are easy to clean too!
*Both vinyl and foil are among the more widely used materials in the manufacture of kitchen doors.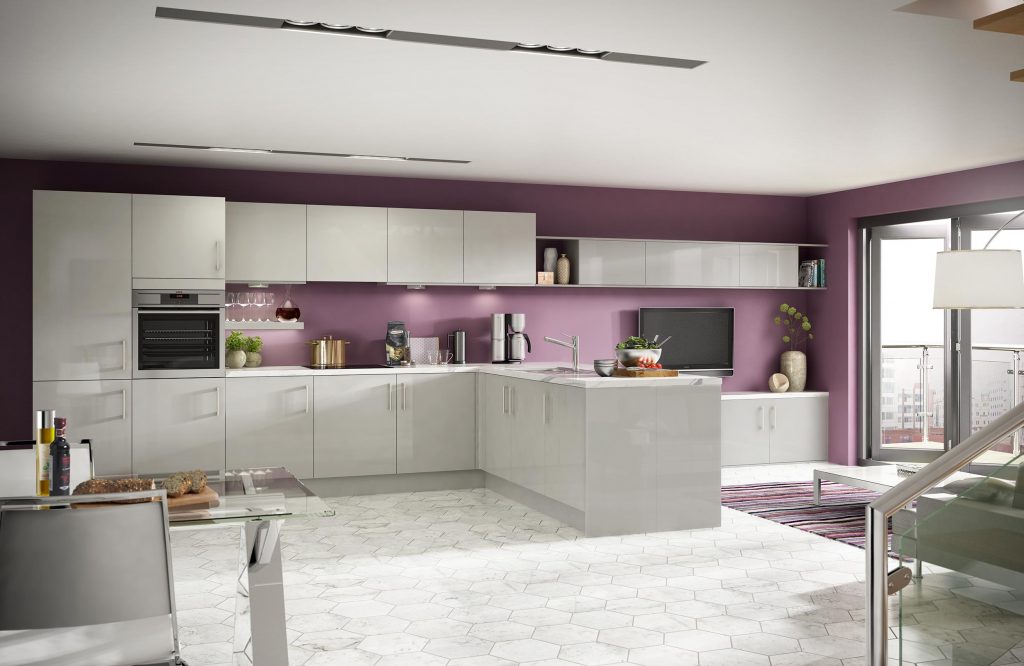 7. High-lacquered finish
Out of all of the kitchen cabinet door styles, the high-lacquered finish is traditionally one of the most popular for mid- to high-end kitchen cabinetry. Since it gives a luxurious glossy finish, it's no surprise why. Perfect for a contemporary kitchen, cabinets with a high-lacquered finish offer endless colour choices which are highly customisable. The shiny surface makes the room feel and appear larger while, surprisingly, the cabinets are quite hard and durable too.
*The lacquered finish dries incredibly quickly, so you can get your cabinets sprayed with multiple coats in just one day.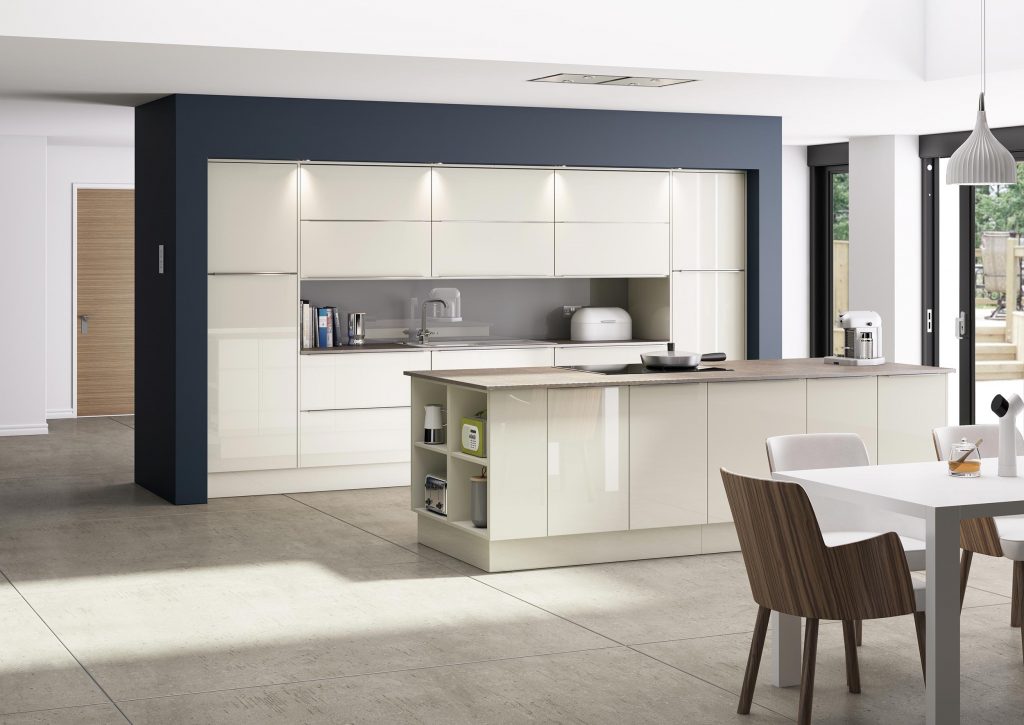 8. Painted timber doors
If you want to make a statement in the heart of your home, painted timber might just be the option for you. All you have to do is get some high-quality paint in the colour you desire, paint several coats of it over your timber cabinets (typically oak or ash work best), and voila! Once sanded, you've got yourself some highly durable, resilient, and just downright amazing cabinets.
*When choosing colours, stick to darker muted colours (such as browns and navy) or lighter muted colours (whites, creams, and beige). These won't go out of style.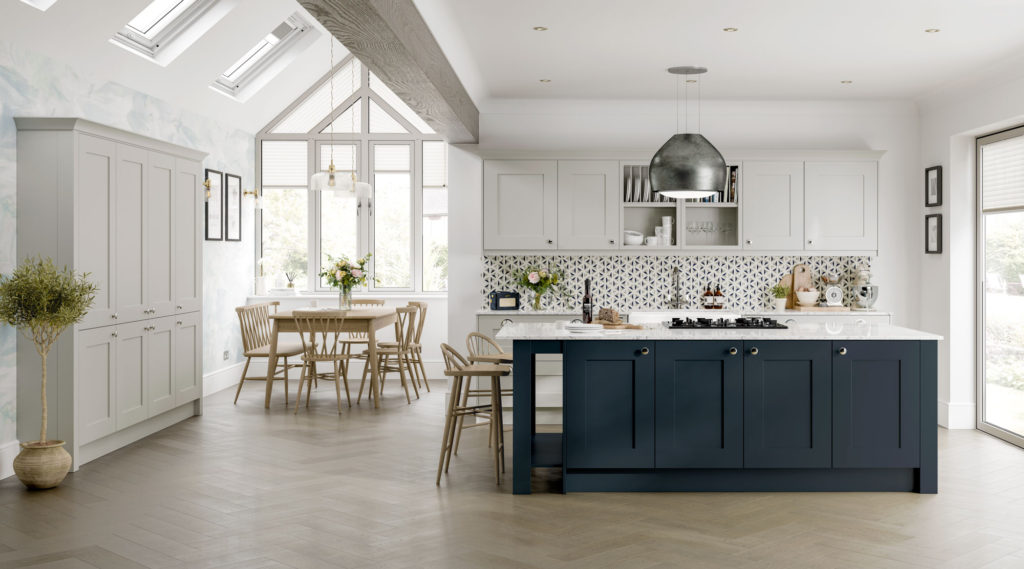 9. Acrylic-faced MDF
Acrylic finishes are among the more expensive choices when it comes to kitchen cabinet door styles, but there's a reason for it. Acrylic is a very high-quality material which can be bonded securely to cabinetry to give a mirror-like, glass finish. The result is a high-gloss appearance with a perfectly smooth texture, which is also shatter-resistant and does not chip or crack easily. When it comes to kitchen cabinets, this material is extremely durable, it won't peel, and it can be made to measure. This means, no odd-sized or shaped cabinet will be an issue.
*Solid acrylics are expensive because they are much stronger and more durable than any type of glass or plastic.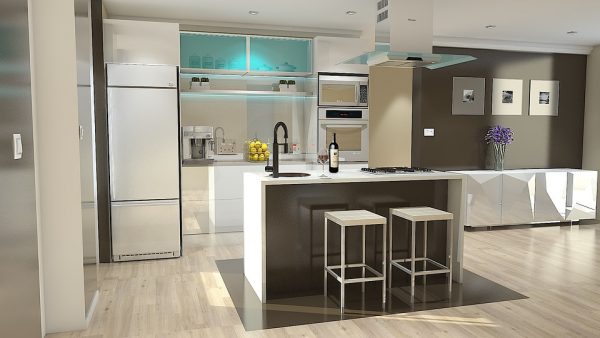 10. Melamine doors
If you have a lower budget for your cabinetry, melamine should be your number one choice. Also known as Medium Density Laminate, Melamine is a resin-coated paper which is available in a range of surface finish options like matt, texture and gloss and in an even bigger variety of colours and patterns. Although melamine is the cheapest type of door available, they are resistant to heat, moisture and stains which means they are easy to clean and are durable for normal kitchen use.
*Melamine is only available in a square-edged profile so bear this in mind when you are choosing your cabinetry and door frontals.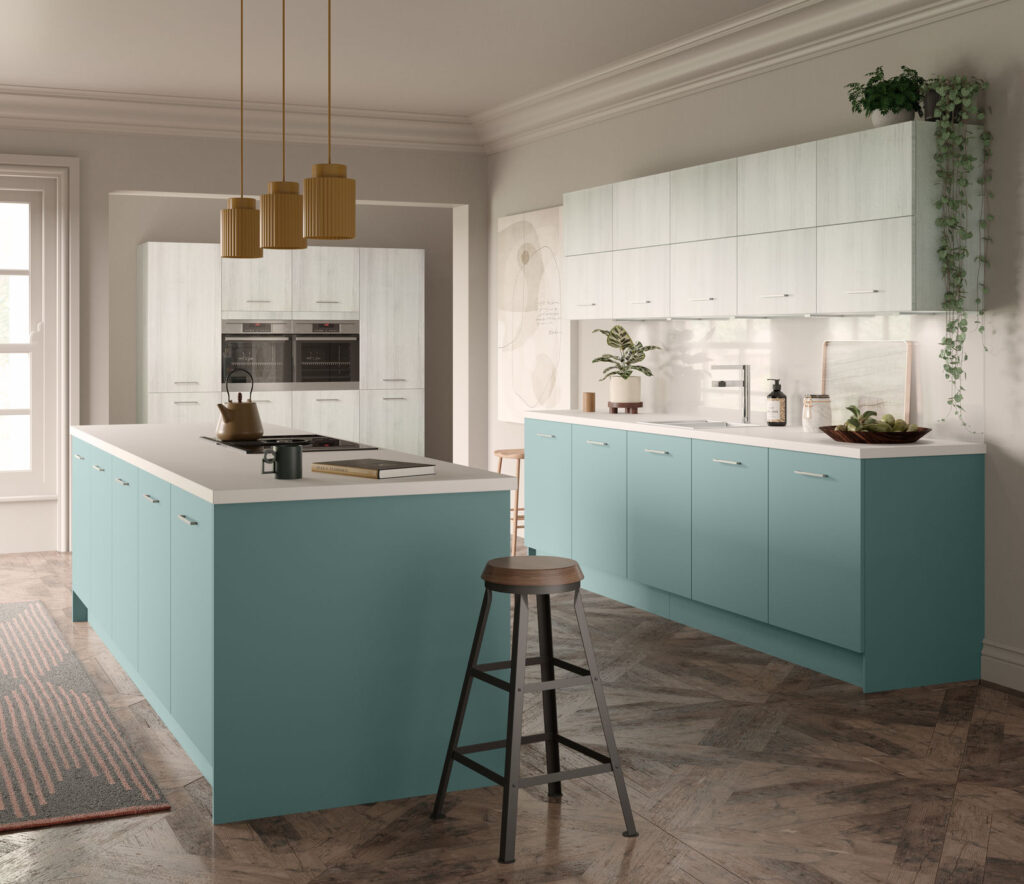 _______________________________________________
Need an expert's advice when it comes to renovating your kitchen?
As a kitchen designer, I love creating a stunning space where life is easy and memories are made! So, if your kitchen needs upgrading, modernising or a complete renovation, let's have a conversation and see what you could do with your space.
A new kitchen with a specialist design is more cost-effective than you may think – just get in touch with us today for a free in-store kitchen design consultation and we'll show you how.
Emma Reed – Kitchen designer – 01792 712000
A few more from us…