Kitchen renovations are an exciting moment in anyone´s life, especially if you´ve just moved into a new home or are fed up with the one you've had for decades. With that being said, however, knowing where to start can sometimes be confusing.
Want to know how to create your own Parisian kitchen? We have several ideas up our cooking sleeve that we'd love to share.
What is a Parisian kitchen, anyway?
A kitchen with a Parisian theme or simply 'Parisian kitchen' is one which has hints of classic design touches everywhere but with a modern touch. A typical example of this is a vintage kitchen faucet sitting against an elegant white marble kitchen island, so it's a mix of 'old school' kitchen style, so to speak, with modern touches running across different parts of the kitchen.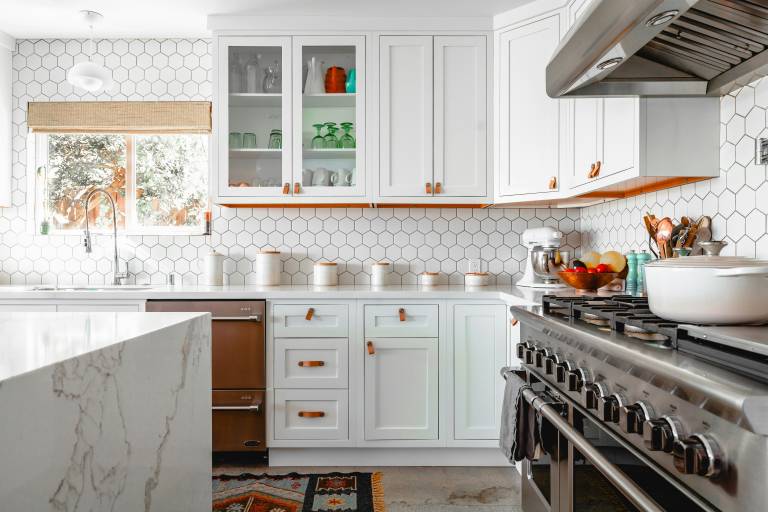 Right, then – on to the serious stuff.
You can transform your current kitchen space into a Parisian kitchen in many ways.
Fresh flowers
Nothing quite says "Parisian" like freshly cut flowers, does it?
Pay your local florist a visit and handpick a full bouquet of your favourite flowers. This is a great way to add that Parisian touch as it will liven and freshen up your kitchen and evoke that signature Paris smell.
Gold accents
If you want to transport your kitchen right into the heart of Paris, then you must accent it with gold. This is a very effective method for bringing your kitchen up to Parisian standards, so think about the sinks, taps, handles and other parts which can be gold-coated and polished to spark a sense of refined luxury in your kitchen space.
Decorative artwork
Let's go ahead and bring some of that famous Paris art scene to our kitchen to liven up the walls, shall we?
From images of stunning architecture to those of natural beauty, French art can accentuate your kitchen in lovely ways, helping you daydream about the streets of Paris every time you set foot inside your favourite daydream space.
Neutral appliances
Want to stay in tune with the Parisian kitchen aesthetic fully? Stylish appliances are great, but you need to keep them neutral. So, this means opting for neutral pans, toasters and kettles so you can switch up your accessories when you need to and not the appliances.
Chic accessories
Brass, antique gold, or nickel accessories like splashbacks, handles and chandeliers will give your kitchen a metallic touch in a very, very understated way, which is exactly what we want!
Bistro chairs
A must! Bistro-style chairs pay homage to the pretty cafes in Paris, and this should round off your Parisian kitchen quite nicely.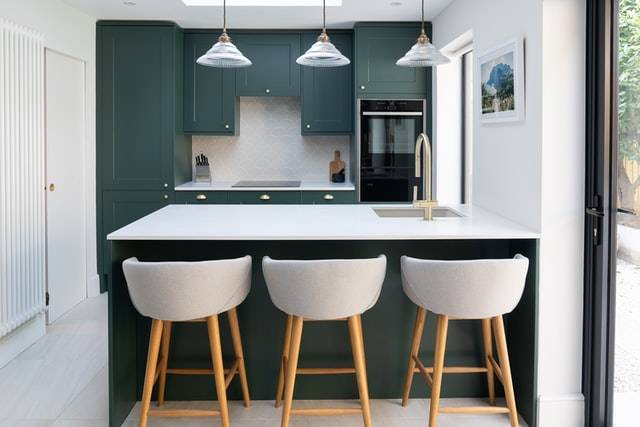 The above suggestions are merely for inspiration, as there is a lot that goes into the design and aesthetic of a true Parisian kitchen.
As a kitchen designer, this is one of the things I do best: helping people transform their cooking spaces into true Parisian kitchens. If that sounds like a dream come true, reach out, and I can show you how to transform your kitchens into something straight out of a romantic French movie.
__________________________________________________
Need help designing your dream kitchen?
As a kitchen designer, I love creating a stunning space where life is easy and memories are made! If your kitchen needs upgrading, modernising or a complete renovation, let's have a conversation and see what you could do with your space.
A new kitchen with a specialist design is more cost-effective than you may think – just get in touch with us today for a free in-store kitchen design consultation and we'll show you how.
Emma Reed – Kitchen designer – 01792 712000
A few more from us…