We would all love a lavish kitchen. But many people believe they can't afford such a luxury. But that simply isn't true! So we're going to debunk this misconception once and for all. Throughout this article, we will teach you how to get a luxury kitchen without the ginormous price tag:
Mesmerising metallics
Want to get a luxury kitchen? Then it's time to spruce up your hardware! We're talking handles, taps, light fixtures - the whole nine yards.
For a luxurious finish, we would recommend rich gold and brass tones. Why? Because they look elegant against any backdrop (white, emerald and navy all look equally stunning).
But don't worry if there isn't room in your budget for a shiny new chandelier! You can spray paint any of your hardware (for next to no cost) to give your kitchen a new lease of life!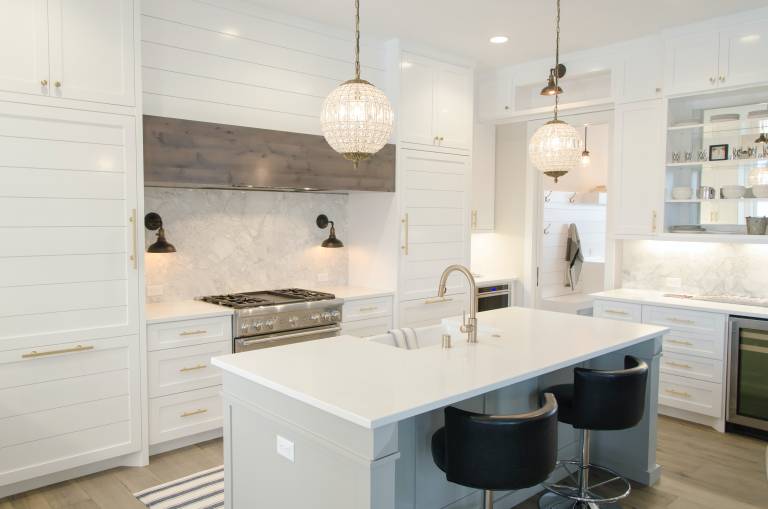 Secret storage
Your kitchen should be as luxurious to use as it is to look at, so chaotic cupboards and countertops are out of the question.
Begin by clearing out any unnecessary clutter (including your old, worn utensils) before installing storage solutions into your pre-existing drawers and cupboards. These storage solutions will ensure your countertops remain clear and that the contents of your cabinets are neatly organised and easily accessible.
You can also purchase soft close hinges to install in your original drawers and cabinets to create an effortless feel throughout your kitchen.
Classic countertops
Some of the most luxurious buildings in the world are made of natural stone. So it only makes sense that we feature it in this article!
Stone countertops are a stunning addition to any kitchen. Their unique veining adds colour and texture to otherwise ordinary worktops, whilst their glossy finish beautifully reflects light.
However, natural stone doesn't come cheap. So make sure to shop around for some more affordable options! (Quartz and granite are always solid suggestions.)
Indulgent appliances
If you want to get a luxury kitchen, you need to allow yourself to splurge a little. Now, that doesn't mean spending a fortune on artwork or antique tableware but rather investing in appliances that make each day a little more luxurious. For example, if you can't do without your morning coffee - why not treat yourself to a coffee machine? Or, if hosting is your hobby, consider installing a wine cooler!
The idea is to incorporate self-indulgence into your daily routine (whilst still investing your money wisely). And remember, you can always cut costs by purchasing pre-loved appliances!
Elegant accessories
Every luxury kitchen needs accessories. But the trick is finding the balance between adding interest and creating clutter. So how do you incorporate accessories without overcrowding a room?
The secret is to keep it minimal. So focus on purchasing simple (affordable) but expensive-looking accessories.
For example, you could display your glass and tableware along open shelves or install a wine glass rack underneath your upper cabinets. Plants also make a simple but striking statement. If you love cooking, consider purchasing herbs like basil or chives. Alternatively, fresh flowers are a welcome addition to any interior.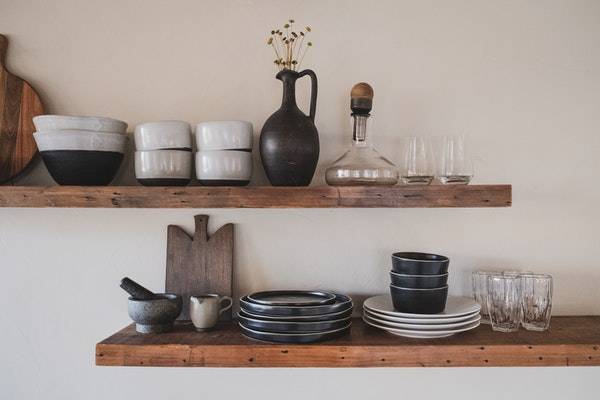 Get a luxury kitchen without blowing your budget!
A kitchen isn't luxurious because of its astronomical price tag. It's luxurious because of how it looks and makes you feel. So don't be disillusioned! You don't have to fork out a fortune to get a luxury kitchen. You can up-cycle your current kitchen, invest in some new appliances or add some expensive-looking accessories to achieve the same effect.
So remember, no matter your budget, you can afford a luxury kitchen! You just need to be a bit more creative with your cash. But then again, what could be more luxurious than a lavish kitchen that costs so little?
---
Need help designing your dream kitchen?
As a kitchen designer, I love creating a stunning space where life is easy and memories are made! If your kitchen needs upgrading, modernising or a complete renovation, let's have a conversation and see what you could do with your space.
A new kitchen with a specialist design is more cost-effective than you may think – just get in touch with us today for a free in-store kitchen design consultation and we'll show you how.
Emma Reed – Kitchen designer – 01792 712000
A few more from us…