The kitchen is one of the most used rooms of the house, yet we put up with any quirks or niggles or inconveniences that it has that we may not like on a daily basis. Why is that?
As humans, we tend to try and put off the inevitable until it's absolutely necessary to fix it, especially if it costs us in both money and effort, and this is true even more so when it comes to the kitchen; upgrading a kitchen can be expensive.
Whether you're putting off upgrades for time or money reasons or because you rent your house or apartment and you're limited by your lease, there are a few easy and cost-effective changes that you can make to your kitchen and in no time at all. Here are 8 easy upgrades which you can make (all of which are reversible too!).
Upgrade your kitchen!
1. Add or change the lighting
Lighting can make or break a kitchen, so if yours isn't blessed with natural light that brings out the best in the room, you should get creative with creating the look that you want. Something as simple as changing the bulb to one with less fluorescence or changing the light fixture to make it a feature can really transform a room. It's effortless too.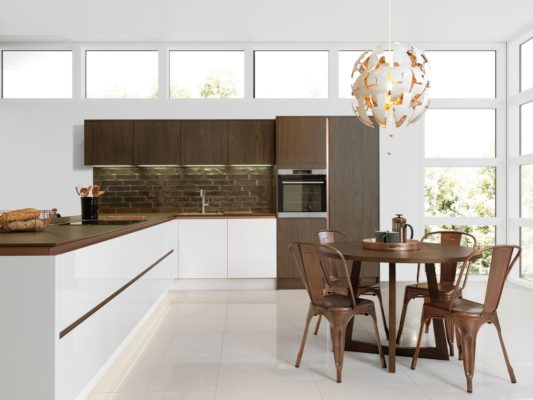 If you want to get a bit more adventurous with lighting, under-cabinet lighting can really add an element of warmth and mood to the kitchen. Consider installing LED spotlights or you can affix a strip of stick-on LED lights underneath the cabinets if you are renting. Do this and you'll see that lighting changes everything.
2. Install new cabinet handles
Many people don't like their kitchen cabinets, especially if they are outdated or the wear and tear is painfully visible, but alas, changing cabinets is not easy and it will cause some damage in the wallet department. Instead of looking wistfully at your cabinets every day wishing for change, there is something that you can do to give them a slight makeover and that is to replace the cabinet handles.
Such a small change can really transform the look of your cabinets, especially if you opt for modern or unique fixtures that stand out. The best thing about this change though, is that it takes about 30 minutes of your time, it costs hardly anything, and it is completely reversible when you move out.
3. Cover your worktops
Worktops contribute greatly to the overall look and feel of the kitchen but they are an expensive change to make if you're unhappy with the way that they look, so what to do? You can replace them with durable and simply stunning quartz worktops that will last many years…if you have the money. If you don't (or you rent), your options are two-fold.
Depending on the kitchen space that you have and the size and shape of your counters, a simple chopping board with a unique design can make your worktops more easy on the eye. Alternatively, especially if you have a lot of worktops, you can consider covering them with marble contact paper; a quick fix yet a massive transformation.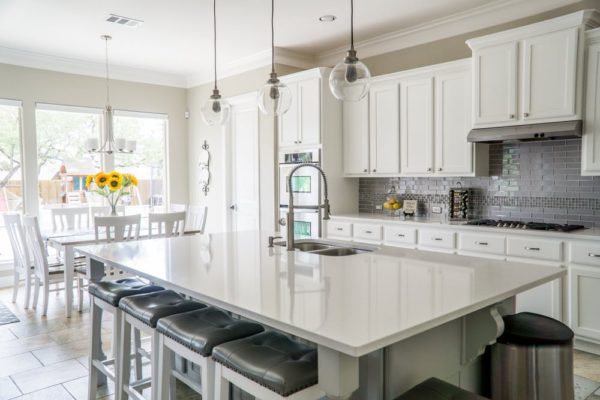 4. Swap out the faucet
Many people don't think about the sink when they are unhappy with their kitchen, but if it looks outdated or worn, it's going to affect the overall look and feel of your space. Regardless of whether it's your kitchen or a rental, replacing the faucet for a fancier model is simple and it can make a big difference.
5. Invest in a feature backsplash
In most rentals, the wall itself acts as your backsplash while you cook which, if the wall is white, can lead to a drab look over time. Consider sticking on tile decals or installing a quality backsplash in its place instead.
Decals are a quick and reversible fix but a backsplash can really add to the kitchen, especially if it has a stylish design that immediately catches your attention. Just make sure to check with your landlord before installing a backsplash or request that they do it for you. Chances are, they'll be happy to have you upgrade their kitchen rental.
6. Give the walls a fresh lick of paint
Painting the walls or even just the ceiling can make an incredible difference to your kitchen, so consider giving it a fresh breath of life before you make any other changes. You could even use a different colour on one wall to make it a feature in the room, just pick which one you would like to draw the eye to upon entering.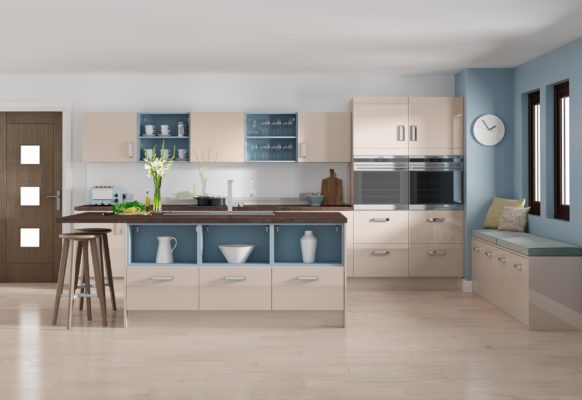 While this upgrade is easy enough if you own your home, this may not be possible in a rental. Always check with your landlord before you paint anything, your tenancy agreement maybe flexible when it comes to decorating or they may be willing to do it for you.
7. Cover bad flooring with vinyl stickers
Yes, you heard us: no more drab floors! You wouldn't believe how great stickers can look on laminate or tiled floors so you will have to try them for yourself and see it to believe it. Flooring can be another big expense and an almost impossible change to make without re-doing the whole kitchen, so invest in vinyl stickers to transform the space under your feet.
Don't believe us? Check out Brady Tolbert's rental kitchen. He spent $50 and one afternoon transforming the ugly linoleum kitchen floor to an elegant black and white masterpiece.
8. Install invisible upgrades
Yes, aesthetics are important but upgrades can be anything that improves a kitchen so that includes function too. Something as simple as drawer organisers or adding small wire shelves in your cabinets to increase your storage space can make a world of difference. Not to mention that they make using your kitchen all the more pleasant too.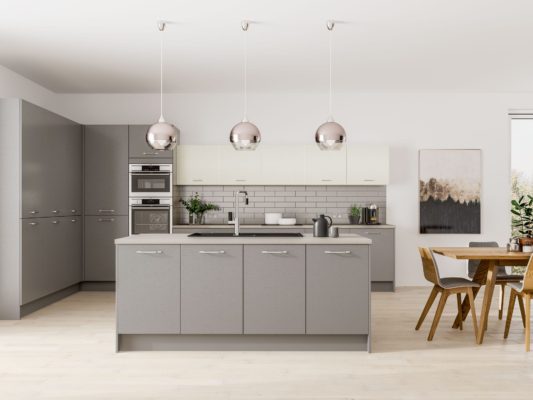 We can help you upgrade your kitchen (and at the right price!)
As a kitchen designer, I love creating a stunning space where life is easy and memories are made! So, if your kitchen needs upgrading, modernising or that much-needed breath of life, let's have a conversation and see what you could do with your space.
Emma Reed – Kitchen designer – 01792 712000
00
Looking for more inspiration to upgrade your kitchen? Check out some of our other articles!