With summer just around the corner, it's time to crack out the cocktails! And what better way to enjoy your favourite summer beverage than searching through our blend of cocktail-inspired kitchens?
Whether your drink of choice is fruity and flamboyant or dark and aromatic, we have a kitchen design to match your favourite tipple. So let's see which one quenches your thirst:
Espresso Martini
If you like your cocktails with a shot of caffeine, why not create an espresso martini inspired kitchen?
Pair coffee coloured cabinets with wooden features and furnishing to create a warm, welcoming space. However, don't forget to incorporate different tones and textures into your design. Otherwise, your cocktail-inspired kitchen could look dull and two dimensional. Instead, consider installing glossy countertops and chrome appliances to reflect any natural light and brighten up your space.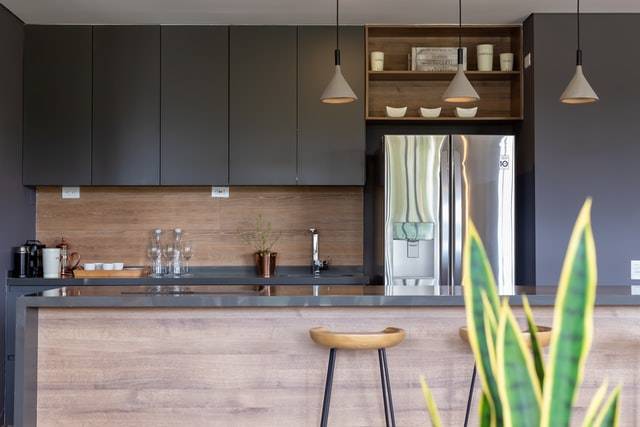 Moscow Mule
Famously served in copper mugs, Moscow Mules are the perfect drink for a cocktail-inspired kitchen. Why? Because your design can be as simple or as striking as you like!
Add some interest to an all-white kitchen by incorporating copper appliances and accessories. Pots, pans, utensils and kettles are all inexpensive additions that can totally transform your kitchen.
Alternatively, you can contrast your copper hardware with a navy blue colour scheme. Consider using blue subway tiles to create a beautiful backsplash or painting your kitchen island to make a stunning statement.
Mojito
Refresh your kitchen by creating a minty green mojito theme!
Like a mojito, mint should be the star of the show in this cocktail-inspired kitchen. So why not make a statement with some striking cabinetry? Offset the deep green shades with stunning gold hardware and white walls to create a classic cocktail-inspired colour palette.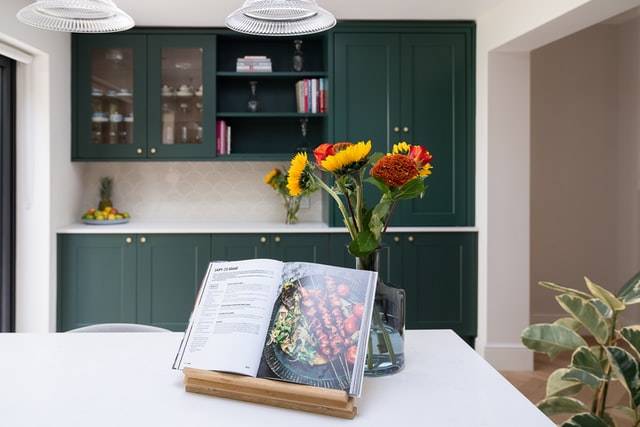 Cosmopolitan
If you like your cocktails colourful, consider creating a cosmopolitan inspired kitchen.
Although pink may not be the most conventional kitchen colour, there are a million ways you can make it work. A pink backsplash is a simple yet stunning statement. Tie it in with some blush bar stools, and you've instantly upgraded an all-white kitchen.
Alternatively, you can go all out by painting your walls or cabinets a pale pink colour. Just finish it off with copper hardware to mimic the orange garnish on your favourite cocktail.
Champagne
Champagne is the base of many classic cocktails - Mimosas, Bellinis, Buck's Fizz (the list goes on). So we thought we'd give it the credit it deserves by creating a champagne inspired kitchen.
Champagnes and creams are the perfect colour palette for a calming kitchen environment. Gold veined granite adds texture and a touch of luxury to your countertops, whilst pendant lights add some drama to an otherwise classic kitchen.
Like champagne, this colour palette is never going out of style. But if you ever want to switch it up, just add some bright accessories to transform your champagne kitchen into a beautiful bellini.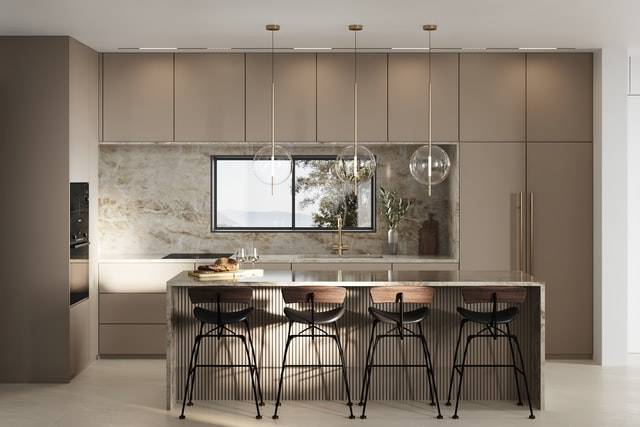 Cheers to colourful kitchens!
So there you have it - our favourite cocktail-inspired kitchens!
If your kitchen is in need of a spritz this summer, try adding a splash of colour. It's the perfect way to brighten up your home and pay a subtle homage to your favourite classic cocktail!
---
Need help designing your dream kitchen?
As a kitchen designer, I love creating a stunning space where life is easy and memories are made! If your kitchen needs upgrading, modernising or a complete renovation, let's have a conversation and see what you could do with your space.
A new kitchen with a specialist design is more cost-effective than you may think – just get in touch with us today for a free in-store kitchen design consultation and we'll show you how.
Emma Reed – Kitchen designer – 01792 712000
A few more from us…