Kitchen island trends are taking centre stage in home design, offering homeowners the opportunity to showcase their personal style and preferences. This blog explores some of the best kitchen island trends that are making waves this year, from dynamically designed islands to rounded and curved shapes that bring a convivial feel to the kitchen.
With an emphasis on size and shape, these trends are all about creating a stunning focal point that seamlessly marries style and functionality. So, sit back and get ready to be inspired by the latest kitchen island trends for 2023.
Best Kitchen Island Trends in 2023
Dynamically designed kitchen island
This year, I'm seeing a lot of homeowners thinking outside the box to create something truly unique, getting their designers to create an absolutely stunning and never-before-seen shape.
The classic rectangular designs are still adorned by many, but if you can take your imagination beyond that, in terms of visual impact, you will enjoy the payback for many years to come.
For instance, you can have your island designed to look like an elegant piece of furniture – the shape of an arrowhead, perhaps, which will help to set the tone for the rest of the space, and also pay homage to your rather adventurous personality!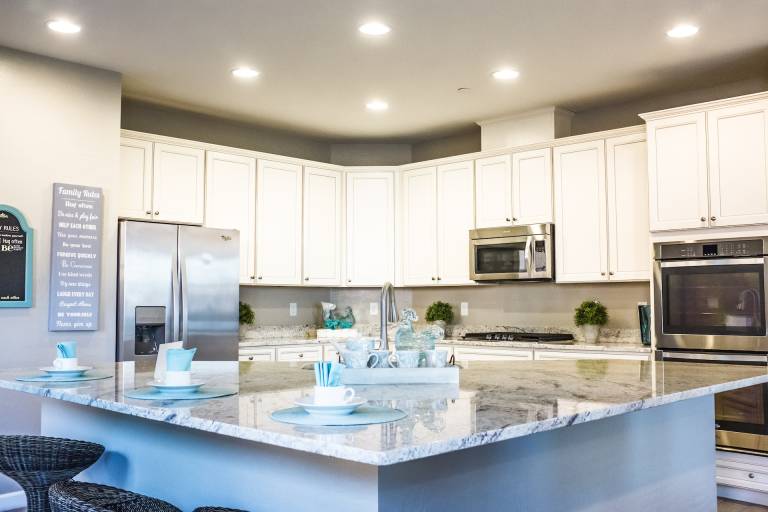 Statement island with 'edges'
With the right colour and materials, you can add a lovely 'waterfall edge' to your kitchen countertop, starting horizontally and then continuing vertically, all the way down to the floor, provided the slab is large enough.
Size matters more this year, apparently
With larger kitchens, you have a generous amount of space to play with, so why not include the features that truly speak to your lifestyle and personality? In fact, if you have a luxurious amount of space available, one of the best ways to fill that space is with a large, glamorous island – strategically positioned right in the middle of the room so that its beautiful accents and outlines can be enjoyed from every angle the moment you enter your kitchen.
Generously-sized kitchen spaces always demand an island with voluminous proportions to ensure that it doesn't sit awkwardly with the rest of the surroundings. I've observed how generously chunky worktops and larger-than-normal handles can round off this type of island rather nicely. This level of worktop thickness is typically achieved by mitring deep strips around the borders; the result is impactful depth without giving the sense of extra weight to the cabinetry below.
Rounded/curved islands are gaining steam
Among kitchen island trends for this year are rounder islands. After all, do all kitchen islands need to have sharp, pronounced corners? Of course, not!
More designers today are coming to the realisation that rounded borders are more convivial, which means more memorable gatherings and chats with everyone sitting around in a circle, making beautiful memories and enjoying some great food and drink.
We can come up with four-five curved elements, for instance, and then combine them with straight sections, allowing us to build islands featuring some very wonderful and quirky shapes. You can definitely expect to see curved kitchen island trends becoming commonplace across UK homes.
Design the perfect kitchen focal point
These trends offer an exciting way to enhance the aesthetics and functionality of your kitchen, making it a more enjoyable space for cooking, entertaining, and spending time with family and friends. So, whether you prefer a classic rectangular island or want to try something more adventurous, the possibilities are endless when it comes to creating your dream kitchen island in 2023.
__________________________________________________
Need help designing your dream kitchen?
As a kitchen designer, I love creating a stunning space where life is easy and memories are made! If your kitchen needs upgrading, modernising or a complete renovation, let's have a conversation and see what you could do with your space.
A new kitchen with a specialist design is more cost-effective than you may think – just get in touch with us today for a free in-store kitchen design consultation and we'll show you how.
Emma Reed – Kitchen designer – 01792 712000
A few more from us…