Many of us wish we had a bigger kitchen - the problem is we either lack the space, the funds or the planning permission.
But what if we told you, you could make your kitchen look bigger with some simple, inexpensive design hacks?
Here are 5 tips to help you create the illusion of a lighter, larger kitchen without breaking the bank (or hiring a bulldozer).
1. Clever cabinetry
Cabinets are a crucial component of any kitchen. They dictate your style, your colour scheme and your storage space. So how do you make your kitchen look bigger without compromising on your cabinetry?
The answer - shallow cabinets.
Instead of installing standard lower cabinets, we recommend opting for slimmer wall cabinets for your walls and floors. Why? Because these cabinets can be as little as 12 inches deep, saving you an additional 12 inches in floor space!
So whilst you may have to compromise on storage, your kitchen won't just look bigger - it will be bigger.
2. Open shelving
If you're working with a smaller space, you want to be careful about installing too many wall cabinets. Why? Because, whilst they're great for storage, they can also make a small kitchen feel cramped and overcrowded.
Instead, consider installing some open shelving. Open shelves allow you to create beautiful displays filled with cookbooks, plants and crockery whilst simultaneously making your kitchen feel brighter and more spacious.
Or, if you're on a budget, simply remove one or more of your cabinet doors. That way, you can still achieve the same effect without the cost of installing new shelves!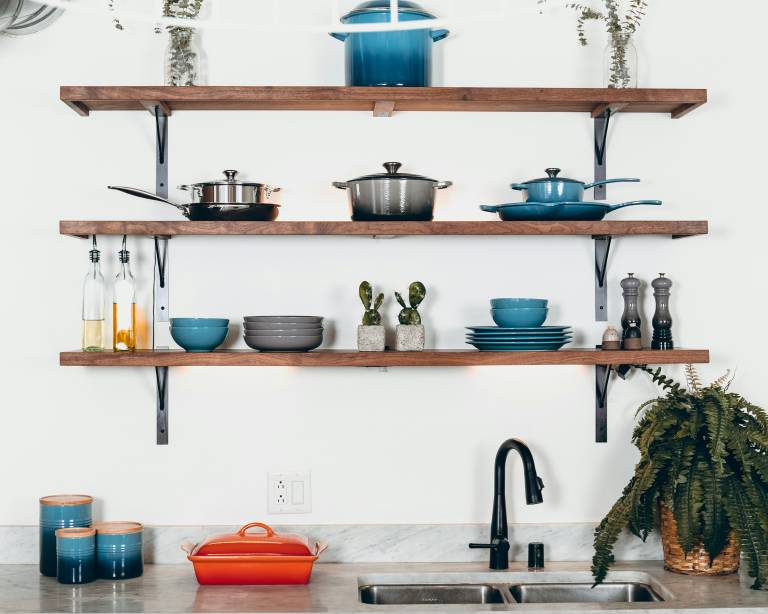 3. Clear countertops
When we think of clutter, we think of unopened letters, piles of laundry and dirty dishes. But those aren't the only things cluttering our countertops. Things like fruit bowls, tea caddies and decorative nicknacks also take up a considerable amount of space! Therefore, if you want to make your kitchen look bigger, you may want to consider clearing your countertops.
If your countertops are cluttered because you struggle with storage, consider investing in some storage solutions to optimise your cupboard space. Or save yourself the expense and have a good old clear out! Alternatively, you can opt for integrated appliances (like built-in microwaves and hot water taps) to free up additional workspace and create the illusion of a bigger kitchen.
4. Reflective surfaces
Want to make your kitchen look bigger and brighter? Opt for reflective surfaces! Why? Because shiny surfaces help to reflect any natural light entering your kitchen, making your space feel lighter and more spacious. (Which can be a real lifesaver in a dull, dark kitchen.)
If you want to brighten up your space, consider installing:
Glossy cabinets
Ceramic tiles (perfect for walls or floors)
Shiny worktops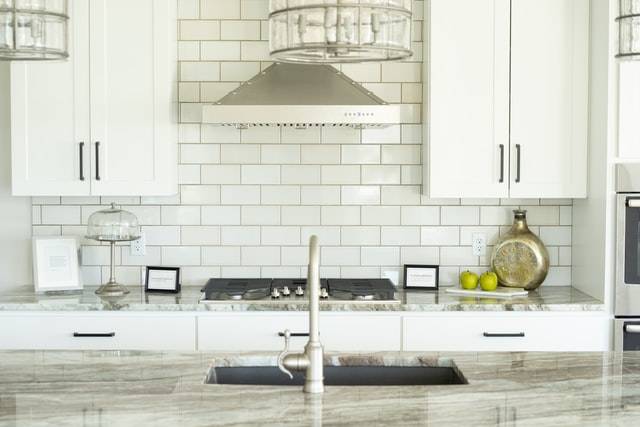 5. Lots of lighting
You don't have to be a design expert to know the importance of good lighting. After all, we can all tell the difference between a dark, dingy space and a bright, welcoming one. So, how can you use lighting to make your kitchen look bigger?
If you have a bigger budget, you can invest in bi-fold doors or skylights to make the most of any natural light. Alternatively, you could install battery-powered spotlights beneath your cabinets to help minimise shadows.
Whichever approach you take - when it comes to making your kitchen look bigger: the brighter, the better!
Celebrate your small kitchen
So there you have it, 5 ways to make your kitchen look bigger!
Whether we've inspired you to redesign your space or simply clear out your clutter, we hope we've encouraged you to celebrate your small kitchen.
After all, it's not about having a large budget or loads of square footage - it's about making most of what you've got!
---
Need help designing your dream kitchen?
As a kitchen designer, I love creating a stunning space where life is easy and memories are made! If your kitchen needs upgrading, modernising or a complete renovation, let's have a conversation and see what you could do with your space.
A new kitchen with a specialist design is more cost-effective than you may think – just get in touch with us today for a free in-store kitchen design consultation and we'll show you how.
Emma Reed – Kitchen designer – 01792 712000
A few more from us…