Making a small kitchen look bigger is easier than you might think. Those who aren't lucky enough to be blessed with a large kitchen (me included), they just need to learn the tricks of the trade so that they can give the illusion of more space. It doesn't take magic, it just takes a few tweaks to design. Here are 9 design hacks for making a small kitchen look bigger.
Hack 1: Get rid of the clutter
The first rule of making a small kitchen look bigger is 'keep it minimalist.' Cluttered worktops and too many small appliances and details will make your kitchen look cramped and small, so get rid of as much as you can from your surfaces. A fuss-free look will give a roomier feel.
Hack 2: Invest in storage solutions
For the clutter that you're removing from the worktops, you'll need to store in your cupboards, so invest in specialised storage solutions. In a small kitchen, it is essential that you maximise the space that you have so use these solutions. You'll be surprised how much you can get in one cupboard when you use pull-outs fitted with deep drawers and swivel units for corner base units.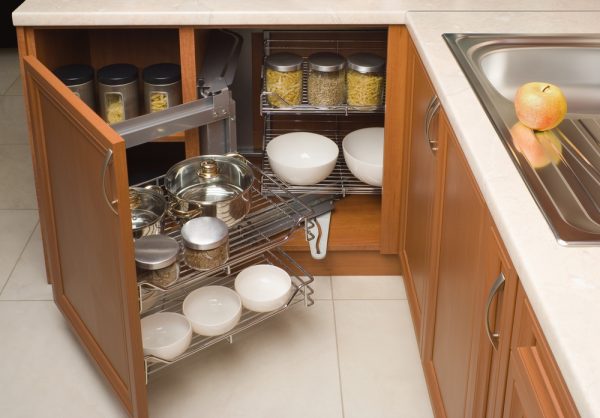 Hack 3: Be smart with your choice of appliances
If you make the right choices with your appliances, then making a small kitchen look bigger becomes easy. Think compact appliances (such as compact dishwashers), integrated appliances, and/or appliances that do two jobs but only take up the space of one (such as washer-dryers).
Design Tip: Add a Quooker UK to save some worktop space! Part of making a kitchen look bigger is minimising what you can see, and this includes the smaller appliances like your kettle. With a Quooker tap, you can get boiling water straight from the tap and your worktops are free from clutter!
Hack 4: Opt for open shelving
A great design hack for making a small kitchen look bigger is to remove some cabinet doors to create open shelving. You'll instantly see how airy and spacious this makes the room look and feel. Just remember to keep clutter to a minimum as you can see the contents on the shelves!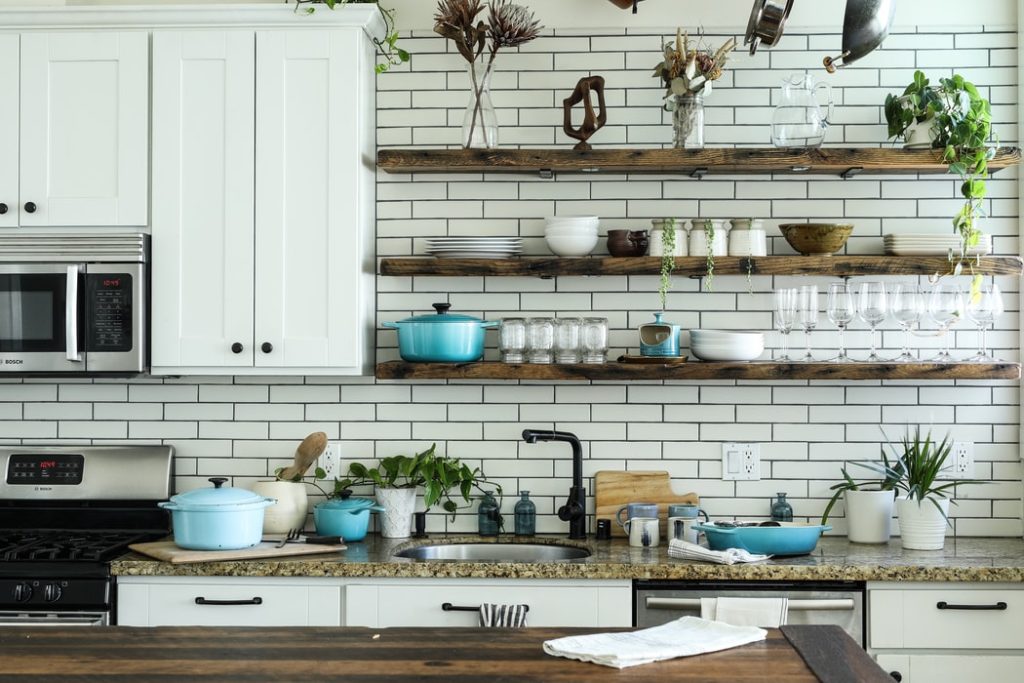 Hack 5: Maximise your space
You can make the most of the space in your kitchen by getting creative with cupboards. You can opt for slimmer cabinets or cabinets that extend up to the ceiling, whatever works for you. If you pair this with specialised storage solutions (to make the most of the space in the cupboards) and hang your utensils on the wall underneath your cabinets, then you're laughing when it comes to space.
Hack 6: Let the light in (or add some)
The more natural light you can have in your kitchen, the better when it comes to how big it looks. However, if you don't have that option, then adding light sources can do wonders too. Try to add in a roof light or spot lights underneath your cabinetry to maximise the light in your room.
Hack 7: Go handle-less
Who knew that opting for handle-less cabinetry can make a room appear much larger? Well, we did. That's why we are including it in our design hacks for making a small kitchen look bigger! Like with every other tip, going handle-less means less fuss and a smooth finish that gives the illusion of space.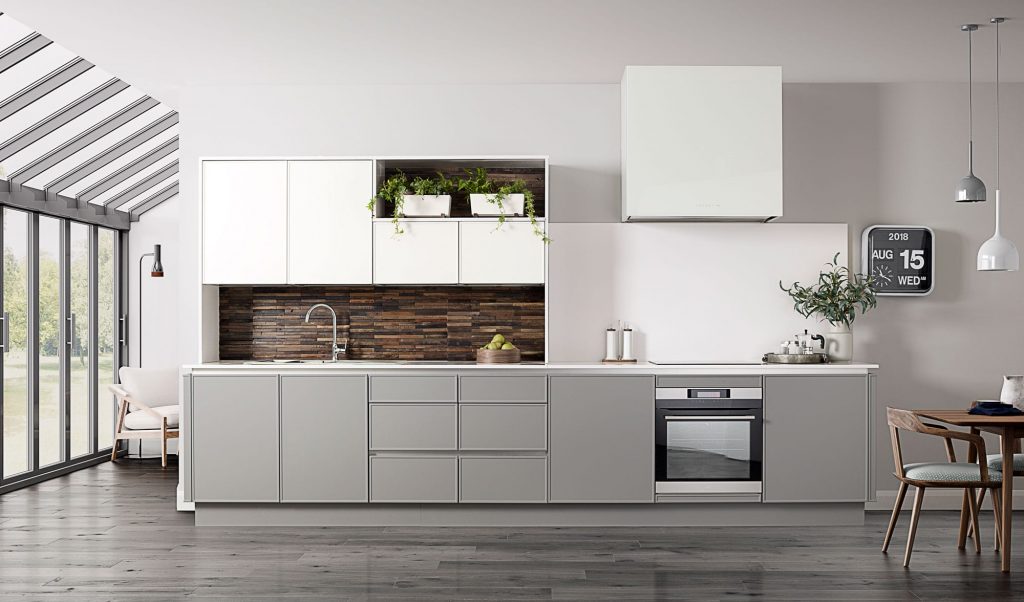 Hack 8: Use mirrors (or other reflective materials)
Mirrors have use in the kitchen just as much as your bedroom and bathroom: they can make a room feel so much more spacious. You can make small changes such as having a mirrored splashback or mirrored cupboards or you can go full out and have a super-sized mirror covering one whole wall. Trust us when we say, the effect is incredible.
Design tip: if mirrors aren't your thing, try glass tiles, high-gloss paint, stainless steel appliances or glossy cabinets.
Hack 9: Think glass as an alternative to tiles
Wall tiles can make a small kitchen look too busy and full, so if you absolutely love tile, go for something that is more 'brick-shaped' to give the appearance of width in your kitchen. If you're not particularly leaning towards tile, glass splashbacks are great alternatives as their reflective surface gives the best illusion of space.
You don't have to compromise on style for space
Making a small kitchen look bigger doesn't mean compromising on style, it just takes a bit of creativity. By using these design hacks - keeping your space light and clutter-free and open - you can create the kitchen that you want in the space that you have. One that gives the illusion of space and a wow when it comes to style.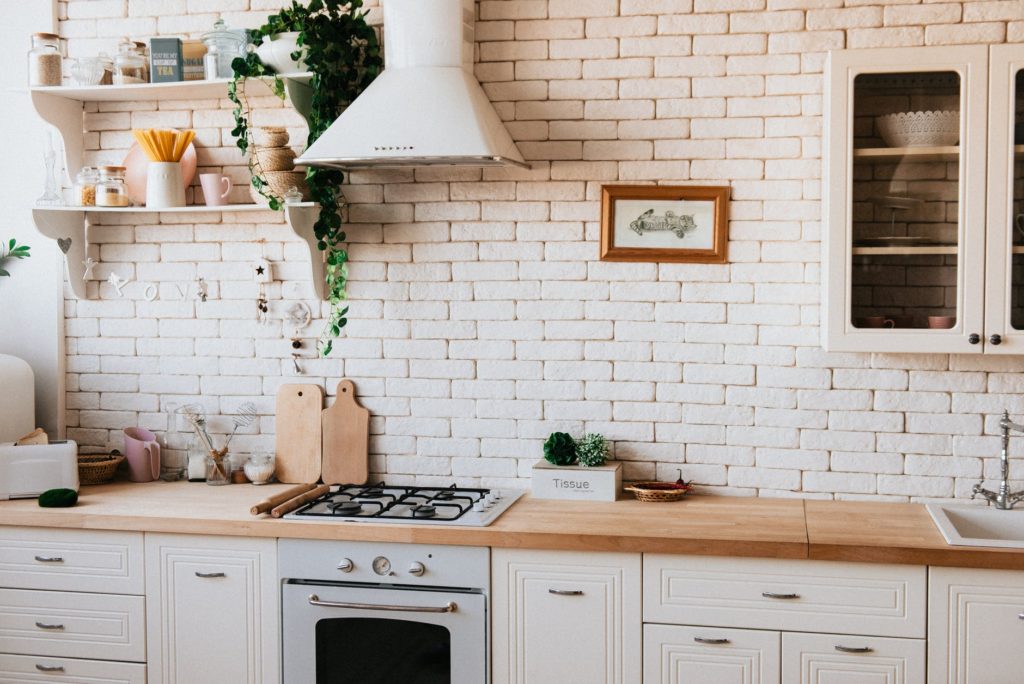 ________________________________________________
Need help with making the most of your kitchen space?
As a kitchen designer, I love creating a stunning space where life is easy and memories are made! So, if your kitchen needs upgrading, modernising or a complete renovation, let's have a conversation and see what you could do with your space.
A new kitchen with a specialist design is more cost-effective than you may think – just get in touch with us today for a free in-store kitchen design consultation and we'll show you how.
Emma Reed – Kitchen designer – 01792 712000
A few more from us…