Our kitchens go through a lot in a year, so why not show yours some appreciation in 2023? After the chaos that is Christmas, it's likely to need some TLC, and what better time to refresh your kitchen, than at the start of a brand new year? Whether you're raring to renovate, or you simply want to freshen up the space, we have an idea for you!
1. Deep clean your kitchen
A task we all put off, but one we're glad to have done (once it's finally over). Deep cleaning your kitchen is one of the cheapest and most effective ways to refresh your kitchen. Unfortunately, this doesn't mean wiping down your surfaces and calling it a day - we're talking the whole nine yards! Everything from clearing out your cupboards, defrosting your freezer, to scrubbing your oven and even dusting down those cabinet tops. Our advice is to start from top to bottom to avoid dirtying any clean surfaces along the way.
2. Introduce a new colour scheme
Introducing a new colour scheme into your kitchen doesn't mean you always have to change your cabinets or repaint the walls (although we love doing both). Instead, you can introduce pops of colour through your household accessories. Subtle adjustments like adding new prints to the walls, colour co-ordinating your recipe books, even buying new soap dispensers can help refresh your kitchen without the cost of a refurbishment.
3. Invest in new linens
Another great way to refresh your kitchen is to invest in new linens! Whether you're trialling a new colour scheme or you're simply overdue some new hand towels - fresh linens can really elevate your space. Why not try dressing your dining table with a new table runner? Or replace your old curtains and blinds? Seemingly small changes (like buying fresh towels) can make a big difference to your kitchen - not just visually but practically too!
4. Update your kitchenware
If you want to add a little luxury to your kitchen, updating your everyday essentials is the way to do it. So say goodbye to your cracked crockery and decade-old draining board because it's time for an upgrade. We recommend starting by replacing the items you use daily - glassware, tableware, cutlery and utensils. Your new items should complement your design and colour scheme so that they blend seamlessly with the rest of your kitchen. This will ensure your kitchen not only looks beautiful but is also a joy to use.
5. Purchase some houseplants
What better way to refresh your kitchen than with some new houseplants? Not only are they beautiful, but they're also proven to boost your mood and improve your well-being! With so many varieties, sizes and colours, there's a houseplant for every kind of kitchen. For those of you who enjoy cooking, this is the perfect excuse to try your hand at growing fresh herbs! And for those of you who struggle to keep plants alive - succulents are pretty invincible.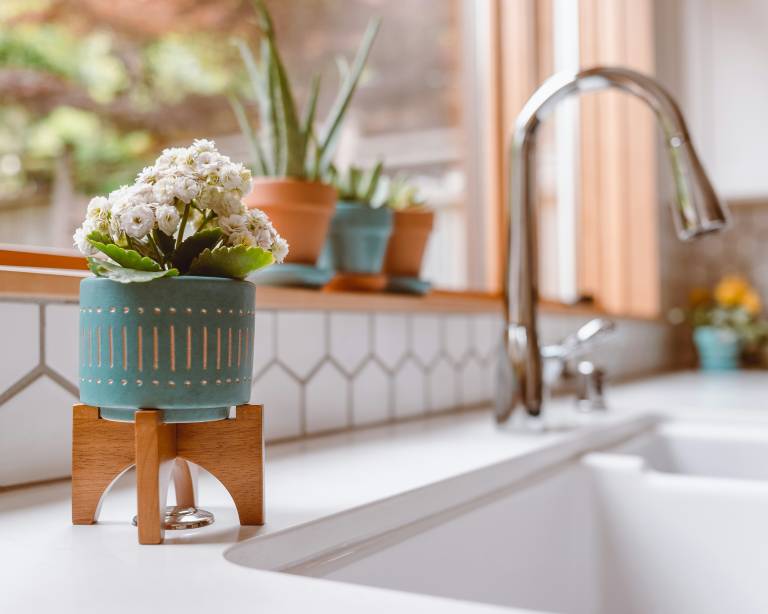 So that's it! Our top five tips to refresh your kitchen in 2023. Which ones were your favourite? And which ones will you be trying in your home? Whichever you choose and whatever your budget - with the help of these suggestions (and a bit of thought and effort), we can have your kitchen looking brand new in no time!
__________________________________________________
Need help designing your dream kitchen?
As a kitchen designer, I love creating a stunning space where life is easy and memories are made! If your kitchen needs upgrading, modernising or a complete renovation, let's have a conversation and see what you could do with your space.
A new kitchen with a specialist design is more cost-effective than you may think – just get in touch with us today for a free in-store kitchen design consultation and we'll show you how.
Emma Reed – Kitchen designer – 01792 712000
A few more from us…