The key to a great kitchen design is in the details - especially those that are so well done you don't even notice them but ones that make a world of difference to you. After all, this is the most important goal of any kitchen, to be organised and functional for you but to appear like a showroom to the rest of the world.
As a kitchen designer, I aim to help people create kitchens that are beautiful and timeless yet have a methodical layout that allows them to work how they want to in their space; the goal is to build a kitchen that works with them rather than against them. I've heard from a lot of people since lockdown began in March earlier in the year, most complaints were that their kitchen was not what they wanted when they actually had to use it every day. As you can imagine, that made me incredibly sad so I decided to whip up this blog to help as many people as possible.
For those who want to improve the function of their kitchen (that is, make it far easier and more pleasant to use), here are my best designer details that you can implement today or next time you remodel.
Install under cabinet plug molding
There's nothing worse than adding small appliances to your brand new and spacious kitchen with clear worktops, especially when there aren't many plug outlets and you can see leads everywhere.
By installing plug molding underneath your wall cabinets, however, you can be rid of appliance cords on your worktops while also creating a clutter-free backsplash! The perfect solution to this design flaw, you can get molding in finishes like chrome or matte black to complement your existing backsplash and cabinetry.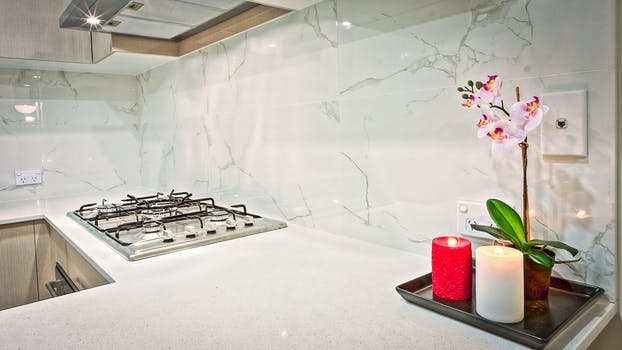 Conceal the microwave
You can't talk about kitchen functionality without mentioning the integral microwave! To improve the design of your kitchen without compromising on function, consider concealing your microwave in one of your wall cabinets at an accessible height. You can make it even easier to access by also installing a lift-up door, but either way, you're gaining valuable counter space by doing so.
Get smart with your storage
Everybody hates opening a draw and having to root around for a particular utensil, so make it easier for yourself and install smart storage solutions. Whether that is adding an additional pull-out draw in your large draws to store larger items underneath or adding dividers into your drawers to split your pots and pans and their lids, think about what would be the most beneficial solution for you and your kitchen functionality.

Hide larger appliances too
Many people like to integrate their larger appliances into their cabinets too and from a design point of view, this is great for the overall look and feel of a kitchen. As well as creating a smooth and stylish kitchen, incorporating appliances into cabinets also saves you valuable square footage in your kitchen allowing for an uninterrupted workflow. Does this improve kitchen functionality? We sure think so!
Implement task lighting
When it comes to food preparation, a little extra lumination on your countertop can make such a difference. Not only that but it also makes it much easier on the eyes! Just remember to install the lights towards the front of the cabinets, not the back, so that they light up the counter and not the backsplash.
Read: What is Task Lighting?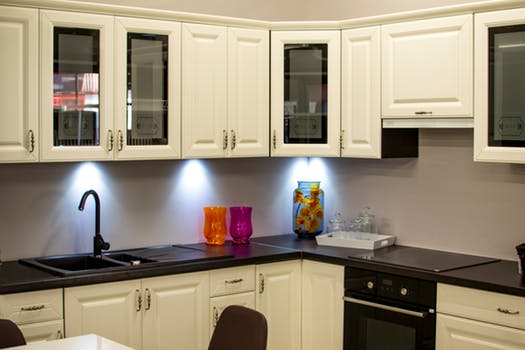 Create a hidden charging station
This is becoming increasingly important in modern kitchens as we all have an abundance of electronic devices that need charging. In a big family, however, this can really clutter up a kitchen! To avoid this, create a hidden charging station in one of your kitchen draws. You can install a plug socket at the back of the draw and hide away your devices when they are charging as well as storing all your leads when they are not.
Utilise your walls
Many people think that having your utensils hanging on your walls will make your space look cluttered but that's not true at all. If your countertops are clear, hanging pots, pans and utensils can really bring another dimension to your kitchen design, not to mention that you gain extra storage and enhance the functionality of your kitchen in the process! Let's just say, when your utensils are always within an arms reach away, you'll wonder why you didn't do this sooner.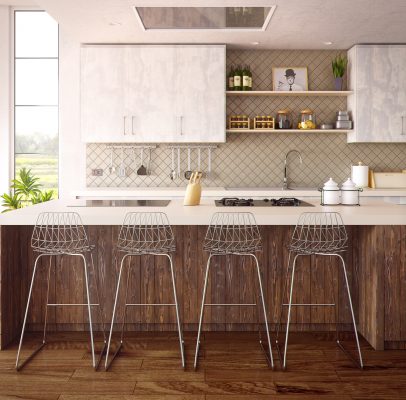 As it looks like the pandemic isn't going anywhere any time soon, we'll be using our homes a lot over the next few months. Hopefully, these designer details will help you improve your kitchen functionality so that it will make this time a lot easier for you.
Just remember, any changes you make to your kitchen, always think about the layout and function of your space. Only then can you implement changes that will make your life much easier and far more pleasant whenever you use it!
---
We can help you create a stunning (and stunningly functional) kitchen….
As a kitchen designer, I love creating a stunning space where life is easy and memories are made! So, if your kitchen needs upgrading, modernising or that much-needed breath of life, let's have a conversation and see what you could do with your space.
A new kitchen with a specialist design is more cost effective than you may think!
Emma Reed – Kitchen designer – 01792 712000
Looking for more kitchen inspiration? Check out some of our other articles!
Everything You Need to Know About Choosing the Right Kitchen Appliances 8 Ways to Create Your Dreamy New Kitchen in the New Year 14 Timeless Kitchen Trends That Are Here to Stay