Have you ever thought about how the design of your kitchen can shape its atmosphere?
One element that frequently goes unnoticed is the impact of tile patterns.
Whether you love bold, geometric designs or something more understated, there's a tile pattern perfect for your kitchen. Here are seven unique tile patterns that can add visual interest to your kitchen:
Stacked Tiles
Stacked tiles give a clean, uncluttered look that's perfect for those of you who love a bit of minimalism.
Because of their vertical alignment, they draw the eye upward, making your kitchen feel taller and more spacious.
** Stacked tiles are an excellent choice for smaller kitchens or rooms with low ceilings.
Subway Tiles
Subway tiles are incredibly versatile. Their simple, rectangular shape and classic design allow them to blend seamlessly with almost any kitchen style.
No matter how often you decide to change your kitchen decor, your subway tiles will always fit right in! Their long, horizontal lines can create the illusion of a wider space, making your kitchen appear larger.
** Subway tiles are a timeless and adaptable choice for any kitchen renovation.

Herringbone Tiles
Herringbone tiles add a sense of movement and flow to your kitchen. The distinctive zigzag tile patterns create a visual rhythm that guides the eye around the room.
In addition, the herringbone pattern is inherently elegant and sophisticated, adding a touch of luxury to your space. This makes herringbone tiles an excellent choice for homeowners looking to elevate their kitchen design to the next level.
Diamond Tiles
The diamond pattern is inherently eye-catching and can serve as a striking focal point in your design. This pattern can add depth and dimension to your space.
Diamond tiles can be used to direct visual attention to specific areas of your kitchen, such as a stylish backsplash or a feature wall. This makes diamond tiles a fantastic choice for homeowners who want to inject creativity and personality into their kitchen design.
Basketweave Tiles
Basketweave tiles add a sense of warmth and homeliness to your kitchen. The intricate, woven tile pattern is reminiscent of traditional craftsmanship, evoking a cosy, rustic charm. This can make your kitchen feel more welcoming and comfortable.
Basketweave tiles are a wonderful choice for homeowners looking to create a kitchen with a warm, inviting atmosphere.
Hexagonal Tiles
The six-sided design of these tiles creates a unique, honeycomb pattern that is both contemporary and eye-catching. This can make your kitchen feel more stylish and up-to-date.
Hexagonal tiles can be used to create interesting patterns and designs. This makes hexagonal tiles an excellent choice for homeowners looking to inject a dose of modern design into their kitchen.
Chevron Tiles
Chevron tiles create a sense of direction and movement in your kitchen. The pointed, V-shaped pattern of these tiles guides the eye along a specific path, creating a dynamic and engaging visual effect.
The chevron pattern is inherently stylish and modern, adding a touch of sophistication to your space. This makes chevron tiles an excellent choice for homeowners looking to create a kitchen with a strong visual impact.
And that's it- seven tile patterns, each with its own unique charm, ready to transform your kitchen. Why not mix things up a bit? Experiment with these patterns and create a kitchen that's not just a cooking space, but a reflection of your unique style! Happy decorating!
__________________________________________________
Need help designing your dream kitchen?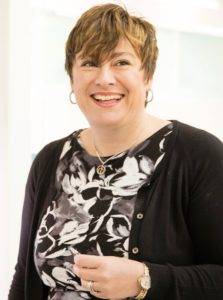 As a kitchen designer, I love creating a stunning space where life is easy and memories are made! If your kitchen needs upgrading, modernising or a complete renovation, let's have a conversation and see what you could do with your space.
A new kitchen with a specialist design is more cost-effective than you may think – just get in touch with us today for a free in-store kitchen design consultation and we'll show you how.
Emma Reed – Kitchen designer – 01792 712000
A few more from us…