Food is the ultimate healer – well, among other things – but there's no denying that it's one of the best natural forms of healing and nourishment. Every blueprint for a great meal starts in the kitchen, so we thought we'd bring you a few tips to help you love your kitchen even more. Love thy food, love thy kitchen, is what we say!
Here's how to love your kitchen more
1. Throw some light at it
It's understandable how some people want the lighting to be a bit dark and dramatic in their kitchen. We're not one to judge as everyone has different kitchen aesthetic and lighting preferences, but if you want to love your kitchen more, you need to add some light.
In fact, a dark kitchen can even be dangerous since you may need to use sharp cutting tools occasionally. Lights under the upper cabinet, for example, can really uplift a kitchen's aesthetics and give it more positive vibes. You can add lights in other areas too, like right above the stove or over the counters. You'd be amazed at how it can make you love your kitchen more!
2. Pay homage to the little ones
Got little ones running around? Convert a low cupboard into a fun little play area or add a bit of Play-Doh and art supplies, perhaps even a chalkboard wall. There's generous room for experimentation.
Even if you don't have little ones yet, you might do someday, so might as well plan ahead and prepare yourself for the moment, starting with the kitchen!
3. Get new dishes
Some people want to cling to their dishes from their uni years, and that's great. But if you treat yourself to new dishes, we promise it will make you fall in love with your kitchen even more. They don't even have to be very expensive. Just find a design and shape that appeals to your senses, match it with the rest of your decor, and you're all set.

4. Create a soft plop-down spot
Corners in kitchens almost always go unused. Well, we won't let that wonderful space go to waste, will we?
Fill your empty kitchen corner with some low seating and cosy soft cushions, making for the perfect spot to plop down and do some reading or perhaps catch a nap while your favourite comfort food cooks.
5. Personalise your kitchen space
A little personalisation can go a long way in terms of making you love your kitchen more.
A floral print wallpaper, for instance, or a lovely wall-mounted rack displaying all your cooking, fashion, and lifestyle magazines can add a nice, feminine, and personal touch to an accent wall.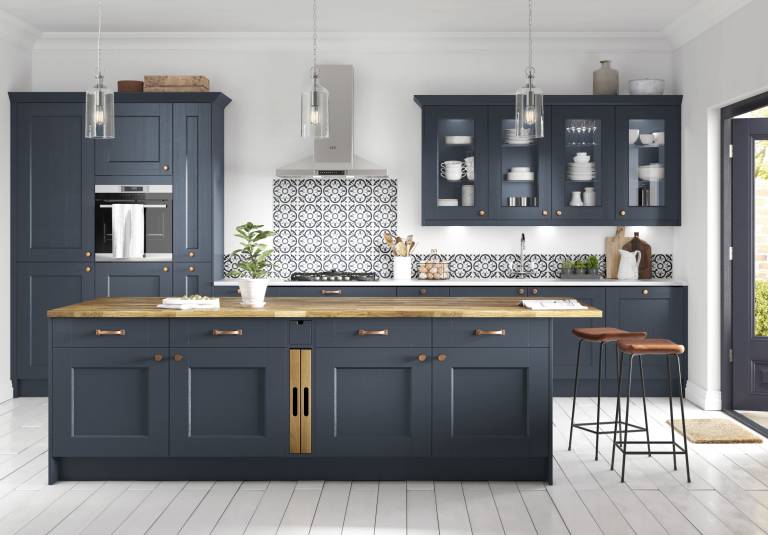 I absolutely love what I do as a kitchen designer, bringing people's 'comfort escape' spaces to life and helping them enjoy those fond memories even more. If your kitchen needs a breath of fresh, modern air, we should talk!
__________________________________________________
Need help designing your dream kitchen?
As a kitchen designer, I love creating a stunning space where life is easy and memories are made! If your kitchen needs upgrading, modernising or a complete renovation, let's have a conversation and see what you could do with your space.
A new kitchen with a specialist design is more cost-effective than you may think – just get in touch with us today for a free in-store kitchen design consultation and we'll show you how.
Emma Reed – Kitchen designer – 01792 712000
A few more from us…