When we think about designing our dream kitchens, we often imagine picking tiles, choosing colour schemes and finding the perfect flooring. But the trouble is (in all our excitement), we forget about the fundamentals.
So, to help you avoid any costly mishaps of your own, we've outlined some of the most common mistakes people make when designing a kitchen.
Here are our top 8 kitchen design mistakes:
1. Cramming in a kitchen island
Some of us just don't have the square footage to accommodate a kitchen island. And yet, time and time again, we see people trying to squash one in despite the lack of space (and inevitable impracticality).
Rather than cramming an island into an already cramped kitchen, try installing a peninsula instead. That way, you can still achieve the same effect without sacrificing as much space.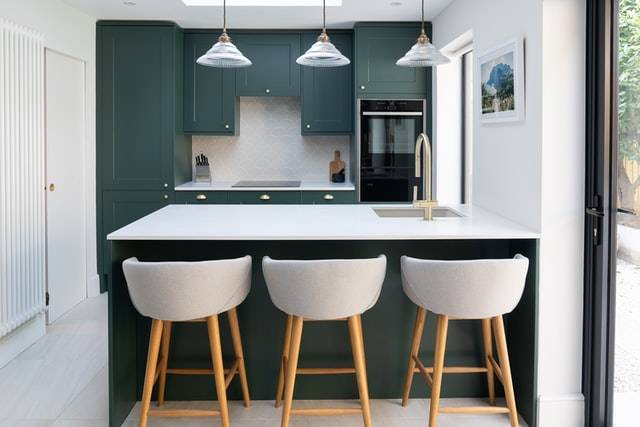 2. Not prioritising the plumbing
Failing to prioritise plumbing is one of the biggest kitchen design mistakes you can make. Why? Because plumbing largely determines the layout of a kitchen. Ignore it, and you'll have to pay through the nose to move pipes around. So try and centre your design around your existing plumbing.
3. Ignoring the kitchen triangle
When designing your kitchen, we always recommend using the kitchen triangle layout.
The kitchen triangle concept works to ensure there are no physical obstructions between your oven, sink and fridge, so the space is as functional and practical as possible.
If you place these features too close together or too far apart, you lose the efficiency of the triangular shape. So, don't overlook this when designing your layout!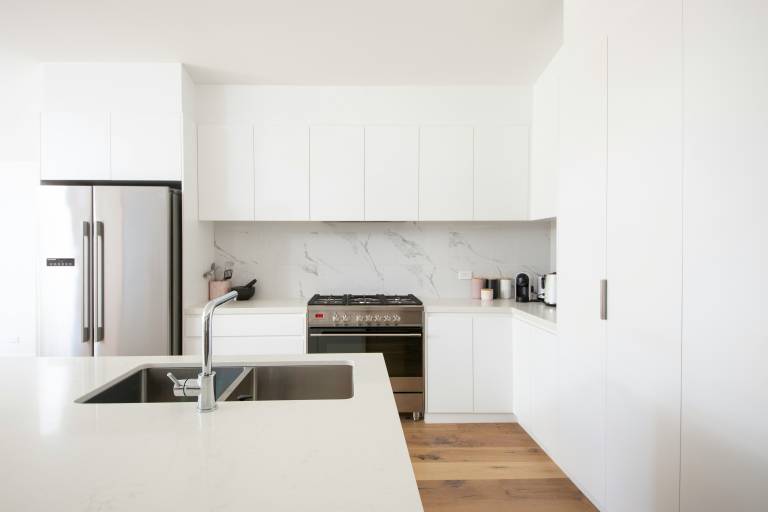 4. Overlooking the lighting
Lighting may be the last thing on your mind when designing your dream kitchen - but it shouldn't be.
Underestimating the importance of lighting is one of our biggest kitchen design mistakes! Why? Because every kitchen should feature three types of lighting: task, general and accent. Otherwise, your cosy kitchen could look cold and clinical.
So make sure to incorporate task lights to illuminate your workstations and accent lights to create a cosy atmosphere.
5. Avoiding integration
Integrated appliances aren't essential in every kitchen, but they do allow you to achieve a flawless finish. So, if you want to create more space and avoid cluttering your countertops, we strongly recommend integrating essential appliances like microwaves and hot water taps.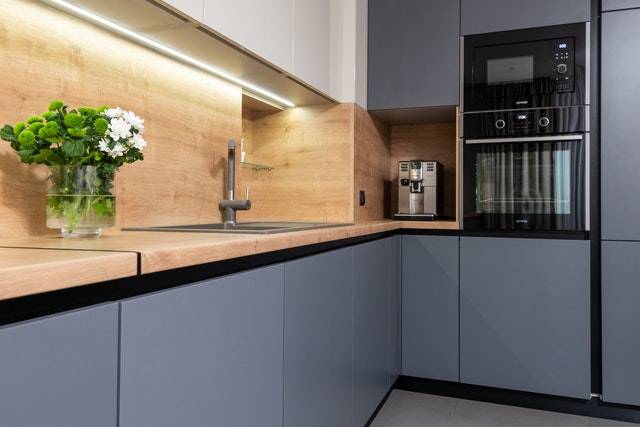 6. Choosing cheap cabinets
Cabinets are the foundations of your kitchen. Therefore, you if want your kitchen to stand the test of time, you need to be investing in quality cabinetry. Otherwise, you risk wasting a significant amount of time and money repairing and replacing low-quality cabinets.
7. Forgetting about ventilation
Shockingly, one of the most common kitchen design mistakes is forgetting to install an extractor fan!
Although they aren't aesthetically pleasing, extractor fans are essential for good ventilation. Without them, you open yourself up to a whole host of problems, including damp and mould.
So, don't overlook the importance of a quality cooker hood - especially in an open plan kitchen!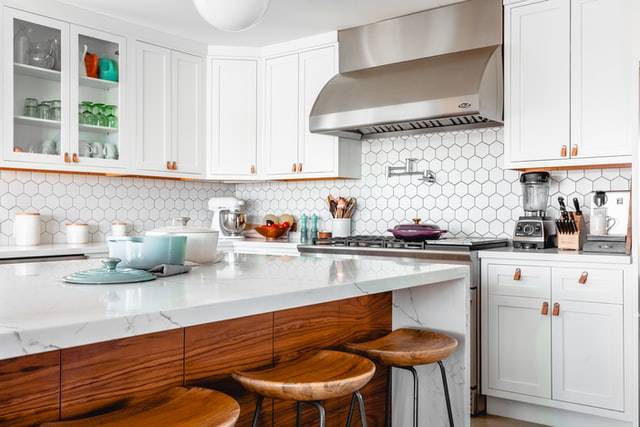 8. Not consulting a kitchen designer
Our final mistake is failing to consult a kitchen designer. After all, who wouldn't want an expert on hand?
Designers will quite literally manage the entire process for you! From sourcing materials to hiring contractors, they will help make your dream a reality by designing your perfect custom kitchen!
So save yourself the hassle and let the experts handle your renovation!
Prioritise practicality
So there you have it - our top kitchen design mistakes!
If there is one thing to take away from all 8 of these mistakes, it's to prioritise practicality. After all, you want your kitchen to be a functional and fun space for family and friends. So make sure to pay attention to those fundamental details!
(Or, if you're ever in any doubt, you can always ask the experts.)
---
Need help designing your dream kitchen?
As a kitchen designer, I love creating a stunning space where life is easy and memories are made! If your kitchen needs upgrading, modernising or a complete renovation, let's have a conversation and see what you could do with your space.
A new kitchen with a specialist design is more cost-effective than you may think – just get in touch with us today for a free in-store kitchen design consultation and we'll show you how.
Emma Reed – Kitchen designer – 01792 712000
A few more from us…