As a kitchen designer, I get asked all the time "how do I start planning a new kitchen?" To answer this, I've broken the process down into six steps: research, budget, design, order, build and installation. Hopefully, this will help you to think about and take action on each step, and ultimately guide you through the process of planning a new kitchen.
Whether you are updating your existing kitchen or having a whole new extension and creating a lovely big open plan kitchen-living area, there are a lot of moving parts and trying to think about everything all at once when planning a new kitchen can be a little overwhelming!
That's why, in this post, I'm going to talk about the steps to take when tackling a project like this whilst giving some tips, tricks and factors to consider when planning a new kitchen along the way. It is my hope to make the process a little less stressful and more enjoyable for you!
How to start planning a new kitchen
Step 1: Research
So you want a new kitchen, that's great, but what exactly do you want?
There's so much choice these days in style and colours – you need to start thinking about what it is that you like or what will be most appropriate for the property or lifestyle you have.
The first thing I ask my clients is if they want a contemporary/modern kitchen or a more traditional looking kitchen. For example, gloss/matt slab doors and maybe handle-less with clean lines for the modern kitchen while a traditional kitchen would have wooden/painted timber shaker-style doors. This instantly cuts things in half and helps to begin to focus on finding what you love!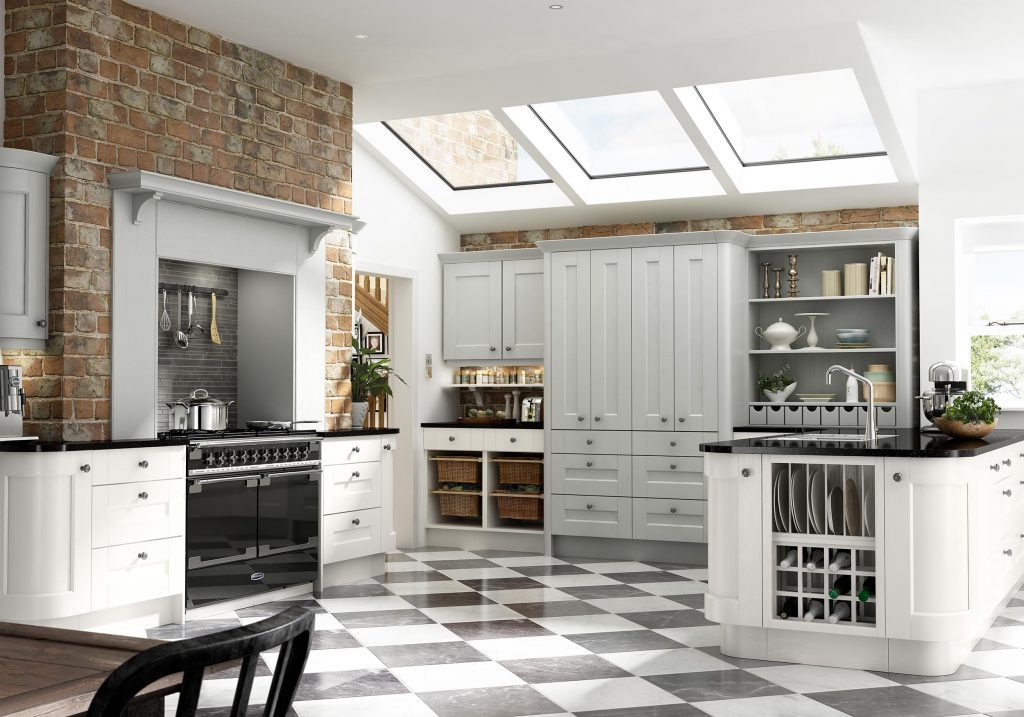 Tips for research:
Use Pinterest and Instagram for design inspiration - there are some stunning visuals on here that will help you figure out what you do and don't like the look of.
Consider your property type - will the look you like suit your property? For example, if you have a Victorian terrace house with a lot of original features, you may want to keep that style and opt for a more traditional painted shaker-style kitchen, something that has a more timeless look to it.
Change it up to make it yours - don't dismiss a certain style such as 'modern' if you don't like the look of it straight away. Consider all the options available to you. Don't like the glossy white cabinets on display? Opt for soft-matt instead and mix colours and textures to create the design that you want.
Take your lifestyle into account - are you busy family with small children? If so, a clean modern kitchen will be a nightmare to maintain as glossy doors are notorious for showing fingerprints. To avoid a lifetime of wiping, timber doors would make your life much easier! Not only does it not show marks as much, but if it gets chipped, most manufacturers supply a touch-up pen to simply paint in the chip.
Think about how you will use the space - if you want a social environment, try to incorporate some seating. This could be a breakfast bar on an island or the back of a peninsula. Both will make the space more social for dinner parties or by having the kids sat doing homework while you are cooking. Maybe extra storage or worktop space is most important to you? If so, adding an island satisfies both.
Think about what appliances you will want - if you don't think about this alongside choosing your style of kitchen, they may not look good together! Are you more of a traditionalist 'proper cook' and prefer a gas hob, or are you moving with the times and adopting the sleeker and safer induction hob? Do you need the maximum fridge and freezer space (e.g. an American style fridge freezer), or would you prefer to hide the appliance away and have an integrated fridge-freezer? Perhaps you prefer a separate full-height fridge and build under freezer?
Start to think about what is most practical as well as most aesthetically pleasing. The goal here is to strike the perfect balance of the two.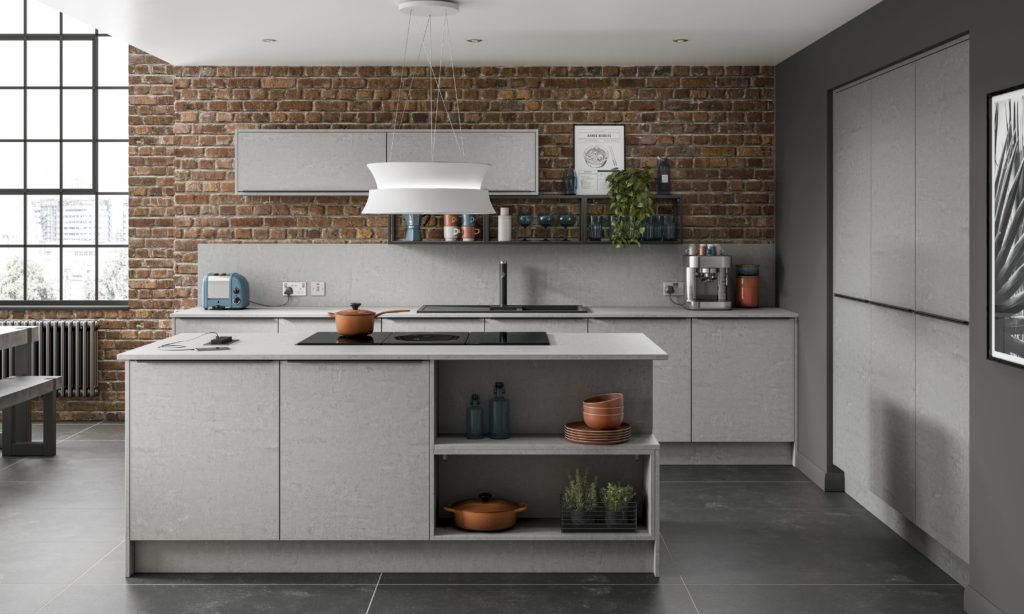 Step 2: Budget
So you know the type of kitchen you would like, but how much have you got to spend on it?
This can be difficult to figure out and will depend on what exactly your project involves. When I talk about the kitchen budget I like to break it down into four sections.
Cabinets
Worktops
Appliances
Installation (Kitchen fit only, no building work/tiling/decorating etc)
What is your overall budget that will cover these four sections?
Obviously, there is no right or wrong answer; it will depend on the size and specifications you have. Here are a couple of examples as a guide:
£5k - £10k - if you have a small kitchen, want laminate worktops, are happy with lower-end brand cabinets and budget-friendly appliances and have a good local tradesperson to install
Approx £20k - if you use smaller independent kitchen showrooms or less-expensive brands, you could get good quality cabinets, a mid-range stone worktop, some good quality appliances such as Bosch, Neff or Siemens, and have their in house fitter/team install it for you.
£50k+ - if you have a large kitchen, want higher-quality cabinets, maybe some more bespoke items, high-end appliances with all the latest features and the best stone worktops, all project managed and installed by a team of professionals.
The best way to work out your budget is to 1) look at what you want to achieve, 2) add up other costs that may be involved (building work, electrics, plumbing, tiling etc..), and 3) allocate yourself a budget for the kitchen.
It's always good to give yourself a little 10% contingency money if you come across something you absolutely love but it's just that little bit more.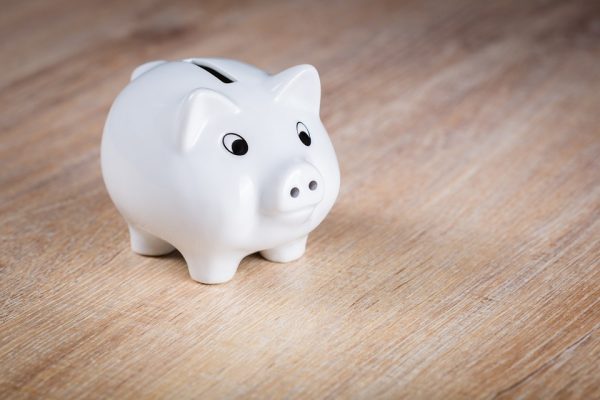 Step 3: Design
You know what type of kitchen you would like; you've got a budget in place, now it's time to start getting a design and plan together!
Arguably the most fun step when planning a new kitchen is where you can let your creativity fly and put that research and budgeting to good use!
If you're doing this yourself start by measuring the room and sketching it out. Measure all the walls, windows, doors, ceiling height and anything that is fixed in the space (boiler, fuse box etc…). Once you have these dimensions, you can then use free online kitchen design and planning tools such as Ikea to help design your space. If you have the skills, you could also go the old fashion route and draw everything out on scale paper!
While there is nothing wrong with designing and ordering a kitchen yourself, (in fact, it can be a great way to save money!), I would always recommend going to visit a kitchen design showroom and have a professional draw out and design your kitchen for you. Not only do they have better software and know how to use it, but they also do this for a living and have a huge amount of knowledge and experience in this. You'll be surprised how easy it is to overlook some little detail that can have a huge impact on the project later on down the line (usually it's your budget that takes the hit!).
Many kitchen showrooms offer a free design and quote service, so use them, and go to at least 2 different showrooms (possibly more), not only to look around and shop for the best offers but to get another person's take on the design. You may like one section or idea from one place and different elements from another so you can use these ideas to combine everything into your final design.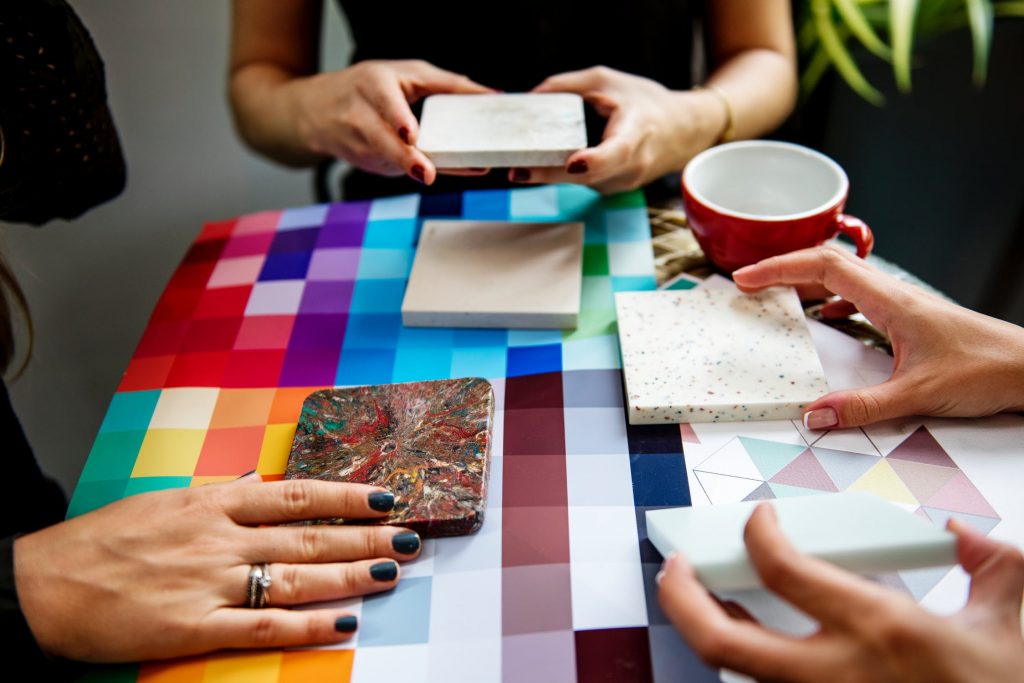 A few things to expect from the design process:
It takes a few days to 1 week to get your kitchen drawn up and priced.
Some companies will then email you everything while others will invite you back to present to you.
Some companies will also want to come out and measure everything themselves, however, if it's an extension this isn't always possible.
Typically, kitchens take 8-10 weeks to manufacture.
There is usually a bit of back and forth between yourself and the designer to tweak and make sure you love everything about the design. This sort of depends on you and how quick you are at making decisions, but this normally takes a few weeks to get perfect so give yourself a bit of time for this so you don't make any rushed decisions.
Don't be shy about disagreeing or asking for more changes, this is YOUR kitchen and whatever the budget may be you are investing a large amount of time and money into it, which you want to get absolutely right. You definitely don't want to be doing this all over again in a year or two's time!
Step 4: Timeline and ordering
Once you have your kitchen finalized you need to figure out the timeline of events for your particular project.
If there's building work involved, talk to your builder about how long they estimate it will take to complete certain stages and what they will require to be available to them and when they need it.
For example, finding out when your builders will be ready to have the cabinets installed allows you to make sure that they arrive ready for the builder to install, or that the room is ready for the kitchen company to come and install the cabinets. Just remember to check the order time with your kitchen supplier! Most independent kitchen suppliers have the cabinets made to order and range from 2-10 weeks for ordering and delivery.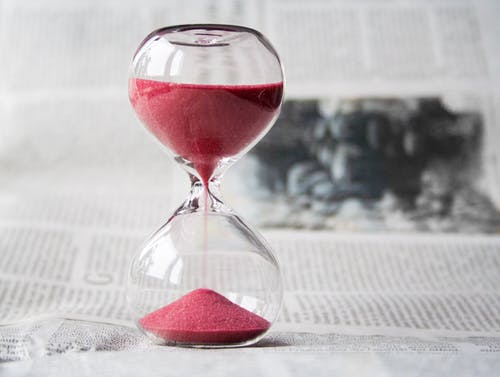 Some tips to bear in mind when it comes to this stage:
Once you've agreed on a date with your builder and kitchen supplier, get everything ordered with the relevant suppliers.
Give yourself and the kitchen supplier a little bit of extra time just in case the build isn't quite ready or there are delays from the supplier etc. It's better to have to wait a week before installation than everything turning up early with nowhere to store things and the items are at risk of getting damaged on site.
If ordering online, allow plenty of time to make sure the items you want are in stock and can be delivered when you need them. Don't leave it to the day before to buy something online, only to find out it's out of stock.
Step 5: Building work
The day has finally come that you've been working towards; it's day one of the build/kitchen renovations.
Whether you're in for a few weeks or months of building an extension or if you are simply refurbishing your kitchen in the same space, things are about to get messy!
Pack away everything from your old kitchen and if possible set up a temporary kitchen space somewhere else in the house. It's nice to at least have space to microwave some meals and make a cup of tea. Depending on how long you're going to be without a kitchen can influence how much effort goes into this temporary kitchen, but get used to takeaways for a little while.
This is the stage at which things get ripped out, electrics and plumbing get installed or moved to suit the design, walls get built and plastered, and flooring is prepared and put down along with preliminary decorating. All that prep work is to get the space ready to start installing those kitchen cabinets.
You will need to have your kitchen plans to hand to show your builders, so they know what and where everything is going. These are the top-down and elevation views of your kitchen provided to you by your kitchen designer and should label what everything on the plans is. Now is the time to think about where you want your lights, if you want some extra sockets (you do!), and things of that nature.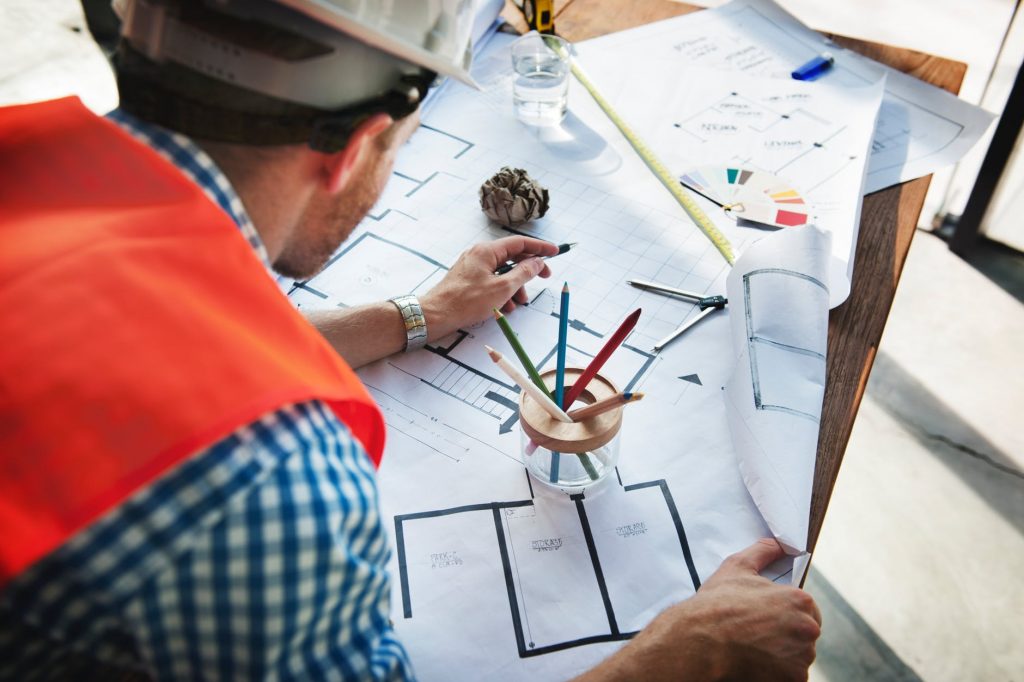 The typical timeline of events for the building phase are:
Demolition – knocking down any walls or chimney breasts and ripping out the old kitchen etc.
Structural changes – any new walls, windows, doors and interior stud work.
First fix – adding/moving electrics, plumbing, gas etc. Getting the cables and pipes in the right place for your new layout.
Plastering / preliminary decorating – getting the room plastered and the first few coats of paint on as a base layer.
Install flooring – whether that's wooden, tiled or laminate, get it put down wall-to-wall and cover the whole area.
Step 6: Kitchen installation
Once the room is ready and all the messy stuff out of the way, it's time to start fitting the kitchen!
Most cabinets come readily assembled (always check) and it's relatively quick to get the units in place and installed. Depending on the size and complexity of the kitchen it should take between 2-7 working days to get the cabinets installed.
If you are having laminate or timber worktops these can be installed straight away and will speed up the installation process. If you are having granite, quartz or anything that needs a more specialized installation, this will take longer and usually work like this:
Once the cabinets are all installed, the worktop company will come out and make a template off of the cabinets and measure exactly what they need.
Using the templates, they will fabricate your worktops which takes 1 – 3 weeks.
Once fabricated, they will return and install your new worktops.
How long does it take to fit a new kitchen?
During this time you should be able to use most of the rest of the kitchen. Okay, you won't have worktops for prep space, but you should have a working fridge and oven at this point you could start to make some basic meals if you're getting sick of the takeaways.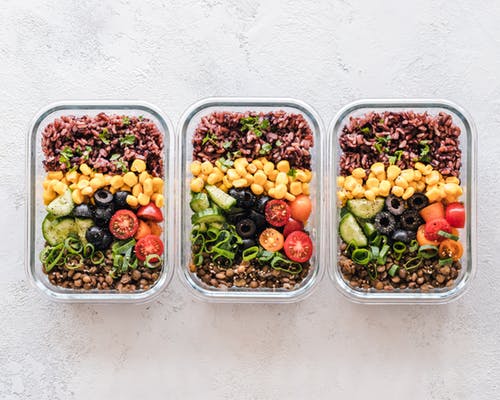 During this period there may be odd little finishing bits for the kitchen cabinets or your electrician may need to visit to do any 'second fix' work such as connecting up new spotlights and sockets in the area, but mostly this time is just a waiting game for the worktop.
Once the worktops are installed you will need to have your sink and tap plumbed in and hob (if in worktop) connected up. Other appliances can and should have already been connected and set up. It's only the things that sit in the worktop that have to wait. Your kitchen fitter may also need to return if there are any units that sit on the worktop (pantry/dresser unit) in order to finish off these final bits.
If you are having a splashback or tiling then this will happen after the worktop has been installed, so as to template or tile around the finished space. Depending on how big the area is, this could take 1-2 days to be tiled, or if you are having a glass splashback that isn't just a simple single piece behind the hob and required templating, then this is work in the same way as your stone worktops. It will get measured up professionally to manufactured off-site and can usually take 1-2 weeks before returning to be installed. If you are having something more specialized such as antique mirror as your splashback then this can take 2-8 weeks to be manufactured and installed.
Some final tips during the installations stage:
Allow some extra time at the end for any final little finishing touches. This could be the final decoration and touch up phase or a return visit if anything needs to be adjusted or replaced due to damage.
Make sure the space gets a good clean and inspection before signing off any work. Don't be afraid to raise any concerns you may have with your kitchen designer or builder – it's your kitchen and you need to love it!
That's it, you've made it and have a beautiful new kitchen. Now it's time to unpack, fill those cupboards and start enjoying your new space!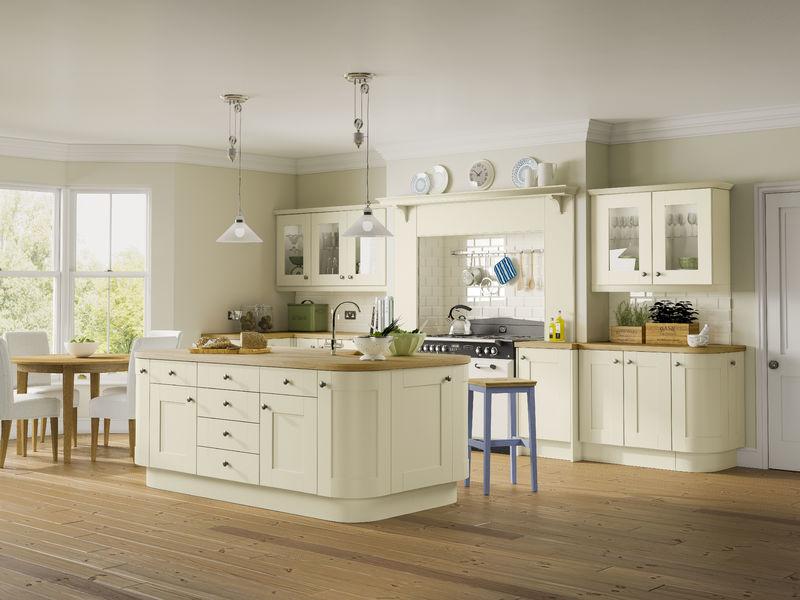 _______________________________________________________
Need help planning a new kitchen?
As a kitchen designer, I love creating a stunning space where life is easy and memories are made! So, if your kitchen needs upgrading, modernising or a complete renovation, let's have a conversation and see what you could do with your space.
A new kitchen with a specialist design is more cost-effective than you may think – just get in touch with us today for a free in-store kitchen design consultation and we'll show you how.
Emma Reed – Kitchen designer – 01792 712000
_______________________________________________________
Looking for more kitchen advice and inspiration? Check out some of our other articles!