Social media has become a big part of our lives - especially over the past couple of years! It's how we keep in touch with friends and family, share our achievements and essentially stay in the loop. But did you know you can also use Instagram to keep up with the latest kitchen trends? That's right - you could find the kitchen of your dreams with just the click of a button! To help you do exactly that, we've outlined 5 of the most popular kitchen trends on Instagram. So get scrolling, search those hashtags and be inspired by some truly Instagrammable kitchens.
1. Farmhouse kitchens
Of all our kitchen trends, #farmhousekitchen is by far the most popular, with a whopping 820k posts on Instagram! With stunning features including traditional cabinetry, open shelving and wooden accents - this style adds warmth and character to any home. Sage green is also becoming increasingly popular within these kitchens, bringing a touch of the outdoors indoors. And what farmhouse kitchen would be complete without a traditional farmhouse sink? Both practical and eye-catching, this statement sink finishes off the look beautifully creating a cosy countryside feel.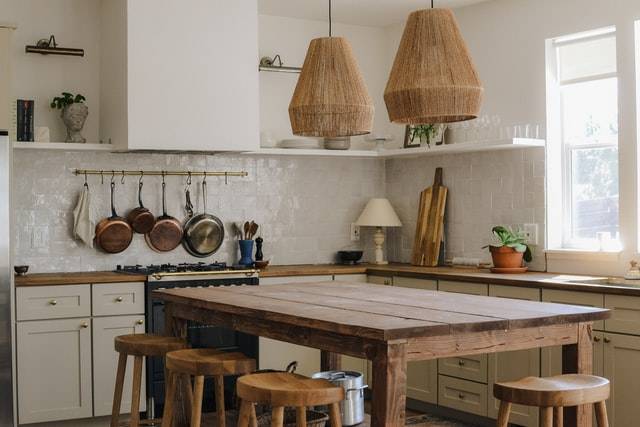 2. Herringbone floors
Great designs are all about the finer details - and thanks to Instagram, we have the inside scoop. Herringbone flooring is all the rage at the moment - and rightly so! Traditionally made from oak, this flooring adds excitement and texture to any kitchen. No matter your style or budget, with such a wide selection of colours and materials, there's a chevron floor perfect for you. So will you opt for cooler tones to suit a modern design or warmer shades for a countryside kitchen? With 99.9k Instagram posts to choose from, it's time to get scrolling.
3. White kitchens
Introducing bold colours into the kitchen has been a growing trend over the past few years. But according to Instagram, the one colour we can't get enough of is white, with #whitekitchen having been tagged in a total of 679k posts! Pair with granite countertops and handless cabinets for a sleek, contemporary look, or with wooden cabinets and countertops for a more traditional feel. Clean, bright and classically timeless - when it comes to versatility, we think #whitekitchen is the king of all kitchen trends.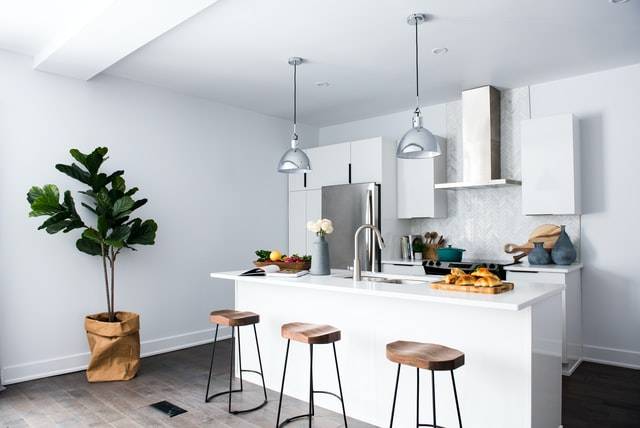 4. Granite countertops
When investing in something as important as your kitchen, it's natural to worry that kitchen trends are just that - trends. Thankfully, we've found a trend that is not only popular but reliable and economical too! Granite countertops are beautiful, durable and cost a fraction of the price of marble. And if that wasn't enough, they're also far easier to clean and maintain! So why not join the surge of Instagrammers hashtagging #granitecountertops?
5. Modern kitchens
If you're dreaming about a modern kitchen, you're not alone! This sleek, seamless design is all over Instagram, with more than 670k posts using the hashtag #modernkitchen. So what's the appeal? Besides the streamlined design and smooth finishes, our favourite part of any modern kitchen is the industrial elements. The contrast between glossy countertops and metallic steel appliances creates a bold contemporary look. When paired with industrial pendant lights, handless cabinets and integrated appliances, the whole room will look like something straight off your news feed. And with a kitchen as Instagrammable as that, you'll be wondering why you didn't google kitchen trends sooner!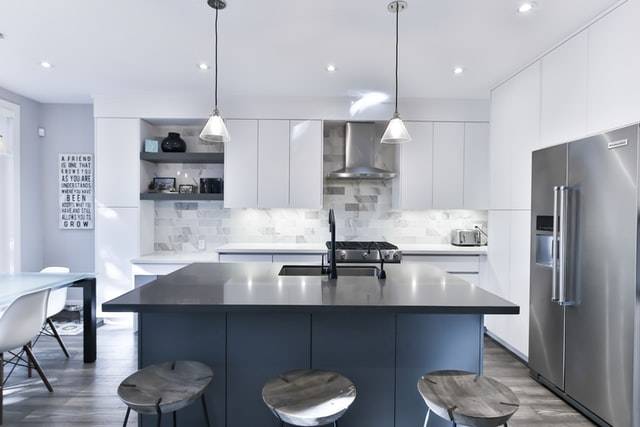 Timeless trends
So there they are - Instagram's biggest kitchen trends. Whether you take inspiration from one or all of these suggestions, remember to choose a design that is authentic to you. Trends may change and grow in popularity, but a kitchen that fills you with joy will never go out of style.
---
Need help designing your dream kitchen?
As a kitchen designer, I love creating a stunning space where life is easy and memories are made! If your kitchen needs upgrading, modernising or a complete renovation, let's have a conversation and see what you could do with your space.
A new kitchen with a specialist design is more cost-effective than you may think – just get in touch with us today for a free in-store kitchen design consultation and we'll show you how.
Emma Reed – Kitchen designer – 01792 712000
A few more from us…