In today's homes, the kitchen is no longer just a place for preparing meals but has become a central hub for many activities, including socialising, entertaining and relaxing. As a result, open concept kitchens are increasingly popular as they integrate with adjacent rooms, creating a sense of space and a relaxed atmosphere. However, like any home design, there are pros and cons to consider.
In this blog, we will explore the advantages and disadvantages of open concept kitchens, so you can make an informed decision when considering this design trend.
What is an Open Concept Kitchen and are there Pros & Cons to consider?
The open concept kitchen started to gain widespread popularity in the 1990s. In fact, it's the first choice for many homeowners as it makes a home appear more relaxed and inviting. Not only that, but it gives a better sense of space as the kitchen is integrated with adjacent rooms rather than 'boxed' into a separate room – hence the term 'open concept kitchen'.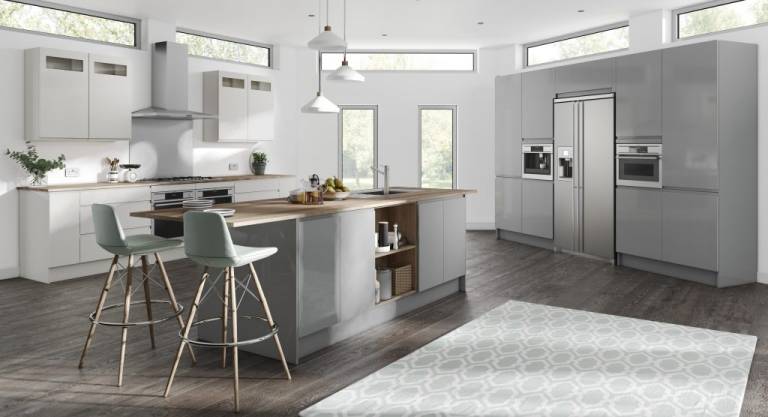 So, if your mind is all set on one, are there any pros and cons you need to think over? Sure, there are!
Pros:
Big, beautiful, and airy kitchen
Undoubtedly, one of the biggest advantages of having an open concept kitchen is the natural light flooding in from all directions and the generous airflow and sense of space.
You get to play around with more space, or rather, the sense of space is a lot bigger than the actual space itself! No walls means you can move about easily when it's time to prepare the family's favourite dishes.
So easy to serve dishes
Kitchens that open up or expand out into the dining room or living room make it super-easy to prepare and carry dishes, so that they can be quickly laid down and served.
If you think about it, it's a very useful feature when you have lots of guests waiting and you want to get the dining table ready in record time.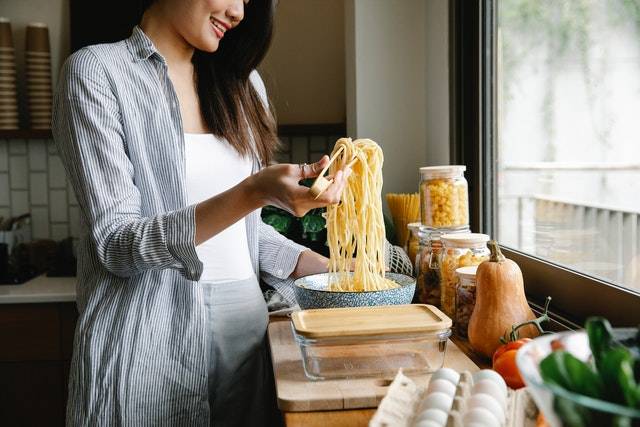 Flaunt those kitchen gadgets and crockery
An open concept kitchen lets you proudly display all your modern kitchen appliances and utensils, any smart devices you may have, crockery, etc.
It gives the entire main hall and living room a lovely modern urban living vibe, beautifully showcasing the integrated kitchen to your guests and relatives when they're over.
Cons:
No way to hide the kitchen chaos
Sometimes, it can be tough to clean up right after you get done with the kitchen. You might be tired or might not have the time (we've all been there).
However, with an open concept kitchen, any chaos, disorganisation, or uncleanliness, no matter how big or small, is on full display. This might not bother some, but for those who get anxious with cluttered worktops, this is definitely a con compared to a closed kitchen where it can be hidden for a while.
Certain smells lingering around the house
Even with the best exhaust system in place, it can be sometimes difficult to eliminate all the unique smells emanating from a kitchen. And, in some cases, they are not necessarily appetising or desirable smells, especially after a few hours!
If your house has great ventilation and airflow, then perhaps, you can remedy this to some degree, along with a spray of air freshener or perfumed candles.
You can no longer 'escape' or 'hide away' in the kitchen
If you're overwhelmed hosting get together or you're quite introverted and you need a spot where you can quickly take a breather or fix yourself a drink, this can be difficult in an open concept kitchen.
Since it's often linked to the dining space, there's nowhere to hide!
__________________________________________________
Need help designing your dream kitchen?
As a kitchen designer, I love creating a stunning space where life is easy and memories are made! If your kitchen needs upgrading, modernising or a complete renovation, let's have a conversation and see what you could do with your space.
A new kitchen with a specialist design is more cost-effective than you may think – just get in touch with us today for a free in-store kitchen design consultation and we'll show you how.
Emma Reed – Kitchen designer – 01792 712000
A few more from us…