Are you considering an open plan kitchen but are concerned about the lack of privacy? Or perhaps you already have an open plan kitchen, but you need your space to be slightly more functional? If so, we have the solution!
Broken plan kitchens are the perfect balance between open and closed plan living. With clearly defined zones and space-saving designs, you can achieve a bright open space whilst still preserving your privacy. If that sounds like your cup of tea, here are 5 ways to create a broken plan kitchen within your own home:
Internal glazing
Natural light is crucial when creating an open and airy kitchen - it's why so many people opt to knock down walls to make lighter and larger space. But what if we told you, you could still achieve that light open space without demolishing any walls?
Internal windows are a fantastic alternative to an entirely open-plan kitchen. Instead of being limited to an open or closed plan, these windows can help you create a unified look without altering the structure of your home - creating the perfect balance between a private and communal space. What's more, the increased flow of natural light will make each individual room seem bigger and brighter.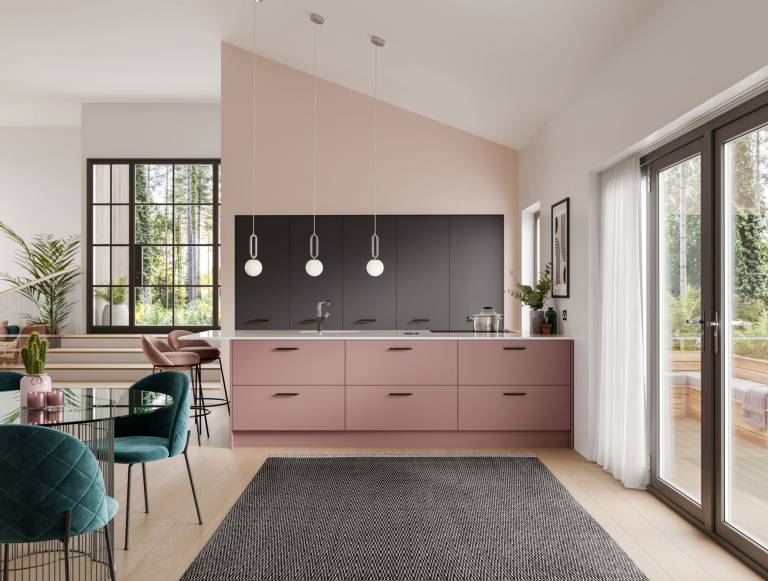 Open shelving
Open shelving is one of the most effective yet inexpensive ways to create definitive zones within your broken plan kitchen. Their floor-to-ceiling design enables you to create the illusion of a wall without compromising on space or natural light. And the best part? They're also a stunning focal point! Stack your shelves with books, vases or houseplants to complement your aesthetic and create a beautiful border between your kitchen and living space.
Crittall walls
Crittall-style walls are becoming increasingly popular in broken plan kitchens. Why? Because they allow you to design a beautifully cohesive space whilst still structurally separating one room from the next. Whether you need some additional privacy for your office space or formal dining room, these steel-framed glass panels are perfect for the job. Or, for those of you who want to preserve your open plan layout but could benefit from designing definitive zones, why not invest in some crittall-style partitions?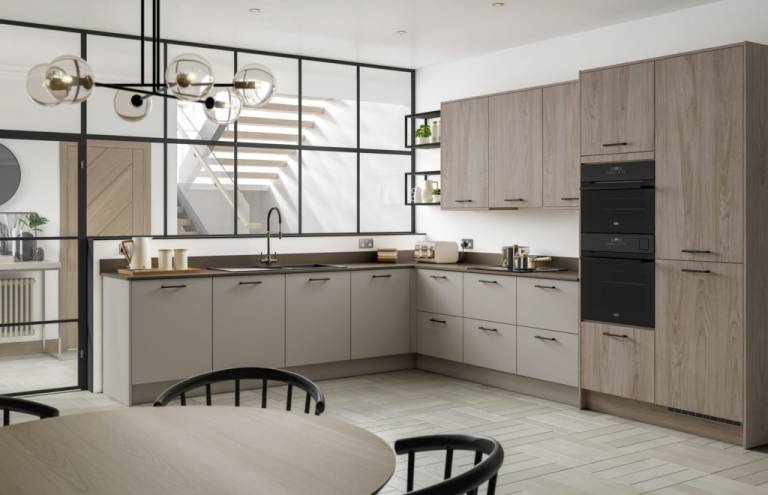 Pocket doors
The beauty of a broken plan kitchen is that it reaps all the benefits of an open-plan design without compromising your privacy. And pocket doors are the physical embodiment of this concept. Perfectly hidden to connect adjoining rooms, you can slide them shut whenever you need to separate your space. With various styles to choose from, pocket doors blend seamlessly into any kitchen without limiting you to an open or closed plan design.
Folding screens
Another inexpensive but effective way to separate your open plan kitchen is to invest in a folding screen or room divider. These screens come in various designs and dimensions to perfectly suit the size and style of your space. And what's more, unlike structural partitions, you can move them around or fold them away to accommodate your daily needs.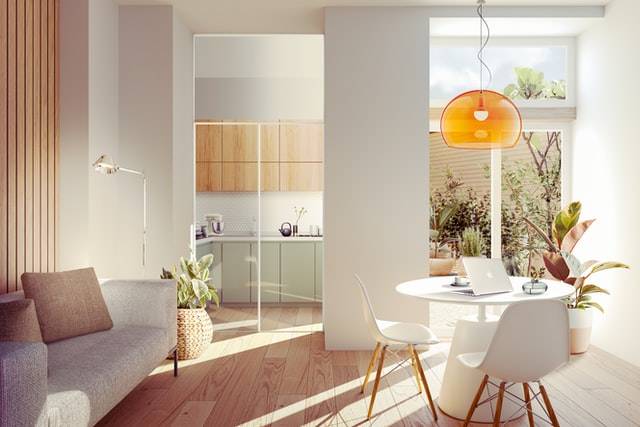 Embrace the broken plan kitchen
Remember, the broken plan kitchen is all about accommodating your needs. Whether you're welcoming guests or you need 5 minutes to yourself, these structural solutions can help you strike the perfect balance between style and practicality. So don't compromise on your kitchen design! You can still all reap the benefits of an open-plan space whilst preserving your privacy.
---
Need help designing your dream kitchen?
As a kitchen designer, I love creating a stunning space where life is easy and memories are made! If your kitchen needs upgrading, modernising or a complete renovation, let's have a conversation and see what you could do with your space.
A new kitchen with a specialist design is more cost-effective than you may think – just get in touch with us today for a free in-store kitchen design consultation and we'll show you how.
Emma Reed – Kitchen designer – 01792 712000
A few more from us…