With Autumn just around the corner, it's time to start cosying up for the cooler months. And what better place to begin our autumnal preparations than at the heart of the home?
Whether your kitchen is modern and minimalistic or you love your countryside cabinetry, we have a seasonal style tip for you.
Here are our top 5 tips to help you create a cosy autumn kitchen:
1. Make the most of natural materials
As the days get cooler and we start spending more and more time indoors, we encourage you to include outdoor elements inside your kitchen.
Wood, stone and rattan are beautiful natural materials that bring warmth and texture to any space. For example, if your modern kitchen feels cool or cold, you can add warmth by incorporating wooden shelving, bar stools, or even chopping boards. Equally, stone placemats and wicker storage baskets can add a rustic feel during autumn.
The aim isn't necessarily to recreate a countryside kitchen (although they are a timeless classic). The idea is to create a cosy atmosphere whatever your kitchen design.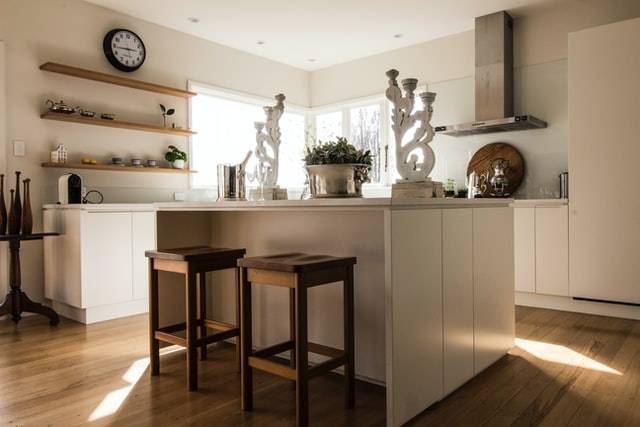 2. Dim the lights
Although many dread the darker nights, there's nothing quite as cosy as an autumnal evening at home. But how do you make your autumn kitchen feel cosy and comforting rather than dark and dismal?
With warm lighting!
You see, whilst cool bulbs and bright lights can effectively illuminate your kitchen, they can also make it feel cold and clinical. So instead of making your kitchen as light as possible, focus on creating a cosy atmosphere! The warm glow of dimmer switches, lamps and under-cabinet lighting create a truly comforting atmosphere during these darker nights.
3. Incorporate soft furnishings
As the temperature drops and we begin layering our clothes, we also want to start layering textiles in our kitchens.
Throws and cushions are a welcome addition to any seating area, no matter your style or colour scheme. Equally, rugs are a real comfort throughout the cooler months. With that said, don't overlook the essentials. Thicker hand towels are an autumn must-have!
Remember, the ultimate autumn kitchen is cosy and comforting, so make sure to pick fabrics that feel as good as they look.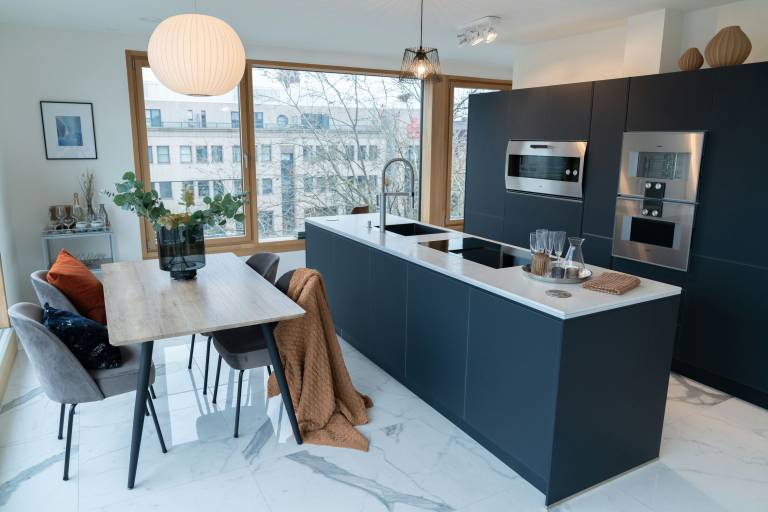 4. Welcome warmer colours
When we imagine autumnal colours, we think of the red, orange and golden leaves falling from the trees. And whilst these colours won't complement every home, we can still capture some warmer tones in our kitchens.
If you have a neutral colour palette in your kitchen, consider opting for taupe, beige or tan accessories. Alternatively, don't be afraid to lean into a darker colour scheme. Rich colours like navy and emerald add depth and drama to your cabinetry and look beautiful all year long.
5. Indulge in autumnal accessories
There's no greater way to capture the essence of autumn than with some autumnal accessories.
Now, we're not saying you have to start displaying pumpkins everywhere. (Although there are some fantastic glass and ceramic options available.) But we would recommend investing in a few subtle additions.
For example, no fall kitchen is complete without an autumn-scented candle. (They come in every size, scent, and colour, so there is no excuse!) Equally, seasonal flowers and foliage can add a temporary pop of colour to your kitchen to help you embrace the autumn atmosphere.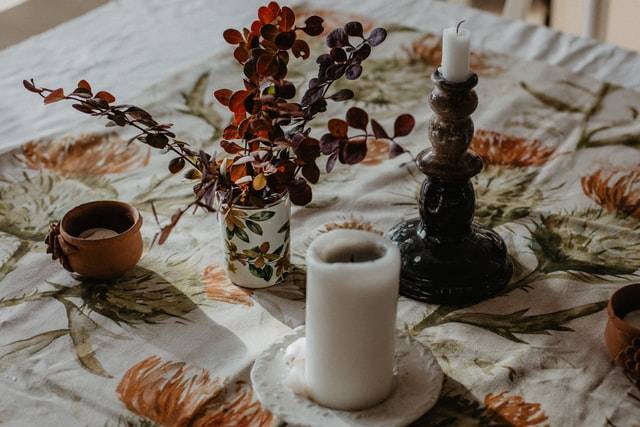 Start creating your cosy autumn kitchen!
No matter your colour scheme or kitchen design, you can still fall in love with your kitchen this autumn! So what are you waiting for? Start working on your autumn kitchen today, so you're ready to snuggle up as soon as the season hits!
---
Need help designing your dream kitchen?
As a kitchen designer, I love creating a stunning space where life is easy, and memories are made! If your kitchen needs upgrading, modernising or a complete renovation, let's have a conversation and see what you could do with your space.
A new kitchen with a specialist design is more cost -effective than you may think – just get in touch with us today for a free in-store kitchen design consultation, and we'll show you how.
Emma Reed – Kitchen designer – 01792 712000
A few more from us…