When we think of summer, we think of sunshine, BBQs and beach trips. We don't fantasise about cooking over a hot stove.
(After all, there's nothing worse than cooking a hot meal in the height of summer.)
So, how do we continue enjoying our kitchens without wilting in the heat and humidity?
Simple - by following our 6 steps to help you keep cool in the kitchen this summer:
1. Drink lots of water
It's so important to stay hydrated - especially during the summer months. So make sure you're drinking lots of water!
If your fridge doesn't have a built-in water dispenser, consider investing in a filter jug or carafe you can store in your fridge door. That way, you'll always have access to an icy cold refreshment.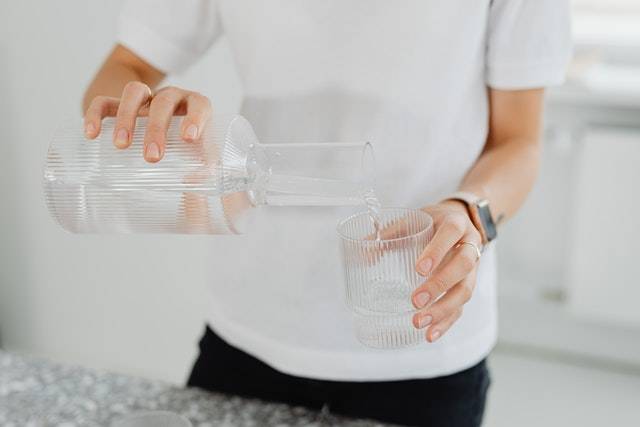 2. Make No-Cook meals
If you want to keep cool in the kitchen this summer, you'll want to avoid the oven at all costs.
So, get creative with your cooking and experiment with No-Cook meals. Salads, wraps, noodles and soups are all tasty alternatives to hot meals.
3. Only cook in cool weather
It wouldn't be a British summer without a bit of rain. So, make the most of the murky weather and seize the opportunity to use your oven.
We recommend batch cooking when it's cool, so you only have to stick your meals in the microwave when the sun is out again.
Or, if meal prepping isn't for you, try to prepare some ingredients for later in the week. For example, you could roast a chicken or pre-cook some pasta.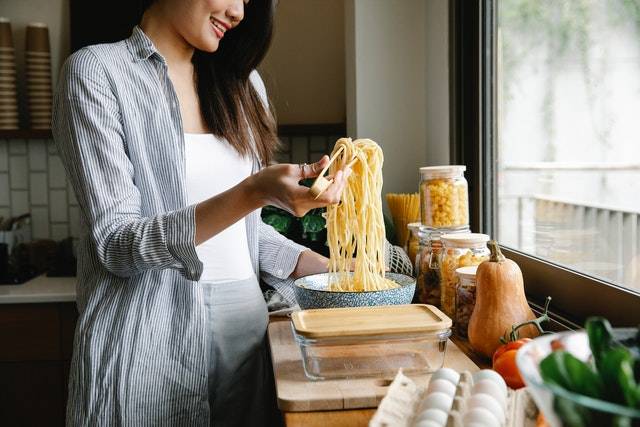 4. Dine alfresco
A cramped kitchen can quickly heat up. So, instead of sitting around a stuffy kitchen table, why not enjoy your evening meal outside?
Your garden can be a great extension of your kitchen - so embrace the outdoors and invest in a garden dining set! It's the perfect solution to keeping cool whilst still making the most of the warmer weather.
5. Fire up the fans
If you're looking for a literal solution to help you keep cool in the kitchen this summer, we strongly recommend investing in a fan.
Indoor fans come in all shapes, sizes and designs - so you can easily find one to match your kitchen interior.
Or, if you're looking for a more permanent solution, you should consider investing in a ceiling fan. Although they aren't mobile like indoor fans, they can save you a significant amount of space.
So, if you want to cool down with just the click of a button, start searching for a fan!
6. Limit natural lighting
We love natural lighting - but with the sun blazing through your windows all day long, your kitchen can start to feel like a greenhouse.
So, what's the solution?
Take the edge off the glaring heat by closing your blinds during the sunniest days of summer.
Don't worry - you won't have to cook in the dark! Simply shut your blinds when the sun is at its strongest to avoid overheating every time you enter the kitchen.
Chill out this summer
So there you are - our 6 tips to help you keep cool in the kitchen this summer!
Whether you opt to avoid your oven, install a fan or eat outdoors - we hope you can enjoy the summer sun. After all, it makes a rare (and welcome) change from the rain!
---
Need help designing your dream kitchen?
As a kitchen designer, I love creating a stunning space where life is easy and memories are made! If your kitchen needs upgrading, modernising or a complete renovation, let's have a conversation and see what you could do with your space.
A new kitchen with a specialist design is more cost-effective than you may think – just get in touch with us today for a free in-store kitchen design consultation and we'll show you how.
Emma Reed – Kitchen designer – 01792 712000
A few more from us…