Cramped and dark rooms can make us feel low, whereas walking into a lighter, brighter and spacious room can instantly lift our spirits. Which does your kitchen make you feel?
If you have a small kitchen, as I do, you may not be physically or financially able to make the space bigger. Enter, magic by design.
By using the power of good kitchen design, you can visually stretch your space while also maximising what you do have. The result? A beautiful kitchen that looks bigger than it is and one that balances storage, style and function perfectly.
If you want to increase your space without paying for knocking down walls and contractors, here are some of our biggest kitchen design tips.
7 hacks to make your kitchen look bigger
To cater for everyone, regardless of where you are on the budget spectrum, we've split our hacks to make your kitchen look bigger into two: the first being minimal adjustments and the second, big fixes which cost money and time.
Hack 1: Choose a light colour scheme
Opting for neutral or pale colours will make your kitchen look more open. How? Because whites not only give the sense of 'light and airy,' but they also reflect light and act like a mirror to open up the space.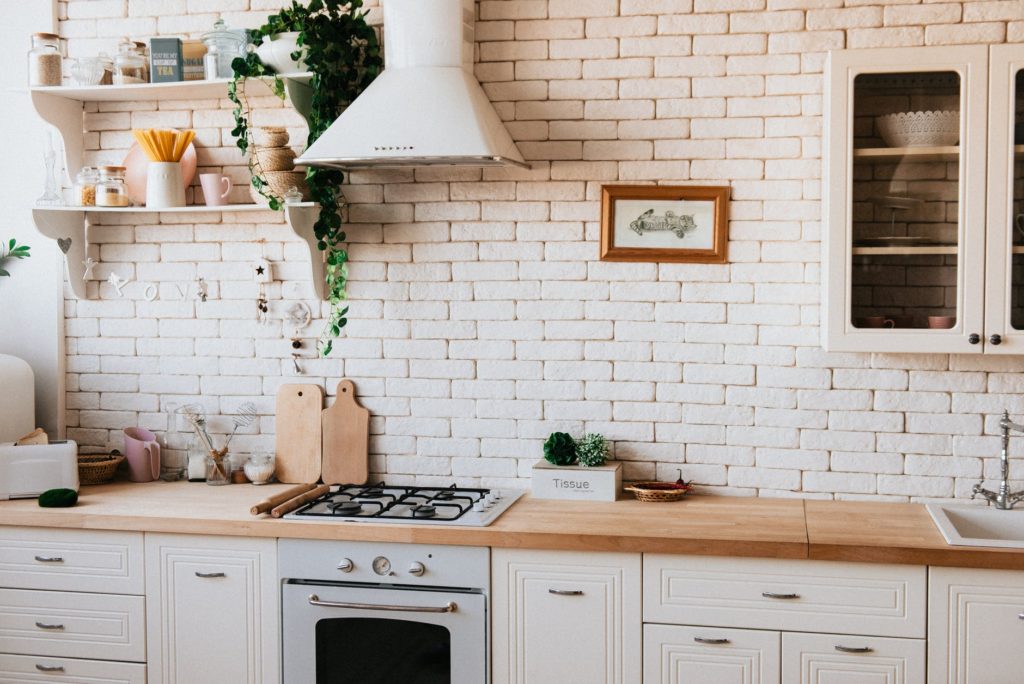 Minimal adjustment: maintain a matching colour scheme throughout the kitchen (e.g. utensils, appliances, and furnishings).
Big fix: repaint your walls and your cabinets in similar light hues to make your kitchen appear larger.
Hack 2: Let there be light
If you fill your kitchen with plenty of light, it tricks the eye into thinking that the space is bigger than it is.
Minimal adjustment: replace blinds with light curtains that will allow light to seep through.
Big fix: add pendant lights to the kitchen, ones that hang or drop from the ceiling. Not only will they light up the room but they will also draw the eye upward too.
Hack 3: Invest in specialised storage
To maximise the space that you have (which may not be much to begin with), you need to invest in specialised storage solutions. This helps you to avoid clutter on your worktops which is key to making your kitchen look bigger.
Minimal adjustment: declutter countertops and consider simple storage solutions such as small shelf units or drawer organisers.
Big fix: pull out drawers, a sliding pantry, and floor to ceiling cabinets are just a few examples of how you can maximise your space. If you add a mirror onto your door as well, there's no stopping the space.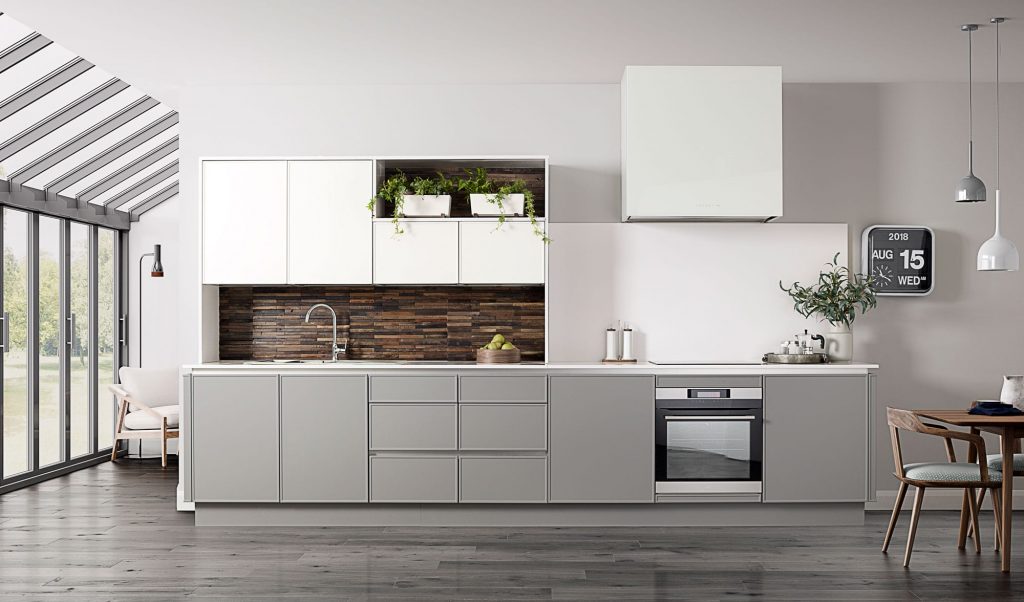 Hack 4: Add in a kitchen island
You might be thinking "I'm trying to de-clutter, not add more!" and you'd be right in thinking that but hear us out. A kitchen island provides additional worktop space, a table AND storage for kitchenware or large appliances!
Minimal adjustment: consider adding a roller-cart island. You can use it when you need it or have it there all the time as a dinner table with stools.
Big fix: invest in a kitchen island that matches your kitchen cabinetry, worktops and style.
Hack 5: Direct the eye upward
It might sound weird, but any details that you can add to make people look upward will give the illusion of space. After all, the most space is above our heads anyway!
Minimal adjustment: hang vertical décor such as photos or banners closer to the ceiling than the floor.
Big fix: add in simple, delicate details to your ceiling such as crown moulding and make sure that it matches the rest of the room.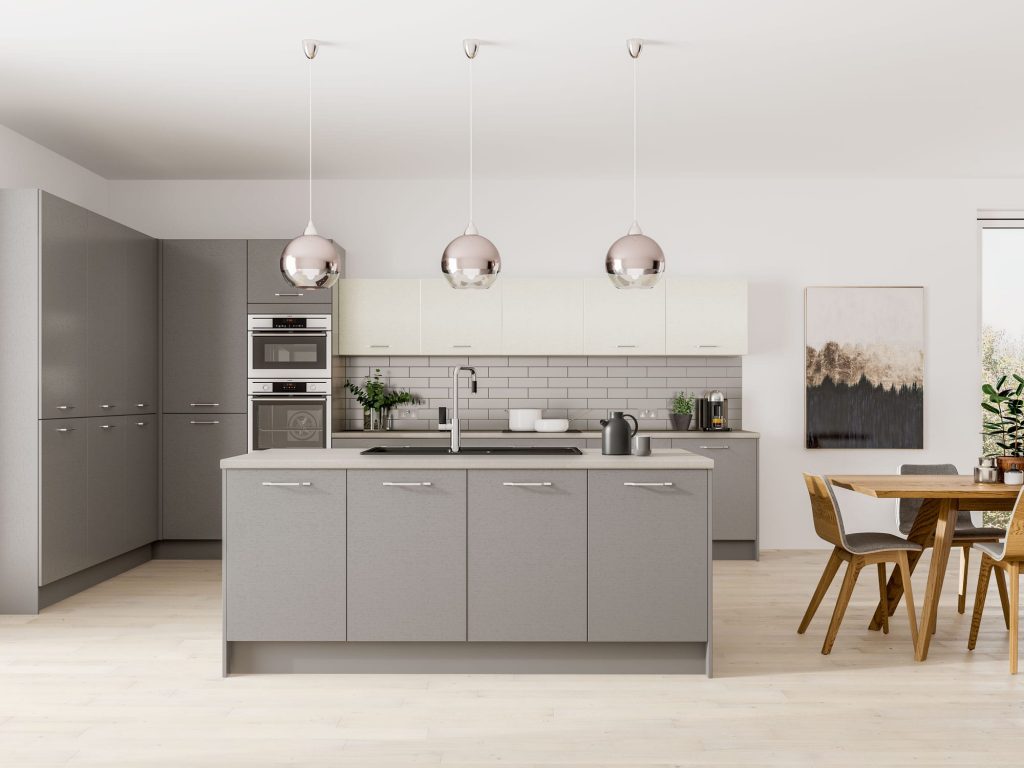 Hack 6: Open up the space
Did you know that how you decorate and furnish can expand or shrink a space? If you want to make your kitchen look bigger, open up your space!
Minimal adjustment: add in a runner rug, mirrors, and always decorate in vertical lines.
Big fix: remove the doors on kitchen cabinets to expose the space closer to the wall. This expands the visual perimeter as does glass-front doors.
Hack 7: Move into a larger space
Talking about visually opening a space, why not physically expand your kitchen?
Minimal adjustment: create a theme overlap between two rooms by using the same colours and patterns.
Big fix: remove the doors between the kitchen and another room and replace it with an arch to merge the two. If you have the finances, you can even knock down the wall to really open up the space.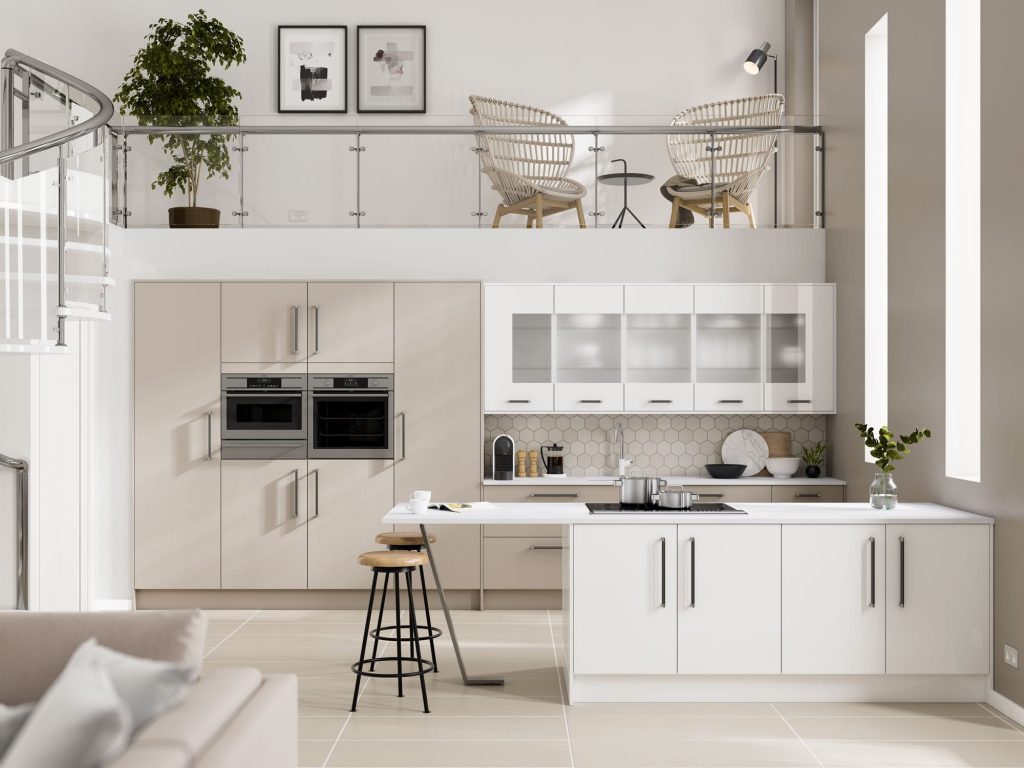 So there we go! 7 kitchen design hacks that will make your kitchen look bigger. Finally, you can have a space where you actually want to cook and host and spend time in.
Let us help you create your dream kitchen in the space that you have
As a kitchen designer, I love creating a stunning space where life is easy and memories are made! So, if your kitchen needs upgrading, modernising or a complete renovation, let's have a conversation and see what you could do with your space.
A new kitchen with a specialist design is more cost-effective than you may think – just get in touch with us today for a free in-store kitchen design consultation and we'll show you how.
Emma Reed – Kitchen designer – 01792 712000
Looking for more kitchen advice and inspiration? Check out some of our other articles!