A kitchen is a big investment whether starting anew or remodelling an existing one, but exactly how much will it put you out of pocket?
While this blog doesn't answer the question "how much does a new kitchen cost?" definitively, as there are too many factors involved, it does break everything down so that you can see where your money is going and how much you can expect to pay for each area depending on what you want. Here are the costs of a new kitchen broken down into the 5 main areas.
1. Cabinets
The cost of your kitchen cabinets can vary hugely depending on a number of factors but can be anywhere in the range of £2k – £80k. That being said, you would have to buy quite a few of the most expensive branded cabinets to be reaching the £80k mark. Likewise, it would most likely be a small kitchen with budget cabinets to only spend around the £2k point.
There are a number of things that can affect the cost of your kitchen cabinets, so understanding what they are, what the differences are and if there are any potential ways to save money can be very useful knowledge!
Flat packed vs rigid
This is how your cabinets arrive when they are picked up or delivered and can make a big difference to the initial cost.
Flat-packed cabinets will always be cheaper to purchase but – you guessed it – you have to assemble these yourself (which can cost you time and/or money). Rigid cabinets (ones that already been constructed in the factory) are more expensive but will arrive fully built with the doors and drawers already fixed in place, ready to be fitted in your kitchen. This can save you time and money when it comes to fitting them.
Some companies only deliver flat-packed or rigid, but if you have the choice, make sure to weigh up the cost/benefit of each.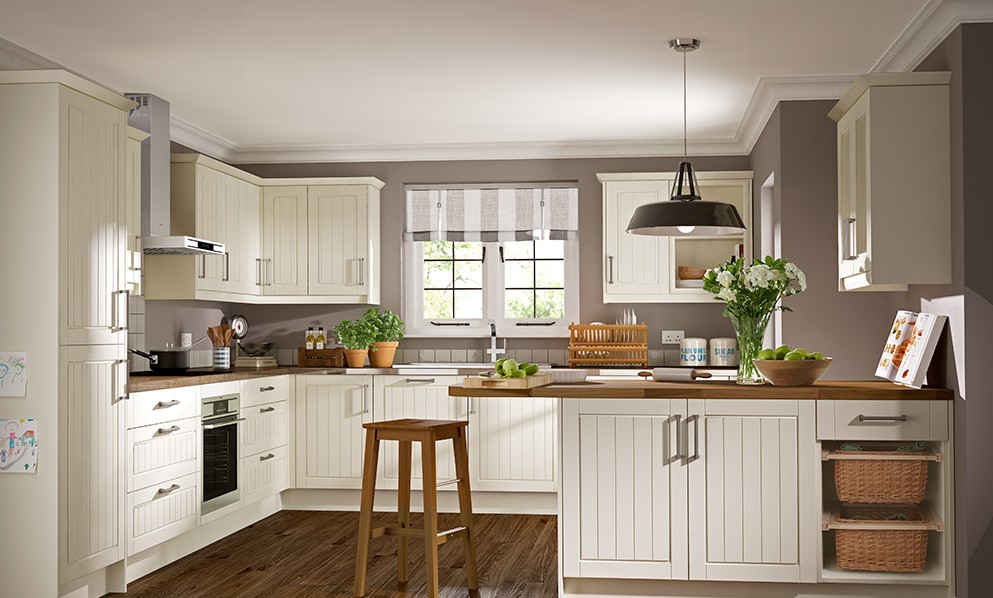 Thickness and construction
The thickness and type of materials used to construct the cabinets also play a part in the price due to the effects it will have on their quality and longevity.
On the lower end, you may be looking at 15mm thick boards made from MDF (medium-density fiberboard) with a rather thin melamine layer that acts to protect against moisture, which can cause damage. A cabinet with this construction will cost much less, but may not hold up to very much day-to-day use and you could be looking to replace it in a year or two.
In the mid-range, and what most good brands or independent kitchen showrooms offer, is an 18/19mm board, usually made from HDF (high-density fibreboard) and a thicker melamine layer to protect the board. Now I know a few millimetres doesn't sound like much, but when it's applied to each board used to construct the cabinet, the overall strength and longevity of the cabinet is vastly increased.
At the top end of the market, you could be looking at 18-22mm solid oak, handmade cabinets. Cabinets constructed in this way can be extremely strong and last a lifetime if treated properly. However, you will be paying top dollar for a kitchen made like this.
Bespoke sizes
Most cabinets are supplied in a series of 'standard' sizes, such as 300mm, 450mm, or 600mm wide. Depending on the supplier of the cabinets, there will be a wider or smaller choice of these sizes available. This goes for the heights of tower and wall cabinets as well.
Most of the time you can usually make these standard sizes work for your space. It may mean that you have a rather large filler (a piece of finished material that goes between the last cabinet and wall to fill dead space) at the end because it doesn't work out precisely, but it uses the sizes available to you.
Using the standard sized cabinets (especially the most common sizes, such as 600mm wide) will save you money as these are often more cost-effective to produce and are therefore more cost-effective to buy. Where you start to add cost is when you want bespoke sizes, if this is available for your chosen cabinet, to fit a particular space.
Usually, anytime you make a cabinet a bespoke size, it can add anywhere from 30-100% of the cost of that cabinet (or more). This amount will depend on the company and style of cabinet and door that is being made bespoke.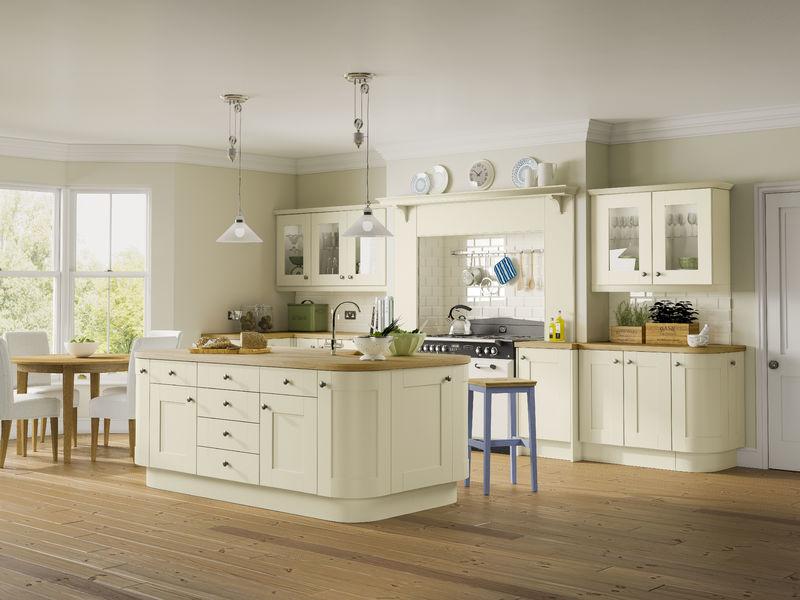 Type of door
The type of door is probably the biggest factor that will affect the overall cost of your cabinets. There are many different styles of door available and with each style, there are many different qualities on the market. As a general rule, a thinner (15-18mm thick) door that with a simple melamine wrap will be much cheaper than an in-frame oak painted shaker door.
The material and construction method of the door will have a direct impact on the cost. However, you may be able to get a timber painted door from one supplier that costs less than the basic matt slab melamine wrapped door from another, simply because of the material and construction methods used or the brand and quality associated with it. As with most products, you pay more for branded items.
A cheaper door may also end up peeling or wearing easier than a higher quality (and more expensive) counterpart, so bear this in mind as you may be replacing it not long after!
Runner and hinges
The quality of the drawer runners and door hinges on a cabinet are very important, as these are the mechanisms that will get used again and again, every single day. The make of these mechanisms and the quality associated will impact the cost of the overall cabinet.
Our Atira drawer boxes benefit from a new generation of deism from our friends Hettich.en and has a modern square profiler drawer box.
Lesser known brands, generic or own/unbranded mechanisms can start to wear and break down after time. On the lower end as well, you may not be getting soft close hinges (a must have if you have small children) or drawer runners, or you will have to pay extra to have them. Most of the independent showrooms and brands all have soft close hinges as standard in their cabinets, another reason why they may cost more.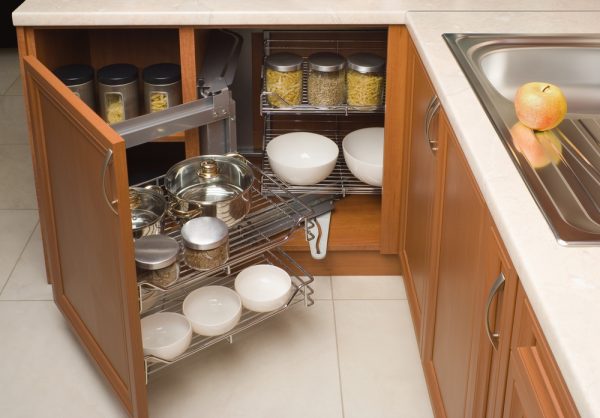 Storage solutions
Another factor that can affect the price of your cabinets is whether they include any storage solutions, and if so, what make they are.
Storage solutions are things like the metal wirework baskets that pull out of a cabinet or the 'le-mans' corner solutions that pull out of your corner base cabinets. As with your hinges and runners, the manufacturer of the storage solution will impact the cost and the quality.
It goes without saying really that the more storage solutions /storage mechanisms you have, the more expensive your cabinets will be.
2. Worktops
The next chunk of your new kitchen budget we are going to look into is your worktop/countertop. Depending on your budget and what you want this can be a relatively small or quite hefty purchase.
Here are some factors that will dictate the cost:
Type of worktop
The number one factor deciding the cost of your worktop is the type of worktop you pick. The material, construction method and availability of your choice all impact the overall cost.
On the lower end, you have your laminate worktops, which are available in almost all kitchen shops or online and can cost as little as £100 depending on what you pick and how much of it you need. Moving up the scale you have timber worktops, which are usually a little more than laminate.
Then you start to work up to your granite, quartz, acrylic and up to compact surfaces (porcelain). For these types of worktop, you could be looking at paying anywhere from £2k – £10k or beyond if you have a lot of worktop space and pick the most expensive thing going.
Top tip: Most granite, quartz and porcelain worktops come in slabs 3m long, so if you don't want any joint lines or to have to pay for two slabs, keep an eye on your kitchen design and make sure your run or island isn't longer than 3m. If it is, chances are you will need a joint and which may require another slab, which can make the price jump up.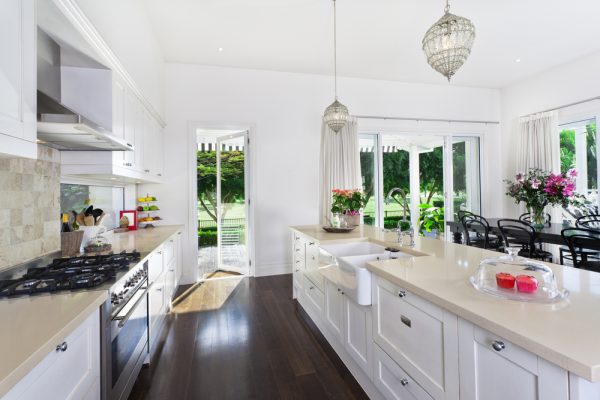 Features
The next cost consideration for your worktop is if you want any features in the worktop itself. Now, these are usually only available for solid worktops, so not laminate, and consist of features such as cut in draining grooves, built-in trivets and decorative/shaped edging – anything that is an extra process involved in creating the worktop that isn't just cutting out a plain slab.
All of these extra features will cost more money. Every time you make a cut out for a sink, hob or pop-up socket you will have to pay more, as it's more work for the fabricator.
Installation
Lastly, but ultimately tied into the type of worktop you have, is the installation method required to fit the worktop.
Laminate and timber worktops can be fitted by a carpenter or builder and don't require super-specialist equipment, making them quite cost-effective to install.
However, anything like granite or quartz will require a specialist to not only template and measure out what is needed to be fabricated, but also to install the worktop itself. These services will cost more, on top of what is already a more expensive product!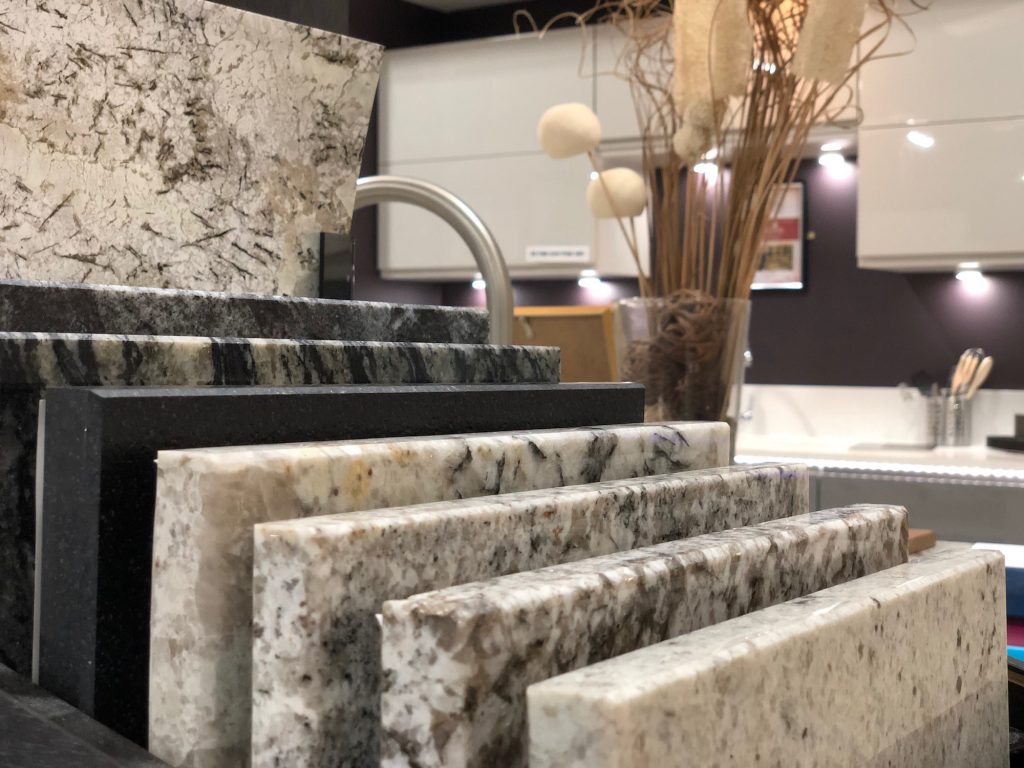 3. Appliances
The cost for appliances can be relatively low or very high depending on what you want, so again, many factors determine cost here.
Number of appliances
The first consideration is how many appliances you will actually need. Are you reusing any existing appliances in your new kitchen, or buying everything you need brand new?
Along with this is what I would perhaps consider additional appliances, ones that aren't the usual necessary ones for a kitchen, but are extras, just because. These are appliances such as a warming drawer or a built-in coffee machine, double ovens, or separate fridge and freezer, things of that nature.
It may seem obvious but the number of appliances you want will have an impact on the cost of your project, so think hard about what you need versus what you want, and if you're willing to spend the extra.
Brand/Spec
The manufacturer (brand) and the specification (how fancy) of an appliance will greatly dictate the price you will pay.
Brands such as Miele and Sub Zero are very well made but also come with a larger price tag. More budget brands will cost you a fraction of the price. Are you particularly brand loyal or do you need to have the most up to date, all singing and dancing appliance?
Again, this comes down to your budget and what you need out of your appliances. You can get all the regular appliances (including a sink and tap) needed for a new kitchen for around £1.5k on the budget end, or you could spend £50k upwards if you want the very best of the best.
Read: Everything You Need to Know About Choosing the Right Kitchen Appliances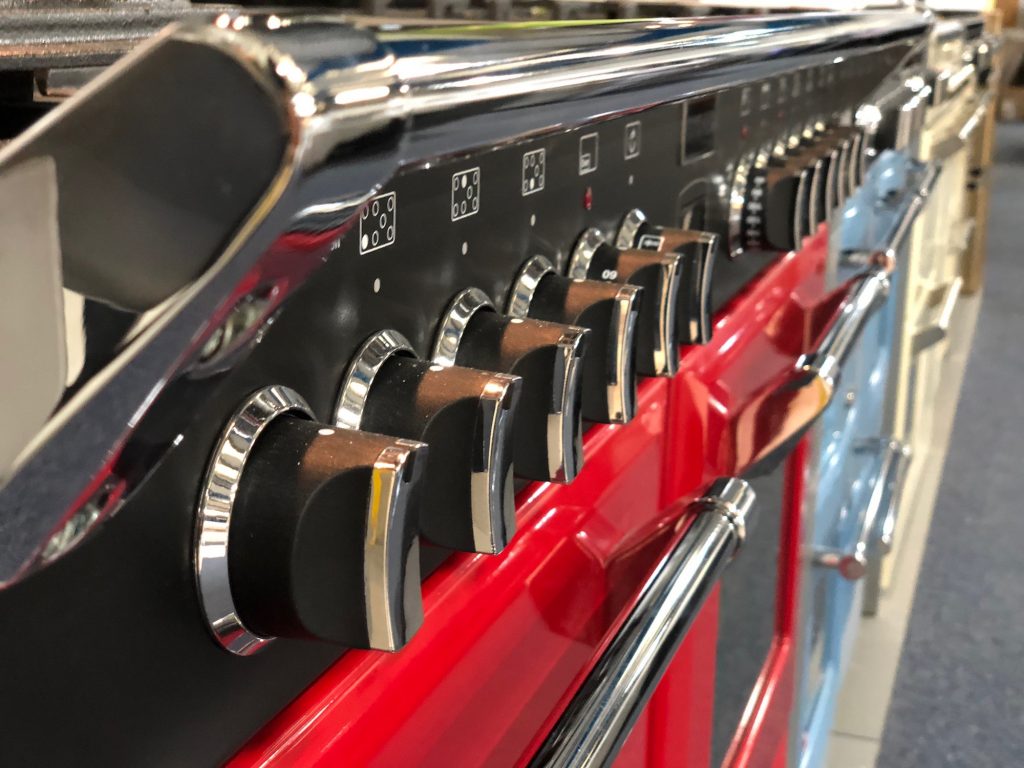 4. Fitting
The cost of fitting a kitchen can vary somewhat, although perhaps not quite as dramatically as the other sections we've talked about. However, it's still something to consider and it's good to know what options you have.
Hidden cost!! Removing your old kitchen
Before you can have that lovely new kitchen, you have to get rid of the existing one. You could be paying a builder to do this or it may be part of your contract with a kitchen showroom, although not all kitchen showroom installations include removing the old kitchen. It's a cost that's quite easily overlooked, so don't forget about it!
If you want to save a bit of money and are at least a little DIY handy, then you could do this yourself. Hire a dumpster, skip or van to dispose of the old kitchen, or try and sell /reuse items elsewhere. Just be mindful of any electrics and plumbing, and if in doubt, leave it.
Who's fitting? Showroom or local tradesperson?
There are normally two directions to take when having your kitchen fitted, and this could be decided by where you bought everything from and if they even offer an installation service.
The first and usually more cost-effective way is to hire a local tradesperson to carry out the kitchen fit. This could be a builder and their team, or individual tradespeople you have selected for the various tasks at hand. Fitting the cabinets, sorting the plumbing, fixing electrics, etc. Hiring a tradesperson can usually work out more cost-effective than going with the in-house fitting team at a kitchen showroom. However, there is more risk involved when not using the in-house team.
The benefits of going with the showroom's fitters are that they know the product very well and if anything goes wrong, or is damaged during the installation, it is their responsibility to correct it and order any additional cabinets or material. If you have hired a third party, it's then up to you and them as to where the blame and cost lies.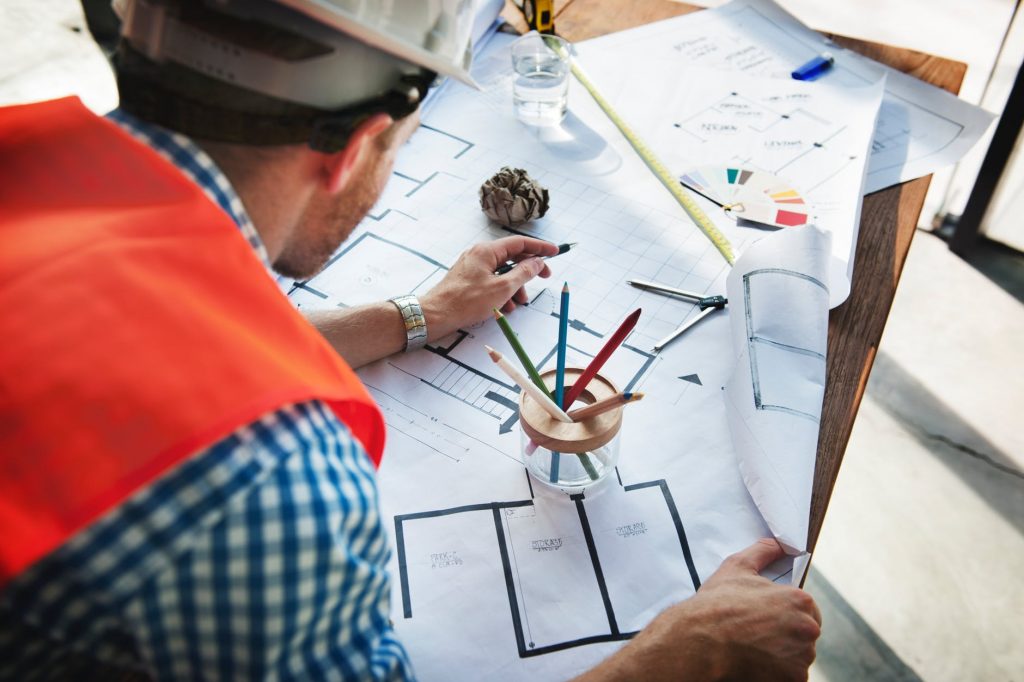 What's included in the price?
Make sure it's very clear what the price you are paying to have your kitchen fitted includes, and more importantly, what it doesn't include.
Many kitchen showrooms offer what is called a 'dry fit' when it comes to fitting a kitchen. Usually, this means that they are only fitting the cabinets and worktop and are not doing any electrical connections or plumbing work. If this is the case, then you will need to hire separate tradespeople to finish the job!
Always check what your price includes to avoid any confusion and upset later on.
5. Building work
The last factor to consider, and one that isn't linked to the kitchen itself but still plays a role in the overall cost of a project, is the building work involved.
Obviously, this can vary hugely depending on the project and not all of the below will apply to everyone. As such, I won't go into too much detail but I think it's important to highlight some of the main areas building work can come into a project and where they can impact the cost:
Architect – if you're having an extension or planning on major works, you will need the expertise of an architect to help with the design, planning application and build of the project. This can be a large cost, but ultimately a necessary one.
Demolition – I touched on this already above, but removing or demolishing the existing kitchen is often an additional cost.
Steelwork – depending on the project, steel beams are often required to support new and existing structures. These supports can come at quite a high cost.
Windows/doors – new windows and doors are a regular feature with new kitchens or extensions. You may have to factor in the cost of these when working out your budget.
Flooring – a new floor is also a regular feature and the cost can vary depending on what material you choose and how difficult it is to install.
Plumbing/electrics/plastering – you may need to hire separate tradespeople for all of these tasks depending on how you choose to fit your new kitchen, with costs varying considerably depending on what needs to be done. Having new electrics installed may highlight other areas that need improvement, such as a new fuse board to comply with regulations, which will add to your costs.
Decorating – usually, the last piece of the puzzle, once the dust has settled. You may want to hire a professional decorator to come in and finish off those little details.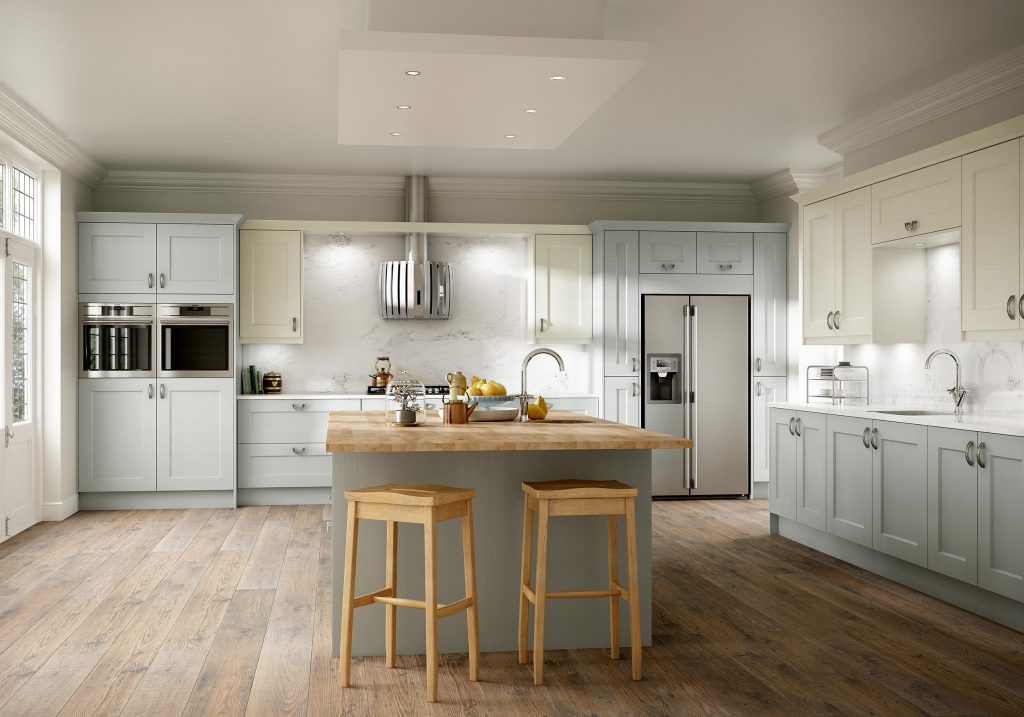 A new kitchen can cost a lot if you don't know the impact of your choice
As you can see, there are a lot of factors that make up and contribute to the cost of a new kitchen, as well as many ways to save money along the way by making certain choices at each stage.
Hopefully, with our guide, you can be more aware of what each choice means so that you can make the best cost-effective choice for you without sacrificing quality!
_______________________________________________________
Create the kitchen that you want (at the price that you want!)
As a kitchen designer, I love creating a stunning space where life is easy and memories are made! So, if your kitchen needs upgrading, modernising or a complete renovation, let's have a conversation and see what you could do with your space.
A new kitchen with a specialist design is more cost-effective than you may think – just get in touch with us today for a free in-store kitchen design consultation and we'll show you how.
Emma Reed – Kitchen designer – 01792 712000
_______________________________________________________
Looking for more kitchen advice and inspiration? Check out some of our other articles!