The kitchen is the heart of the home. So it should come as no surprise that it can significantly increase (or decrease) the value of your property. But which design elements actually add value? And are they worth the initial investment?
To help answer these questions, we've outlined 7 ways to add value to your kitchen. So, whether you have a big budget or a small one, we have a suggestion to improve the quality of your kitchen and (in turn) increase its value.
1. Optimise storage
Our first suggestion may not be the most glamorous, but it's proven to be one of the most effective ways to add value to your kitchen. Why? Because you can never have too much storage space!
Think about it - your kitchen is the heart of your home. So, you're not just storing pots, pans, plates and non-perishables. You're also storing first aid kits, car keys and cleaning supplies. All this to say, storage is (arguably) the most important aspect of any kitchen. So we strongly suggest incorporating open shelving, storage solutions or even a pantry into your kitchen design.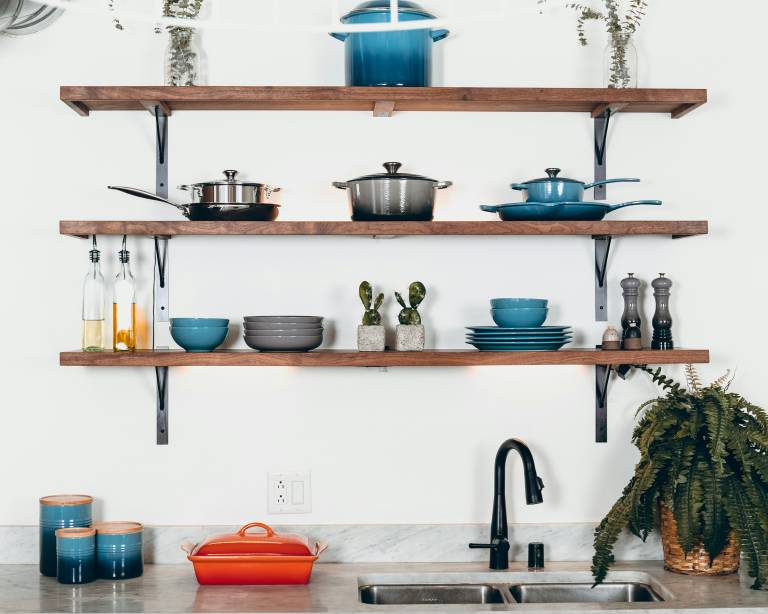 2. Invest in new countertops
Your countertops are one of the primary features of your kitchen design (both visually and practically). So, if your countertops look tired or outdated, we strongly suggest investing in new ones.
Quartz offers a low-maintenance, non-porous option that is both beautiful and durable. And whilst it is one of our more expensive suggestions, it is a surefire way to increase the value of your kitchen.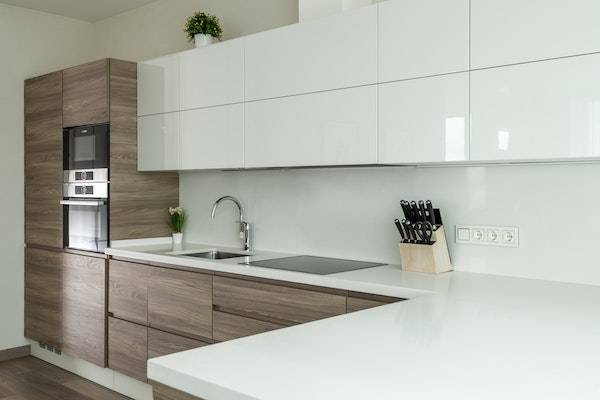 3. Upgrade your appliances
Appliances are an essential part of every kitchen. So it only makes sense that swapping your old appliances for high-quality alternatives would add value to your kitchen.
With that said, here are some of our suggestions for upgrading your appliances:
Opt for integrated appliances (where possible) to avoid cluttering your countertops.
Choose energy-efficient appliances to increase the value of your kitchen and reduce your energy bills.
If integrated appliances aren't in your budget, try buying reputable branded appliances.
Avoid spending money on non-essentials like coffee machines and televisions.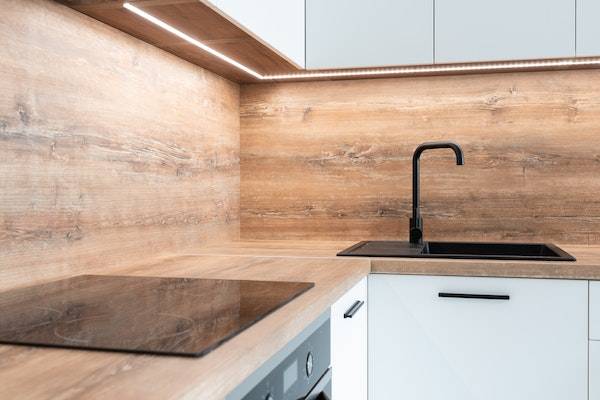 4. Install an island or peninsula
Despite popular belief, you don't need lots of money or square footage to incorporate a kitchen island into your design. Instead, you can purchase a small free-standing island or create a peninsula with a few additional kitchen cabinets. Both alternatives still offer you extra space for cooking, hosting, dining and storage to improve functionality and add value to your kitchen.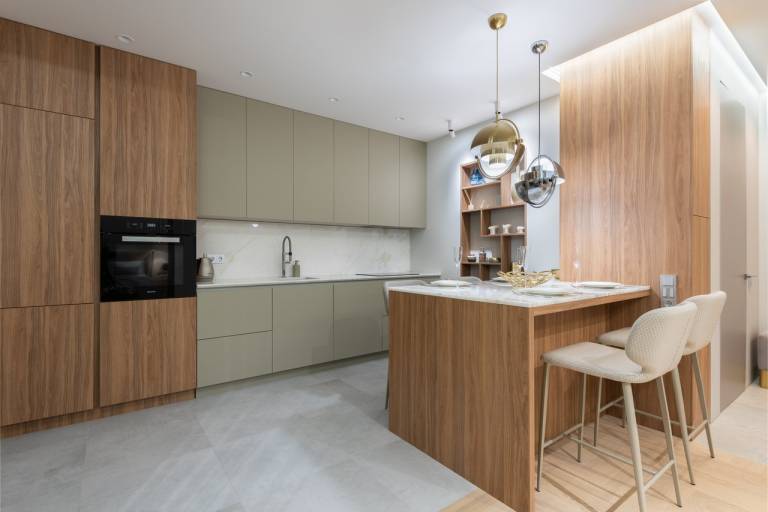 5. Replace your floors
Your kitchen floors have to endure a lot. (Spills, stains, shoes - the list goes on.) So they need to be both durable and beautifully designed. But which floors will add value to your kitchen?
Personally, we love to recommend wood floors to our clients.
With so many colours, grains and patterns to pick from, they are a timeless and incredibly versatile option (whether you prefer a modern finish or a classic country design.) Plus, they are the perfect option for a cohesive open-plan kitchen.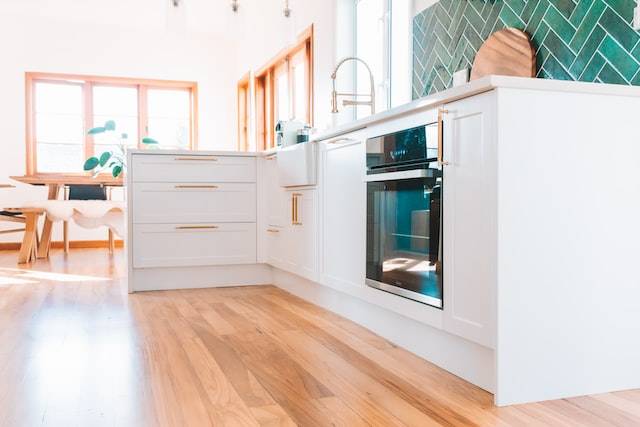 6. Choose a neutral colour scheme
For those trying to sell their homes, a great way to add value to your kitchen is to adopt a neutral colour scheme. Why? Because it offers buyers a blank slate to work with.
So, unless you've found your forever home, we recommend choosing neutral colours for your walls, worktops and cabinets and adding colour through art, accessories and tableware.
(After all, you don't want to lose out on an offer because the buyer can't see past your purple tiles.)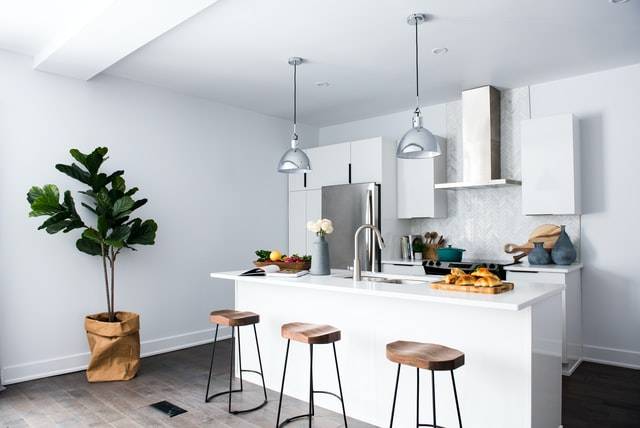 7. Add luxurious lighting
Lighting is an essential part of interior design. It has the power to enhance mood and create the illusion of a larger space. Yet, it's so often overlooked.
So, take advantage of this comparatively inexpensive addition and incorporate some luxury lighting into your kitchen. Consider beautiful pendant lights above your dining space, led lights beneath your cabinets or spotlights inside your display cabinets.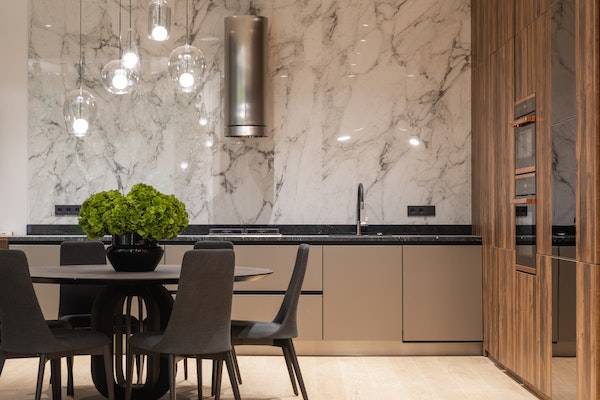 Meaningful additions increase monetary value
The truth is, you don't need to spend thousands of pounds to increase the value of your kitchen. All you need to do is improve its functionality. So don't blow your budget on extravagant additions. Instead, invest in the fundamentals! After all, no one wants to purchase an impractical kitchen - even if it is pretty.
---
Need help modernising your kitchen?
As a kitchen designer, I love creating a stunning space where life is easy and memories are made! So, if your kitchen needs upgrading, modernising or a complete renovation, let's have a conversation and see what you could do with your space.
A new kitchen with a specialist design is more cost effective than you may think – just get in touch with us today for a free in-store kitchen design consultation and we'll show you how.
Emma Reed – Kitchen designer – 01792 712000
A few more from us…