When it comes to decorating our bedrooms, there are a lot of considerations to be made. Do we go for quirky or modern? What would the colour scheme be? Do we go for furniture that is stand alone or fitted? It makes sense that we deliberate so much as our bedrooms are our havens, a space dedicated to sleep, recovery and relaxation, so it has to be perfect.
One of the decisions that people tend to agonise over the most, is whether or not to opt for a fitted bedroom. Sound like you? Well, worry no more! When designed well, a fitted bedroom can be the answer that you were looking for to give your space that much needed touch up. However, if you're still unconvinced, here are the main benefits that a fitted bedroom can give you that make it the perfect choice.
It's the Best Way to Make the Most of Your Space
We've all dreamt of that walk in wardrobe where everything we own is arranged so neatly on display that we can see everything all at once. Well, you can have this in your fitted wardrobe! Choose the storage solutions that work best for you and your needs, and design a completely unique storage unit! Do you have more shoes than clothes? Fill one unit full of shoe racks. Need a long hanging space for long dresses or belts? Add or take away sections as you see fit!
The versatility and variety of options inside fitted furniture are endless, so get creative and design what you desire.

It Suits Any Bedroom Perfectly
As you know, not every room is perfectly rectangular or square shaped. In fact, with the number of attic conversions and extensions on the rise, we are getting a lot more bedrooms that are odd shapes with sloped ceilings and awkward corners than ever before. The good thing about this is that a fitted bedroom can mould to any shape!
If you have bought a new house with that one awkward bedroom, having a fitted bedroom is the answer! Made bespoke to your room, fitted furniture will get rid of those pesky corners and sloped ceilings, making the most of your space where stand-alone furniture wouldn't quite fit. Plus, with no untidy gaps, you'll also avoid some very awkward cleaning and hoovering!
Fitted bedrooms are perfect for those who want to make the most of the available room they have or to turn any regular room into luxury.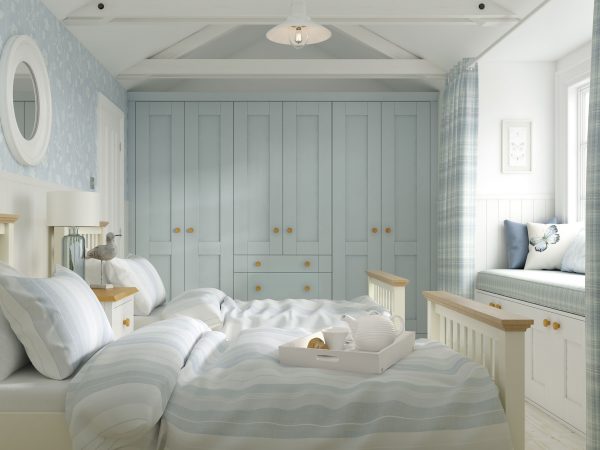 You Can Make it Yours
With stand-alone furniture, you can sometimes be limited to a couple of different finishes and sizes that may not be perfect to your exact needs. With a fitted bedroom, this is much less of a problem. Fitted furniture is available in a wide range of materials, finishes, and colours, plus it is bespoke so you can mix and match to create a design that is truly unique to you.
From modern high gloss to traditional solid wood, you can choose everything down to the door style, door handles, inner or outer lighting and more. The only limit is your imagination!
Choose the decor to match your room's theme and colour to create a coordinated and individual design.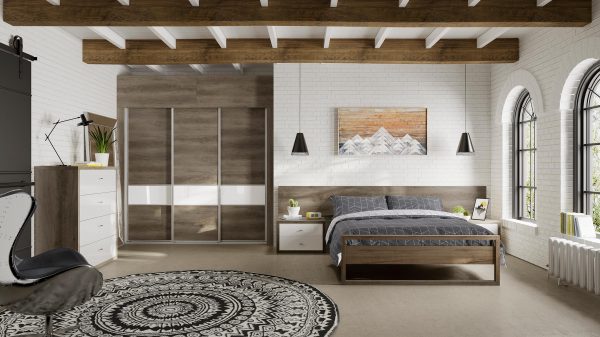 So what do you think? Is a fitted bedroom for you? We think so! Fitted furniture is a great opportunity to design the bedroom (and storage needs) of your dreams, and with bespoke interior design, you can create a room that maximises the use of every living space and one that is completely individual and unique to you. A fitted bedroom is literally designed to suit everyone.
Create a bedroom that is beautiful, practical and unique…
As a designer, I love creating a stunning space where memories are made! Talk to our team today about creating a unique fitted bedroom that suits your needs and see for yourself what ranges and materials we have on display in our showroom. Let's have a conversation and see what you could do with your space.
A new bedroom with a specialist design is more cost effective than you may think.
Emma Reed – Designer – 01792 712000
Looking for more bedroom inspiration? Check out some of our other articles!
Is Your Bedroom The Ultimate Place Of Sanctuary?
How to Create a Glamorous Bedroom (like Laura Ashley)
How To Create the Perfect Bedroom for Winter Hibernation