Halloween is full of meaningful moments and fun traditions from dressing up in spooky costumes and roaming the streets for Trick or Treating to decorating the house in terrifying decorations and playing ghostly games. While all of these activities are entertaining in themselves, what is great about Halloween is how the preparation for it can bring families together.
Being in the kitchen, baking together and making a big old mess is not only a learning opportunity for your children (especially when it comes to the cleanup!), but it is also a precious time for bonding and the memories last a lifetime.
To make memories this October 31st, here are our top 4 Halloween recipes to create some spooktacular bakes!
Top 4 Halloween Recipes
1. Petrifying Pumpkin Soup
Have your pumpkin and eat it too! This nutritious pumpkin and turkey soup is not only a tasty family meal but also a healthy one. Add a spider's web on top for a Halloween touch!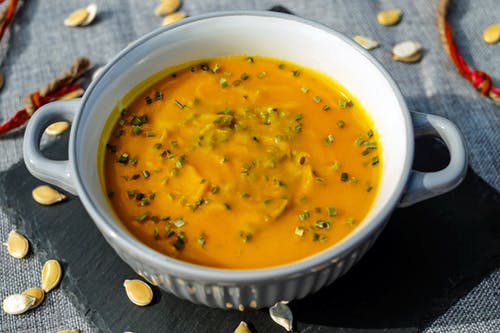 Quick Info:
Serves: 4 | Skill: Easy | Prep: 15 min | Cooking: 30 min
Ingredients:
1tbsp olive oil
2 onions, roughly chopped
1kg pumpkin or butternut squash, peeled and cut into 2-3cm chunks
1tbsp mild curry powder
3 garlic cloves, roughly chopped
700ml chicken stock made using stock cubes
150g pack smoked turkey rashers, finely chopped
Natural Yoghurt
Method:
Place the oil and onions in a large saucepan and cook over a medium heat for 5 mins. Add in the pumpkin or squash and cook for a further 6 – 8 mins until browned, stirring occasionally. Stir in the curry powder and cook for 30 seconds before adding in the garlic and stock.
Bring to the boil and simmer for 10 mins until the pumpkin or squash is tender.
Mix the soup with a hand-held blender, food processor or liquidiser until smooth. Pour the soup back into the pan, add the chopped turkey rashers, and simmer for 2 – 3 mins until the turkey is cooked through and season well.
Serve in 4 bowls or in a cooking pot with a spider's web design on top. For a spider's web effect on the soup, make a spiral from natural yoghurt using a teaspoon, and then drag it through with a cocktail stick starting each time from the centre to the outside. This soup goes perfectly with crusty bread!
2. Haunting Halloween Biscuits
Perfect for trick-or-treaters or as a family snack, this Halloween biscuits recipe is as fun to make as it is to eat! Spend an evening decorating witches, black cats, and ghouls together.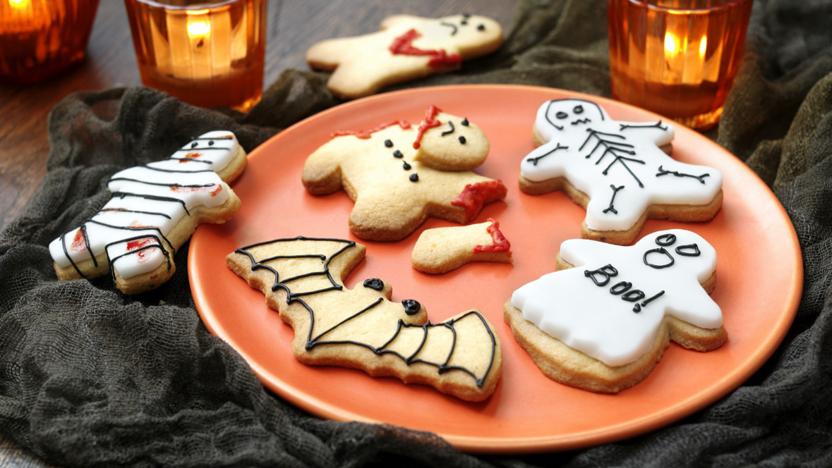 Quick Info:
Makes: 24 | Skill: Medium | Prep: 1 hour + | Chilling bake: 10 min./batch + cooling
Ingredients:
115g butter, softened
156g sugar
1 large egg
1 teaspoon vanilla extract
192g all-purpose flour
1 teaspoon baking powder
1/2 teaspoon salt
FROSTING:
480g confectioners' sugar
50g vegetable shortening
4-6 tablespoons water
Yellow, orange, green, white and black paste food colouring
Method:
In a large bowl, beat butter and sugar until light and blended. Beat in egg and vanilla. In another bowl, whisk flour, baking powder and salt; gradually beat into creamed mixture. Shape dough into two portions. Shape each into a disk; wrap in plastic. Refrigerate for 1 hour or until firm enough to roll.
Preheat oven to 180°C. On a lightly floured surface, roll each portion of dough to 1/4-in. thickness. Cut with floured 2-1/2 in. Halloween-shaped cookie cutters. Place 2 in. apart on ungreased baking sheets. Bake 8-10 minutes or until edges are light brown. Remove from pans to wire racks to cool completely.
In a large bowl, beat confectioners' sugar, shortening and enough water to reach spreading consistency. Tint frosting and decorate as desired. Let stand until set.
3. Spooky Spider Muffins
A chocolaty, liquorice treat perfect for Halloween! Although spiders are scary, with chocolate, marshmallows, and sprinkles - they are nothing short of delicious.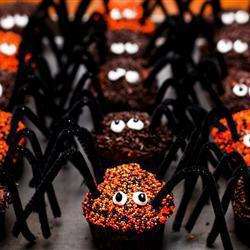 Quick Info:
Serves: 8 | Skill: Easy | Prep: 15 min | Cooking: 25 min | Cooling: 20 min
Ingredients:
50g butter
75g brown sugar
1 egg
100g plain flour
90ml milk
2 tsp baking powder
1 tsp cocoa powder
To Decorate:
4 tbsp Icing sugar
food colourings
3 liquorice spirals
8 mini marshmallows
Method:
Preheat oven to 200 C / gas mark 6.
Put the butter, sugar, egg and flour into a mixing bowl stir together until well mixed.
Sift baking powder and cocoa powder into the bowl. Add the milk and mix together.
Use a tbsp to divide the mixture into muffin cases.
Bake for around 20 to 25 minutes until springy on top.
Make icing according to the packet and add food colouring of your choice. Cover muffins with icing and while still wet place on 8 liquorice legs. For eyes cut small marshmallow pieces in half and add a drop of black food colouring for the pupils. Then sprinkle chocolate sugar strands on top.
4. Creepy Chocolate Bats
Depending on how you decorate your chocolate bats for Halloween, you can make them look creepy or cheeky. Either way, they are a fun and indulgent treat for everyone.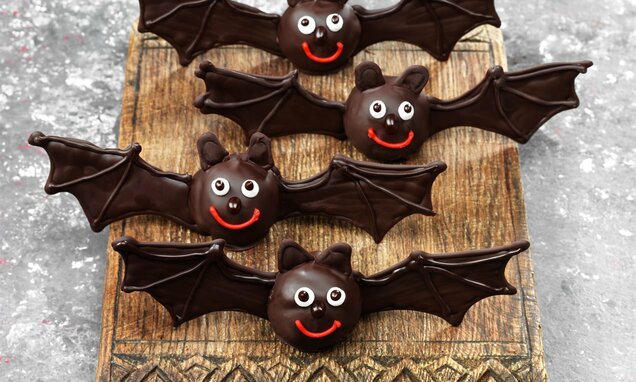 Quick Info:
Makes: 9 | Skill: Difficult| Total time: 2 hours
Ingredients:
For the Bats:
125g Cake Crumb
25g Fine Dark Cocoa Powder
40g Icing Sugar
50g Unsalted Butter, melted
1tsp Peppermint Extract
150g 72% Extra Dark Chocolate
To Decorate:
75g 72% Extra Dark Chocolate
White Designer Icing
Red Writing Icing
Method:
Put the cake crumbs in a mixing bowl. Sift the Cocoa Powder and icing sugar on top. Mix in the melted butter and Peppermint Extract until well combined.
Either using a cake pop baller or your hands, form the mixture into 9 x approx. 4cm (1 ¾ inch) diameter balls and put on a plate lined with baking parchment. Cover and chill for 30 minutes until firm.
Meanwhile, make the bat wings. Break 150g of the Extra Dark Chocolate into pieces and put into a heatproof bowl. Place over a saucepan of barely simmering water to melt. Remove from the water and leave to cool for 10 minutes.
Using a bat-shaped cookie cutter or template, trace 9 sets of wings spaced a little apart on sheets of baking parchment – each wing needs to be about 7cm (2 ¾ inch) long, and approx. 4cm (1 ¾ inch) deep. Put the parchment, trace side down, on a large board.
Spoon about one-third of the melted chocolate into a small piping bag without a nozzle. Snip a little of the bag away at the end and begin piping round each wing shape to give an outline in melted Chocolate. Leave for a few minutes to set before going back and filling in the centres with more melted chocolate to make them solid. Leave in a cool place to set.
Place a small sheet of baking parchment on another board and pipe the outline of 9 pairs of ears. Once set, fill in the centre with melted Chocolate. Leave in a cool place to set.
Once the wings have set, pipe on the wing detail and leave aside until ready to assemble.
To decorate, break up the remaining Extra Dark Chocolate into pieces and place in a small heatproof bowl. Melt as above then remove from the water and mix with the melted Chocolate leftover from making the wings and ears – you may need to re-melt this.
Line a large board with baking parchment. Working on one cake ball at a time, drop it into the Chocolate and gently turn it over using a fork to coat completely. Carefully lift out the ball on the prongs of the fork and gently tap the fork several times on the side of the bowl to remove the excess Chocolate and to give a smooth finish. Put the ball on the lined board.
Whilst the chocolate is still wet, carefully peel off a pair of wings and ears and gently press into the sides and top of the chocolate cake ball – to avoid getting fingerprints on the chocolate, you may prefer to wear thin latex gloves for this.
Repeat this process to cover and decorate the remaining cake balls, then put the chocolate bats in a cool place to set. If the temperature is warm, cool them in the fridge for about 15 minutes. Keep any remaining melted Chocolate for the final decoration.
Once the bats are set, pipe on the whites of the eyes using Designer Icing and a big smiley mouth using red Writing Icing. Re-melt the leftover Chocolate as necessary, and either pipe or brush on small amounts for eyeballs and noses. Leave for a few minutes to set and then the bats are ready to serve and enjoy!
Make memories in the kitchen this Halloween
Make memories through making food this October with our top Halloween recipes! By taking a break from the daily hustle-and-bustle and spending the time baking together, we promise you that you will feel a great sense of togetherness in the kitchen while you make memories that last.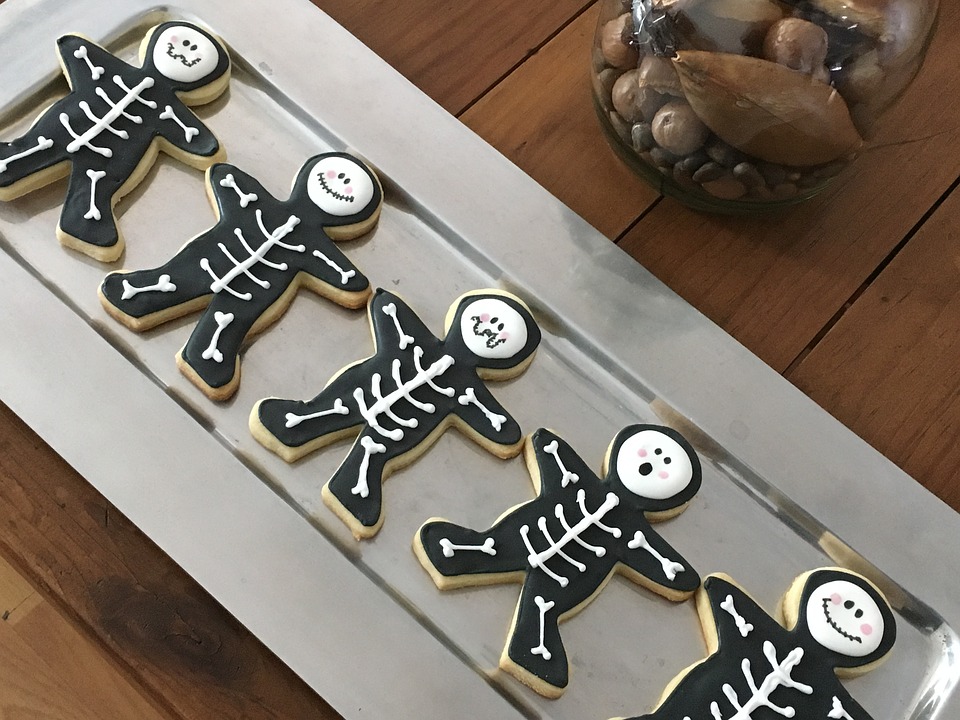 Create your perfect kitchen
As a kitchen designer, I love creating a stunning space where life is easy and memories are made! So, if your kitchen needs upgrading, modernising or a complete renovation, let's have a conversation and see what you could do with your space.
A new kitchen with a specialist design is more cost-effective than you may think – just get in touch with us today for a free in-store kitchen design consultation and we'll show you how.
Emma Reed – Kitchen designer – 01792 712000
Looking for more kitchen advice and inspiration? Check out some of our other articles!