A brand new kitchen is a big investment, so the last thing we want when spending so much money is for it to become outdated after just a couple of years. The question then, remains "how do we create a space that is fashionable but lasts?"
Creating a beautiful kitchen that continues to inspire you for many years to come is an art, one that many kitchen designers have spent years perfecting. Now, however, we are going to share this art with you, giving you 14 kitchen trends that are here to stay for a very long time!
Open layouts
We all know that the open-plan layout has been a favourite for a while with most modern houses boasting a big kitchen connected to a dining room or living room, so you can be sure that this trend is going to be sticking around for a long time yet! When looking at your kitchen, consider tearing down walls to really open up your space and make the perfect kitchen for interaction and entertainment.
Quartz worktops
Quartz-surfacing countertops are becoming increasingly popular not only for their stunning natural stone look but for their ease of upkeep too! Unlike their granite counterparts, quartz offers you a shimmering and timeless look that you'll never tire of, so pair them with cabinetry of a contrasting colour and you'll create an elegant space that makes a lasting impact.
[caption id="attachment_712" align="aligncenter" width="600"]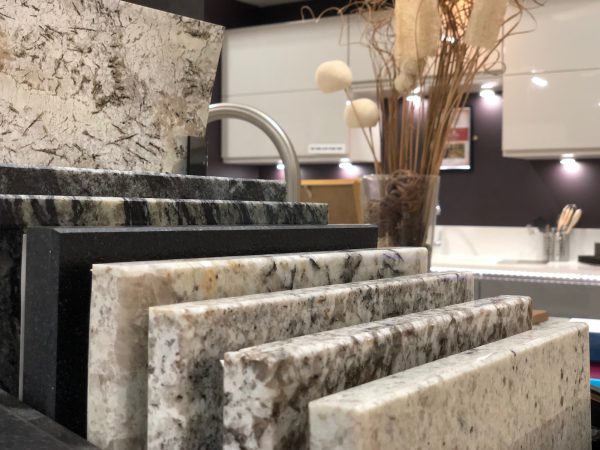 Taken in the Enterprise2000 Showroom
[/caption]
Insider Tip: Enterprise2000 is an elite specialist dealer for Cosentino for all Dekton, Sensa and Silestone worktops and receive high-quality granite and quartz worktops from a family-run company. Enterprise receives them 6 months before any other company so you can get ahead of the trend before it even starts!
Contrasting Colours
Another kitchen trend that has been around for a while is contrasting colours. Whether you opt for white cabinetry and wooden worktops or dark cabinetry and soft natural quartz worktops, you will soon see a stylish and modern look manifesting right before your eyes! This striking look is a favourite and will be for a long time so it is definitely one for embracing.
Shaker-style cabinetry
Shaker-style kitchens are perennially popular so there was no question in adding them to our timeless kitchen trends list; the simple elegance of the panelled cabinets means that they are perfect for any space as long as they are paired with the right complementary components. Consider soft and darker shades such as green, navy or grey, and pair them with contemporary stainless steel accessories for a complete transformation that will last.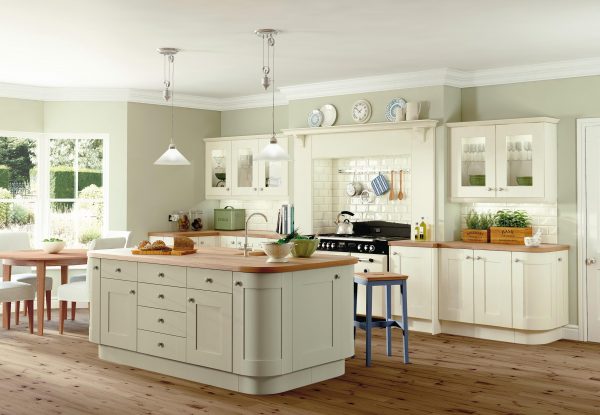 Statement islands
Island units are hugely popular (not to mention practical!) and they continue to be number one on most kitchen renovators' wish lists. Not only are they essential to the function and storage of a well-used kitchen but they can also be used to make a statement in your kitchen design. When looking at kitchen islands, keep an open layout with a single-level island and opt for a unique shape or colour to make it stand out.
Open shelving
You may think that open shelves make a space look more cluttered, but this is not true at all! In fact, they are becoming increasingly common additions to modern kitchens to create a visual and homely feel. As well as looking aesthetically pleasing, open shelves are also incredibly practical to access your kitchenware! Just remember that less is more, opt for bold-coloured accessories for a pop of colour in places, and move things around whenever you want to change your look.
Integrated appliances
The majority of appliances all look the same and don't suit most kitchen designs so more and more people are starting to favour integrated appliances for a cleaner look - modern appliances and clever panelling and built-ins means that this is easily achieved now! If you want hidden appliances, opt for the appropriate cabinetry, otherwise, you can choose aesthetic or retro appliances that look beautiful as a stand-alone statement piece.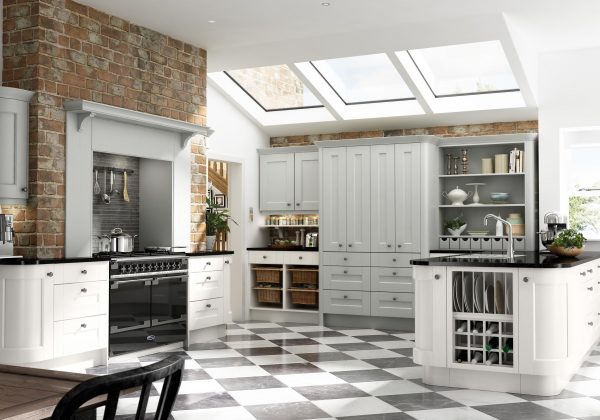 Insider Tip: Enterprise2000 has a massive range of appliances from typical white goods to sleek stainless steel and colourful vintage models in store, so come into the showroom and see the ranges for yourself!
White done right
Kitchen designers have long said that white is timeless, but there is a right way to do it. If you want your white kitchen to never go out of style, consider adding in bold colours to really make your kitchen pop. Whether that is dotting the room with colourful accessories that compliment each other or incorporating a backsplash or kitchen island that is a block colour, it is completely up to you! We recommend, however, pairing it with stunning wooden flooring - trust us when we say, you won't be disappointed!
Induction cooking
Not only do they look great but induction burners are revolutionising cooking too! Fast, safe, and energy-efficient, induction cooking is becoming a highly desired quality to have in a modern kitchen. If you want to eliminate the need for a large range hood and implement a timeless induction burner that takes minimal effort to clean, then this kitchen trend is one you need to jump on.
Deep drawers and specialised storage solutions
Utilising and maximising storage space has been and will continue to be a much-loved kitchen trend - just think of Ikea and its plethora of storage solutions! From extra-deep drawers and drawer organisers to hidden drawers and larder cupboards, these simple features can be easily integrated into a beautiful kitchen design and they can make a world of difference.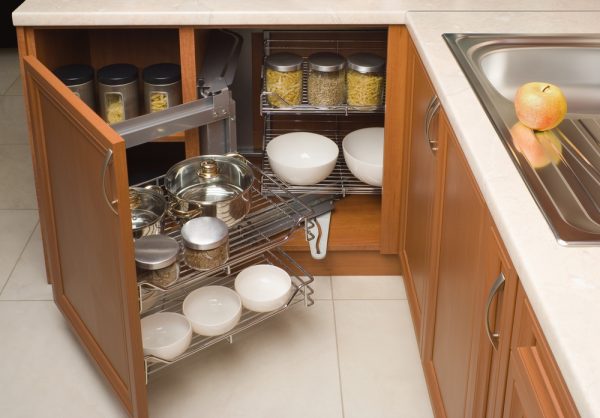 Darker floors
As open-plan is all the rage, a dark hardwood floor is the perfect way to give a space that warm and cosy feel; pair this with light cabinets and you have yourself a flawless and timeless kitchen that feels like home! If you want to get the same effect, you can also opt for dark porcelain planks that look like wood, they are a lot easier to maintain.
Big, practical sinks
When you think of kitchen trends, you don't tend to think about sinks, but trust us when we say that this one is here to stay. Everybody loves kitchen elements that look good but are also practical, so invest in generous, high-performance sinks and you won't be disappointed! These bad boys do everything you want from containing splashes and accommodating larger items like pots and pans that may need hand washing, and they do it all while looking good.
A lighter space
Natural light is what designers aim to use as much as possible of when designing a new kitchen, but this isn't always around. When this happens, LED lighting is used to transform the space into a warm and inviting area. Don't be afraid of LEDs as ever-changing technology has made them perfect for illuminating the workspace below cabinetry. Try them and see for yourself!
A unique blend of old and new
We love that retro designs are making a comeback, especially when you combine them with modern elements to create unique and timeless kitchens. From wooden cabinets like the shaker-style to terracotta tile and rustic worktables, these retro pieces create a textured and dramatic look that feels very now but also enduring for later.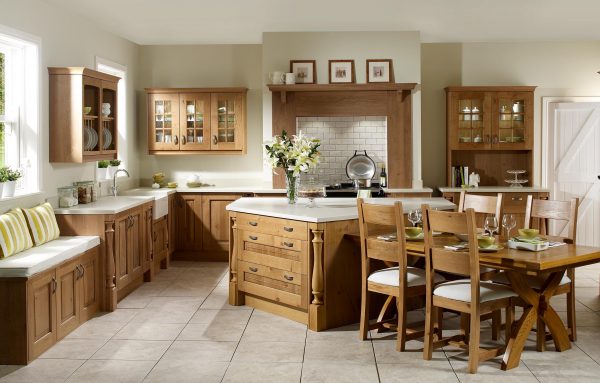 Apply these timeless trends to your kitchen and you'll soon see that you can strike the perfect balance between fashion and longevity!
We can help you create your dream kitchen that will last forever….
As a kitchen designer, I love creating a stunning space where life is easy and memories are made! So, if your kitchen needs upgrading, modernising or that much-needed breath of life, let's have a conversation and see what you could do with your space.
A new kitchen with a timeless design is more cost effective than you may think!
Emma Reed – Kitchen designer – 01792 712000