The kitchen is the most valuable room in the home, both in terms of money and the memories that we make in them.Therefore, it's no surprise that we put in a lot of time and effort to make this one room as perfect as possible.
When we put our money into such an important space, we want to ensure that it is going to last as long as possible and we get the best wear out of it. Just like everything else in life, we want it to be reliable and timeless.
So, if you're thinking of spending your hard-earned cash on vamping up this room, let's take a look at what's currently in fashion and the direction that kitchen design is going in the modern world. Here are 6 great kitchen trends to look out for in 2017!
Kitchen trends that are on the rise
1. Darker floors
Whether vinyl or wooden flooring, a modern kitchen starts with darker floors. Pair this with light ebony or white cabinets and walls and it gives a whole cosy vibe to the room. There is a lot of variations to this style, such as complimenting the flooring with similar coloured worktops or adding splashes of colour here and there with barstools and appliances, so this modern yet warm look can be personalised to your taste.
Design tip: if you love the softer and elegant look, think about adding cabinets and furniture with "feet." This gives a whole new dimension to the room, whilst softening the furniture.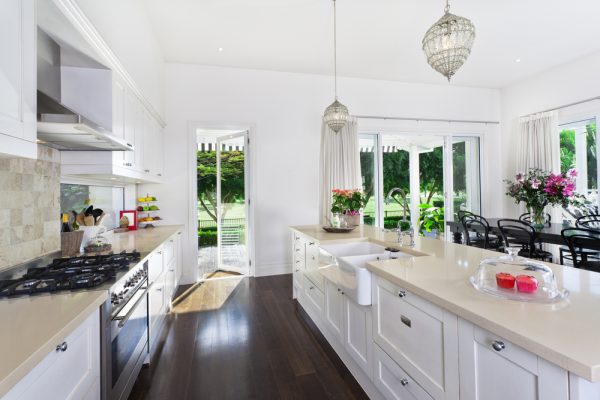 2. Monochrome tones
Have you noticed that grey seems to be the trending colour for interior design? Whether you have or you haven't, it's definitely becoming the new timeless colour to have in your home. It's even been anticipated that it's going to be the king of colours for a very long time! Leading to new sophisticated colour combinations such as 'greige' and 'blue-gray,' these popular colours work for entire cabinets and worktops or as subtle hues from kitchen accessories.
Although black and white will always be time-honoured classics, grey is definitely one of the key kitchen trends to look out for this year and every year for a long time!
Design tip: don't be afraid to mix colours with grey. Whether grey and brown or grey and purple, trust us when we say most combinations work!
3. Copper accents
With the grey and earthy tones making up a big chunk of new kitchen designs, you will also start to see more copper splashes coming through. From copper coloured handles and accessories to big centre pieces such as the extractor fan hood, copper retains the warmth of the room so is a great substitute for black or stainless steel alternatives.
Design tip: design your kitchen from the ground up, from flooring to ceiling. Depending on the colour of the floors and cabinets, you can then see where your copper finishes will make the most impact.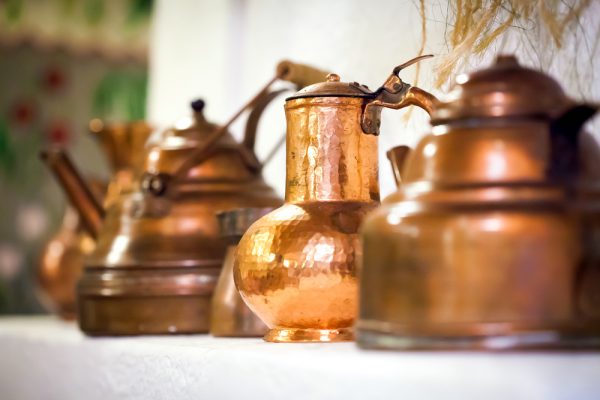 4. Handleless units
Kitchen trends are also becoming more simplistic as time goes on, with people favouring the more 'flawless' look. The top simple feature? Handless doors! Not only do handless doors give the kitchen a more sleek and modern style, especially if they are in gloss or grey or earthy finishes, they also give cabinets graceful opening and closing mechanisms.
Design tip: strongly consider handless doors if you're looking for an overall linear look that is simple yet modern.
5. High-quality storage solutions
With minimalism becoming more and more part of our lives, the popularity and need for high-quality storage solutions is no surprise! Why have small kitchen appliances in sight when we can hide them away to create open and minimalistic spaces? With tall larders, deep drawers and intelligent high-quality storage solutions, kitchen designers are currently making the most out of kitchen spaces as they possibly can.
Design tip: when looking at storage, make sure it ticks your boxes for both style and practicality. You want to get the most out of your storage space so practicality is key.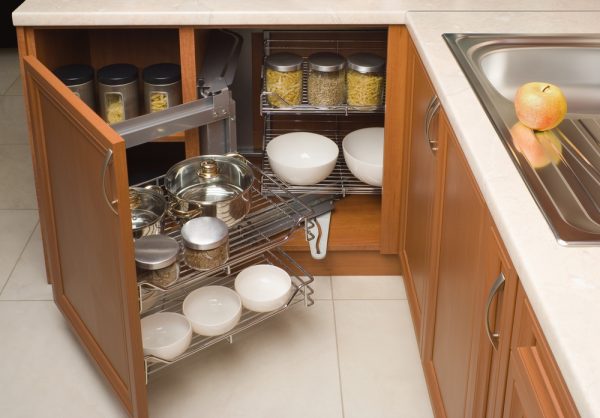 6. Clutter-free worktops
Obviously having clutter-free workspaces is a kitchen trend that has come about from the rise in high-quality storage solutions. By storing away most small appliances and kitchen accessories, you can create an open space that oozes serenity; the perfect place for preparing food! Another benefit? The more open the space, the larger the kitchen looks!
Design tip: there are many options for cabinetry that are made for this type of layout, so make sure you choose the ones that work with the space you have.
So there we go, 6 great kitchen trends to keep your eye on. Want to enhance your kitchen by giving it a needed upgrade? Consider simple and neutral coloured kitchen designs as they will stand the test of time!
What we can do for you:
As a kitchen designer, I love creating a stunning space where memories are made! So, if your kitchen needs upgrading, modernising or just give it that much-needed breath of life, let's have a conversation and see what you could do with your space. A new kitchen with a specialist design is more cost effective than you may think.
Emma Reed – Kitchen designer – 01792 712000