Whether you believe that the kitchen is the heart of the home or not, you can't deny that it is a hub of activity. From cooking up our favourite meals, nourishing our bodies and learning to bake with mum to doing homework with our children, hosting and entertaining friends, and using it as a place to converse over a steaming cup of tea. The kitchen is undoubtedly the most used room in the home and a place that is full of memories.
Is your kitchen the heart of your home? Do you have special memories in the kitchen that stir up some real nostalgia?
Here are a few of my favourite kitchen quotes that inspire me to design the perfect kitchen for every family. Hopefully, they will inspire you to make the most of yours too.
1. "The fondest memories are made when gathered around the table"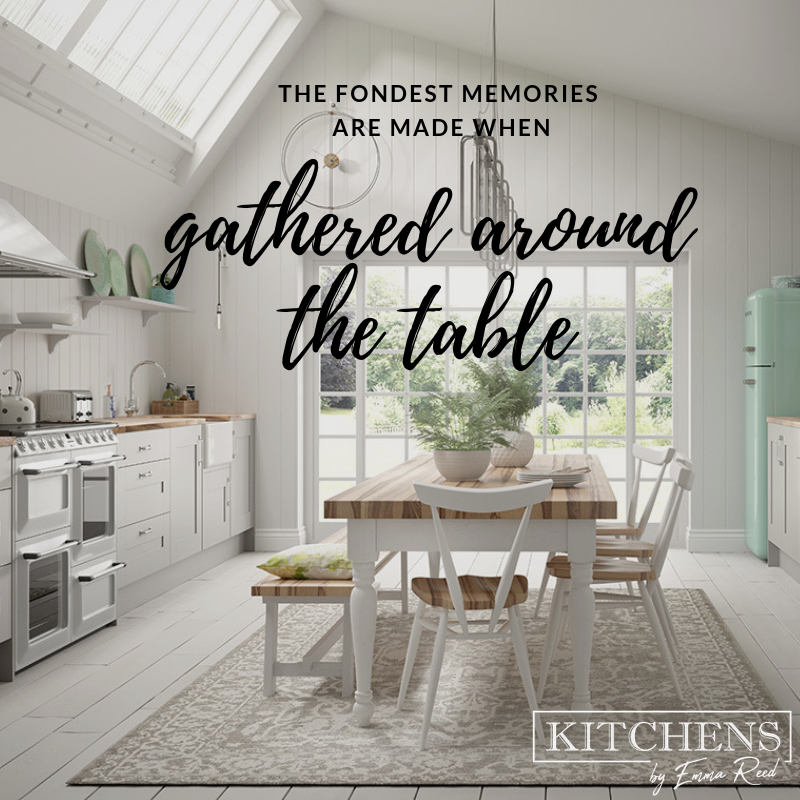 2. "Kitchen. Noun - A gathering place for friends and family. A place where memories are homemade and seasoned with love."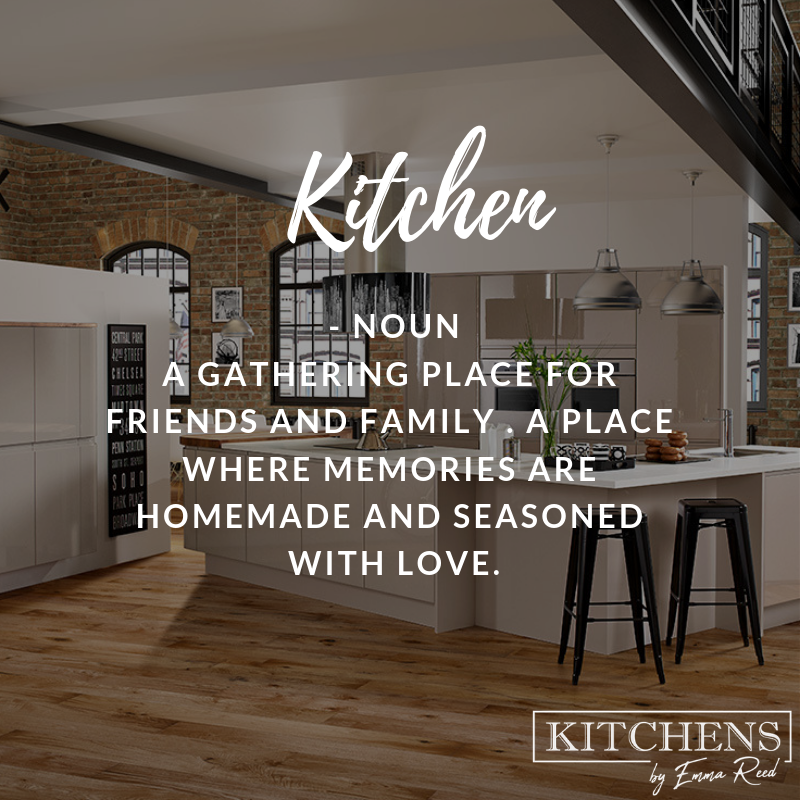 3. "In the childhood memories of every good cook, there's a large kitchen, a warm stove, a simmering pot and a mom." - Barbara Costikyan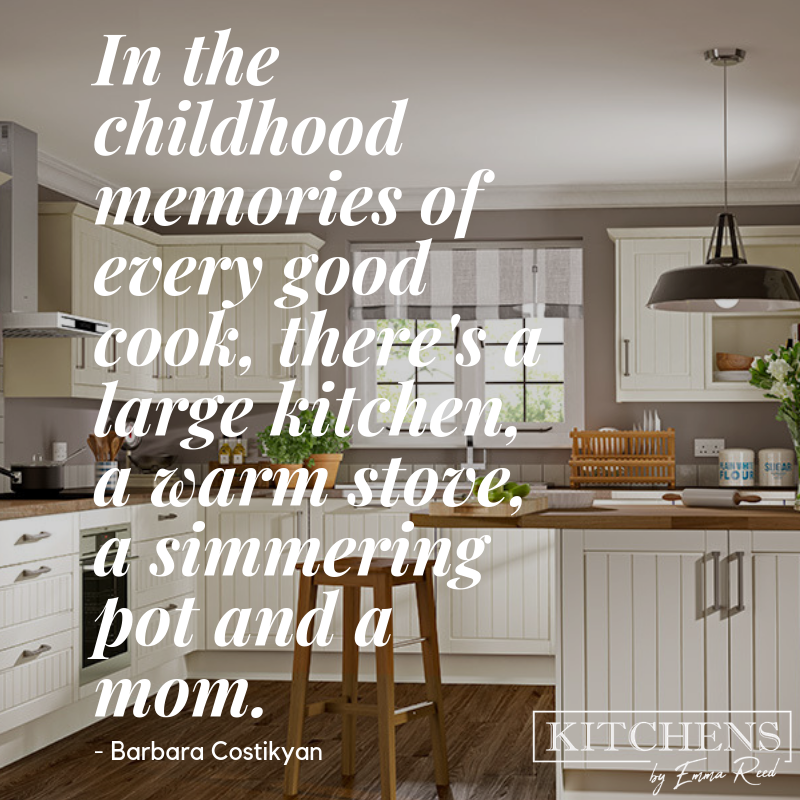 I love these first three kitchen quotes! For me, they serve as a great reminder that the kitchen is a space where we gather with our favourite people making memories that last a lifetime. Even when we grow up and have our own kids, the memories of what our own mother's taught us as children live on until we pass on those lessons ourselves. As humans, we love familiarity and traditions and in the kitchen, traditions are made, cemented and passed on in our lives.
4. "Everything happens in the kitchen. Life happens in the kitchen." - Andrew Zimmern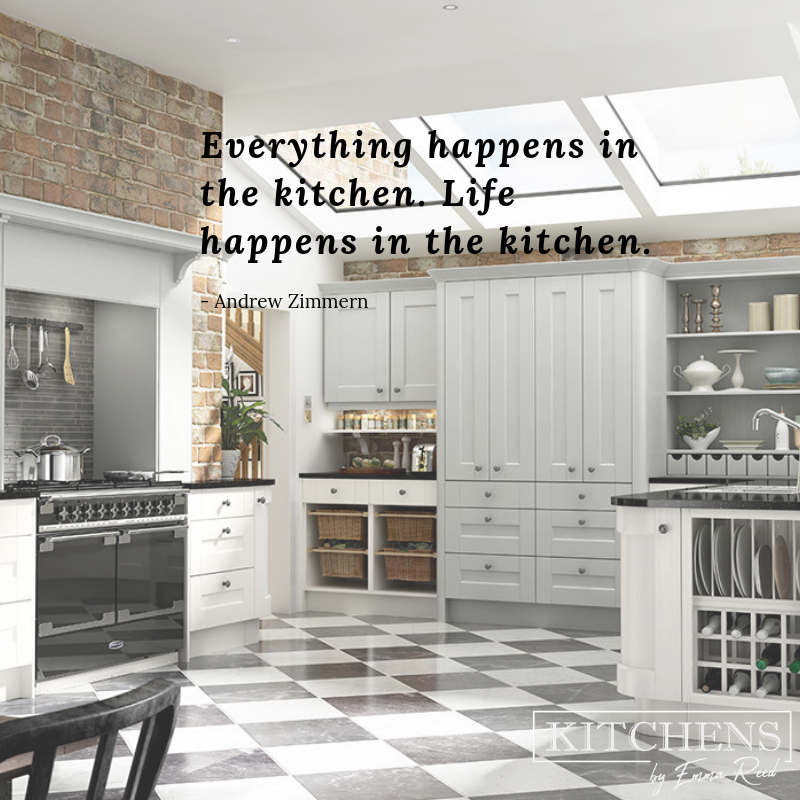 5. "The secret ingredient is always love."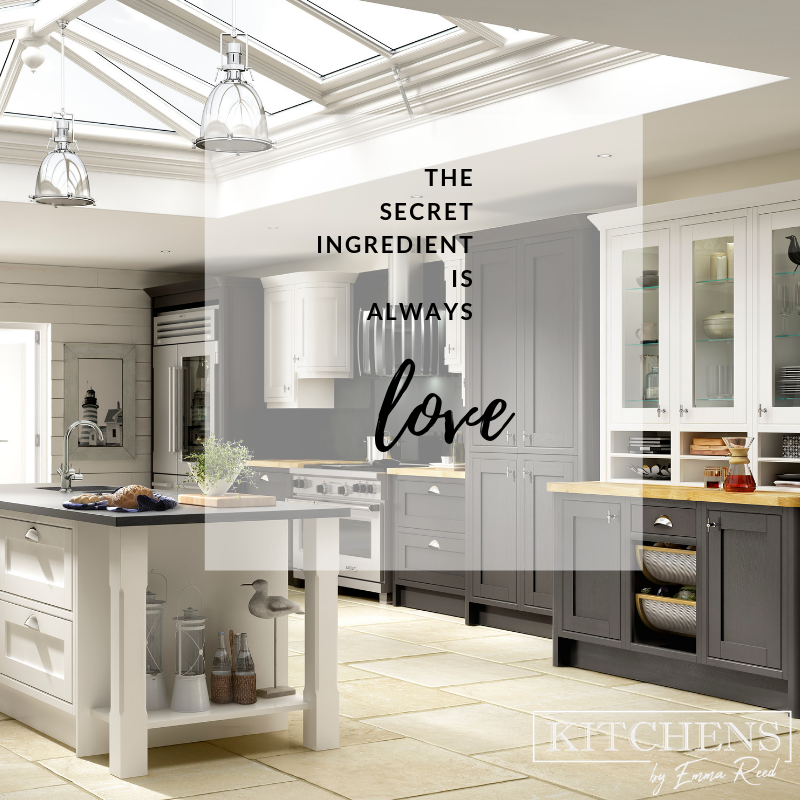 6. "Happiness is a small house, with a big kitchen." - Alfred Hitchcock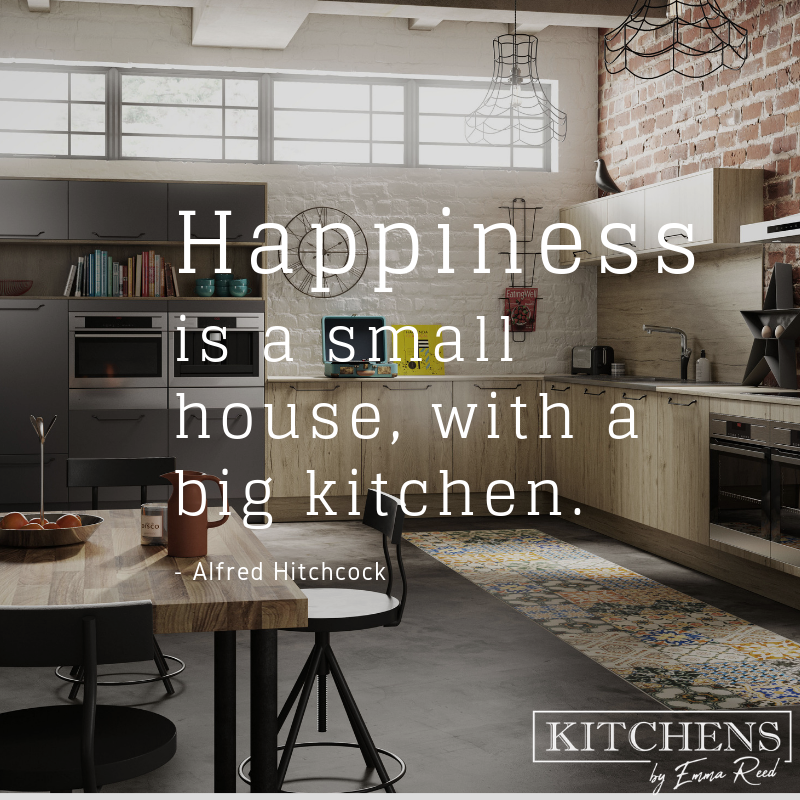 These are the essential components that make up any kitchen: life, love, and happiness. Every day, families are bustling in the kitchen - rushing to leave for school and work, cooking a delicious dinner to wind down for the evening, batch cooking nibbles for a game night with friends - and every day these moments are filled with love, laughter, and happiness. I don't think you could say the same for any other room in the home, at least not to the same degree.
7. "If you can organise your kitchen, you can organise your life." - Louis Parrish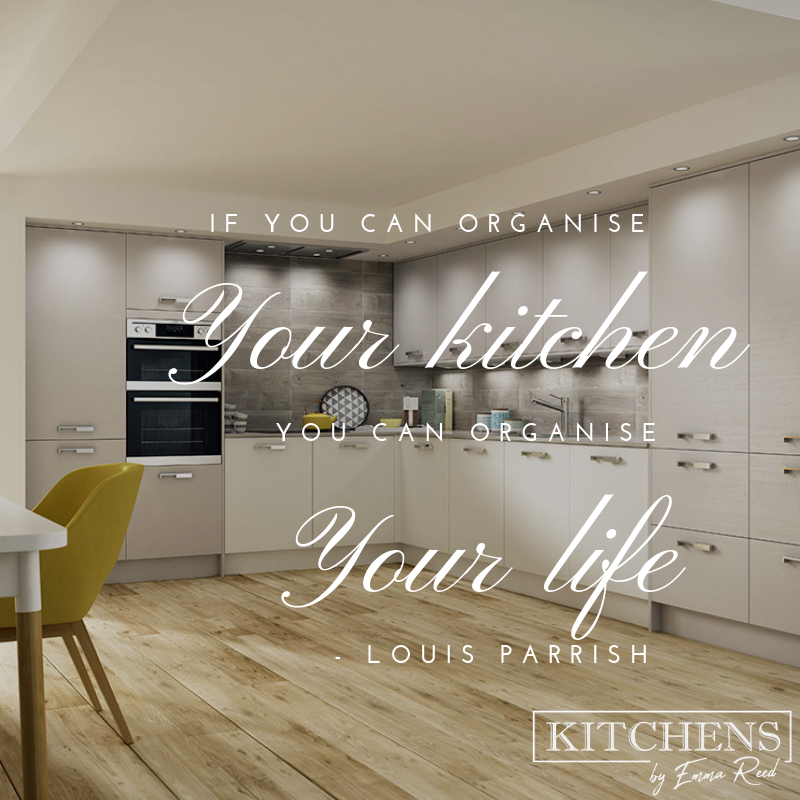 8. "The kitchen is where you put all the ingredients together. No matter what you do in life, you have to have a plan and put it together." - Yo Gotti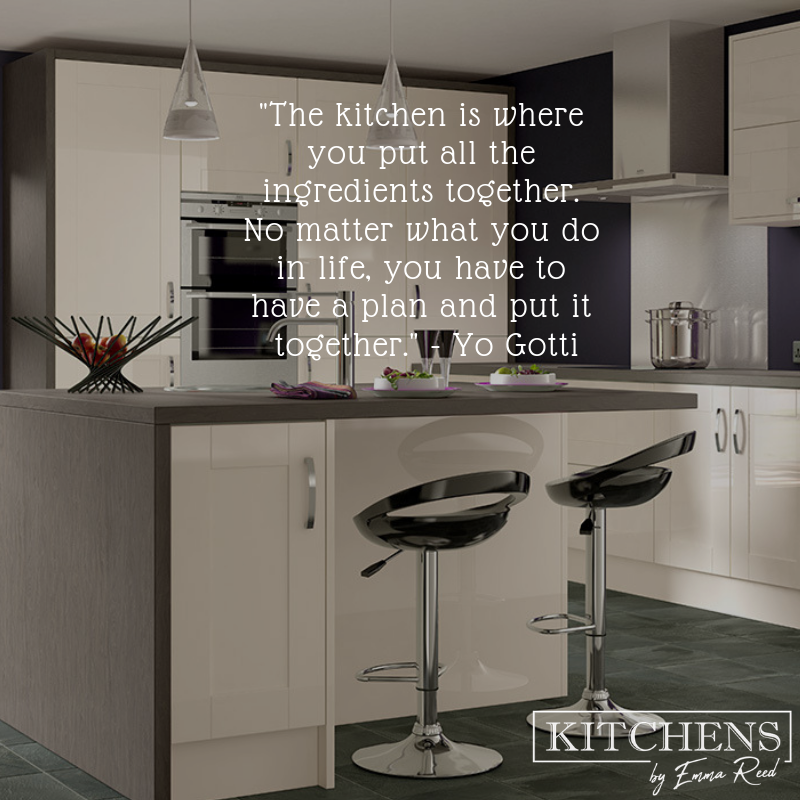 9. "Cooking is one of the strongest ceremonies for life." - Laura Esquivel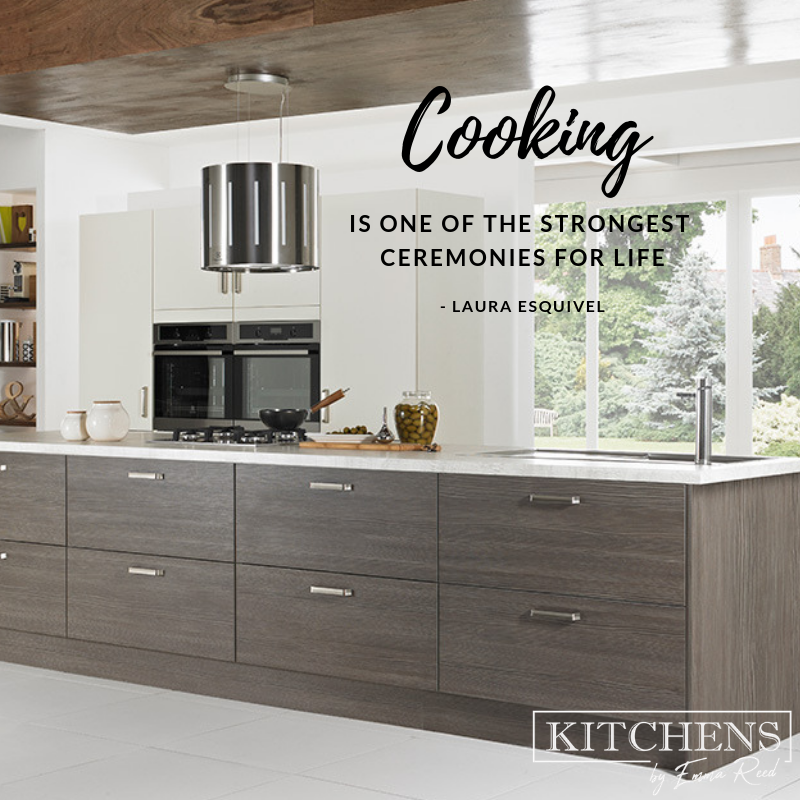 Imagine the image of your kitchen and fast forward the time you spend in it like a recording. You may be surprised just how much time you spend in your kitchen every day. So many meals made, conversations had, parties thrown, and emotions felt. Our kitchens are as busy as our lives; they are the centrepieces of our homes.

10. "The more you know, the more you can create. There's no end to imagination in the kitchen." - Julia Child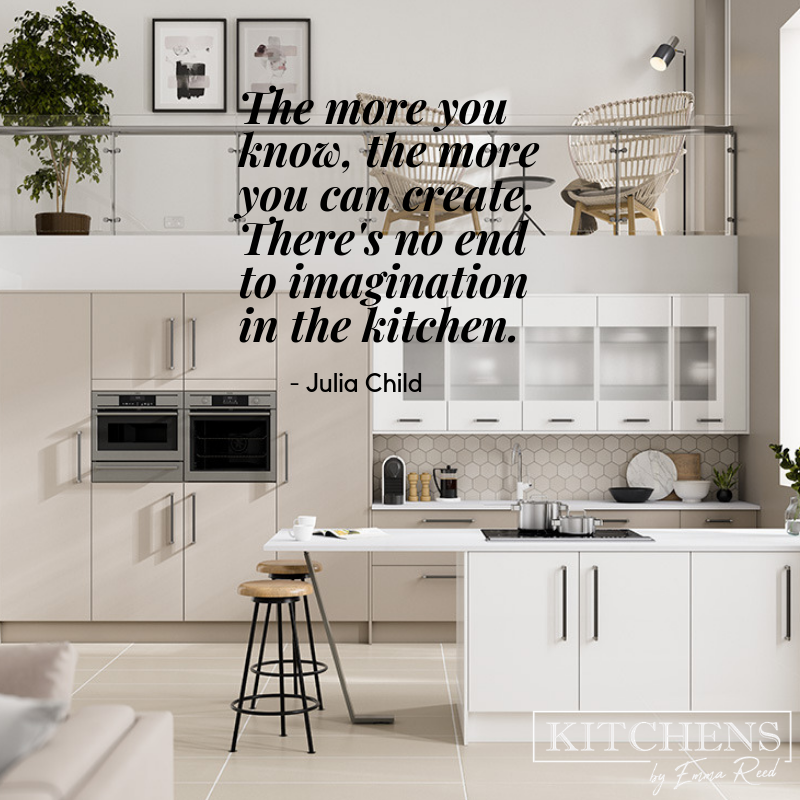 11. "The kitchen is a place of adventure and entirely fun, not drudgery. I can't think of anything better to do with family and friends than to be together to create something." - Ted Allen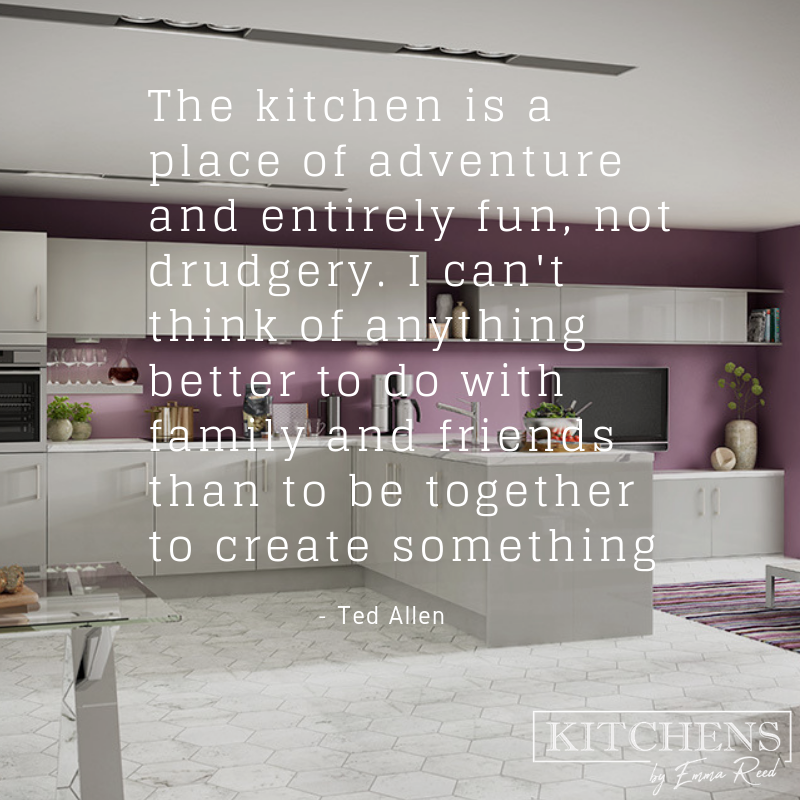 12. "The kitchen is where we come to understand our past and ourselves."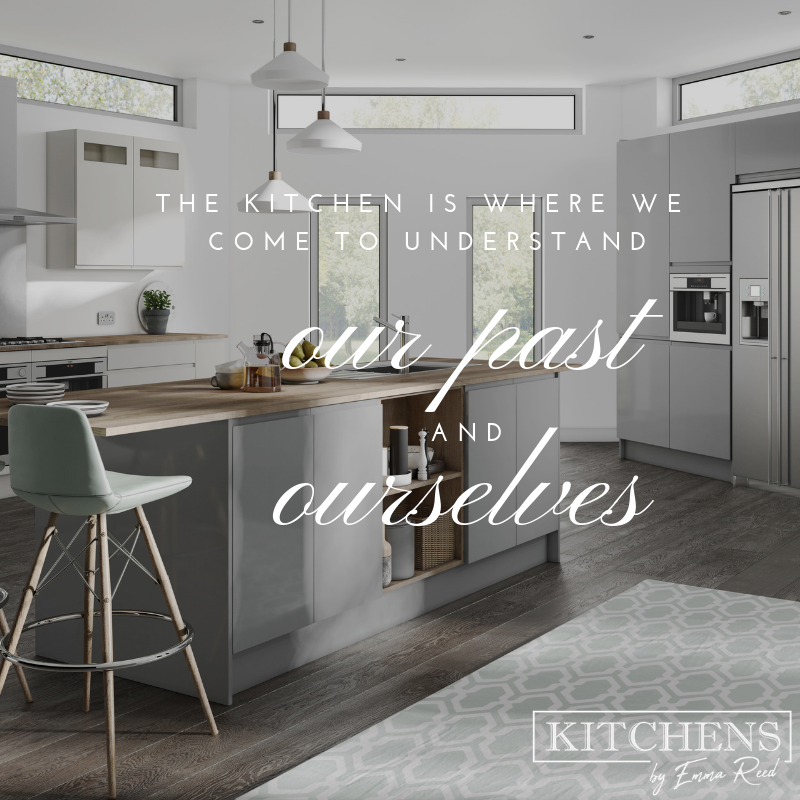 Many people say that they are at their most creative in the kitchen, that they don't feel limited by rules or people in charge. To be in your own kitchen where you are the boss and you have the space to learn, explore, and make mistakes is something magical. Here is where we discover ourselves, our history, and our new traditions.

13. "We dance in this kitchen."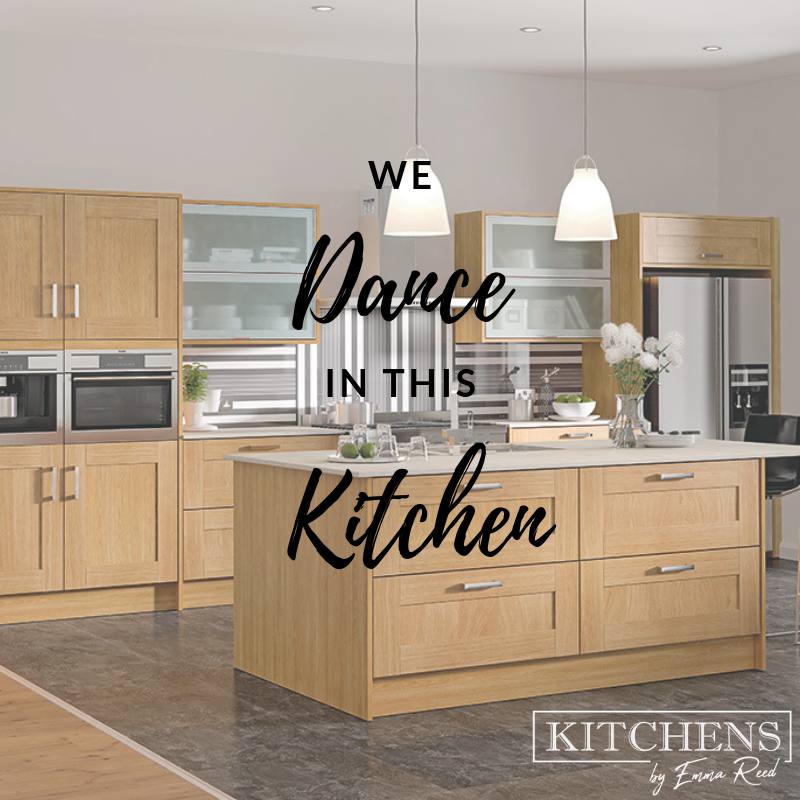 14. "Eat, drink, and be merry."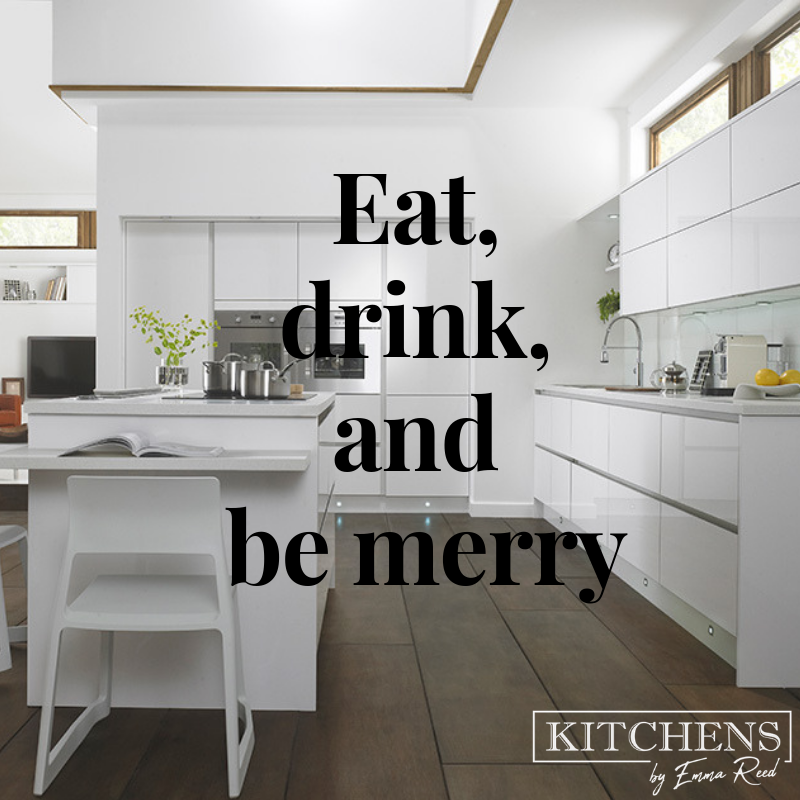 Whether you're alone or with your children, partner or friends do you laugh, tell jokes or dance together? While these kitchen quotes may be generic, they are nevertheless true. I love them because they represent the general silliness that goes on in the kitchen! The heart of the home is a place where great times are had by all and where some of us learn our best dance moves.
15. "Kitchens are made for bringing families together."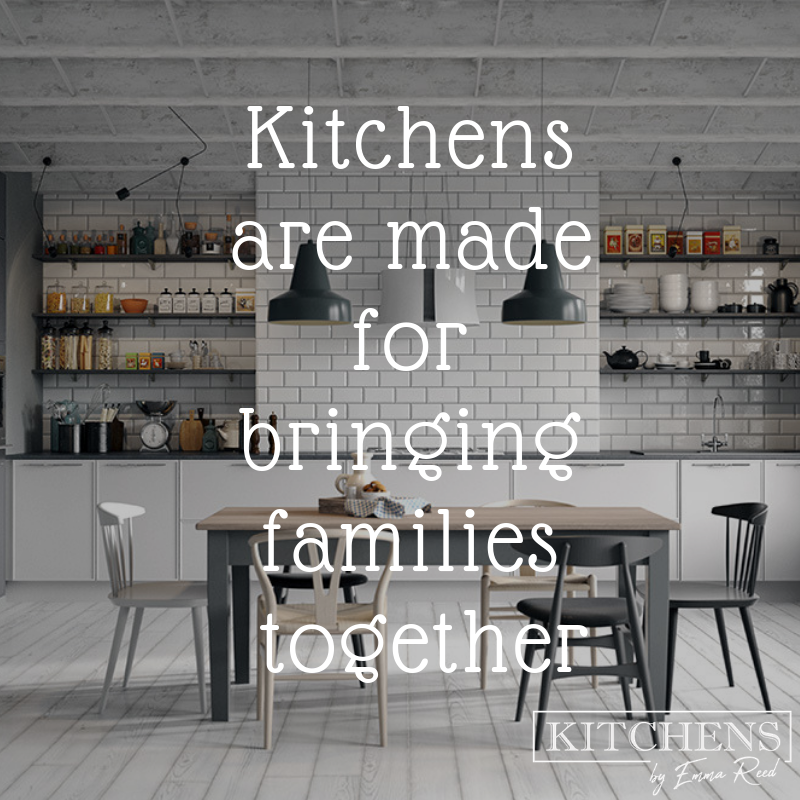 16. "The kitchen really is the castle itself. This is where we spend our happiest moments and where we find the joy of being a family." Mario Batali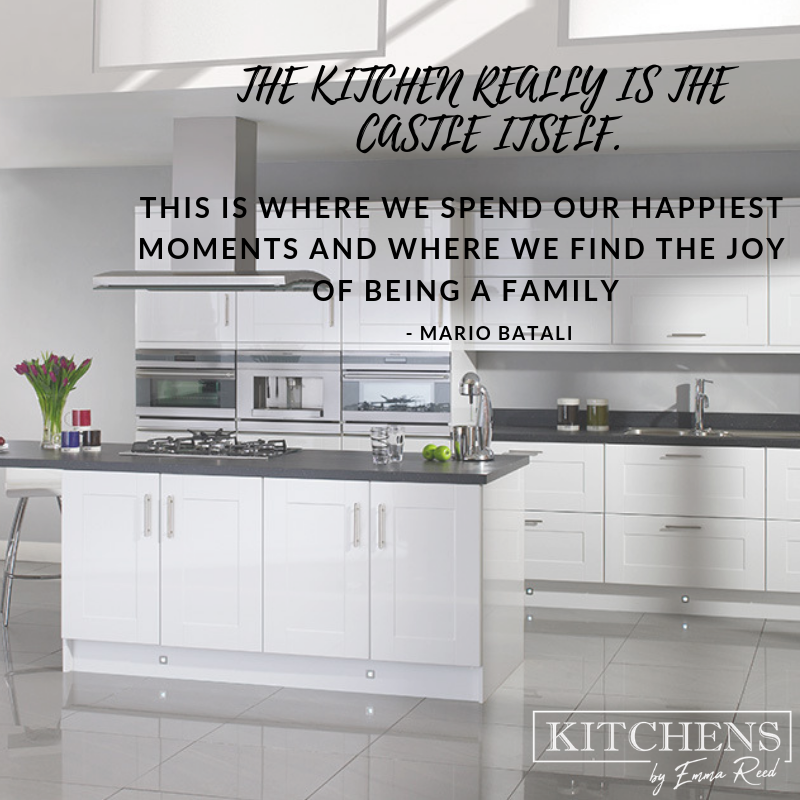 17. "The love the whole process of making them, just out in the kitchen together making pancakes on a Sunday morning." - Ronda Rousey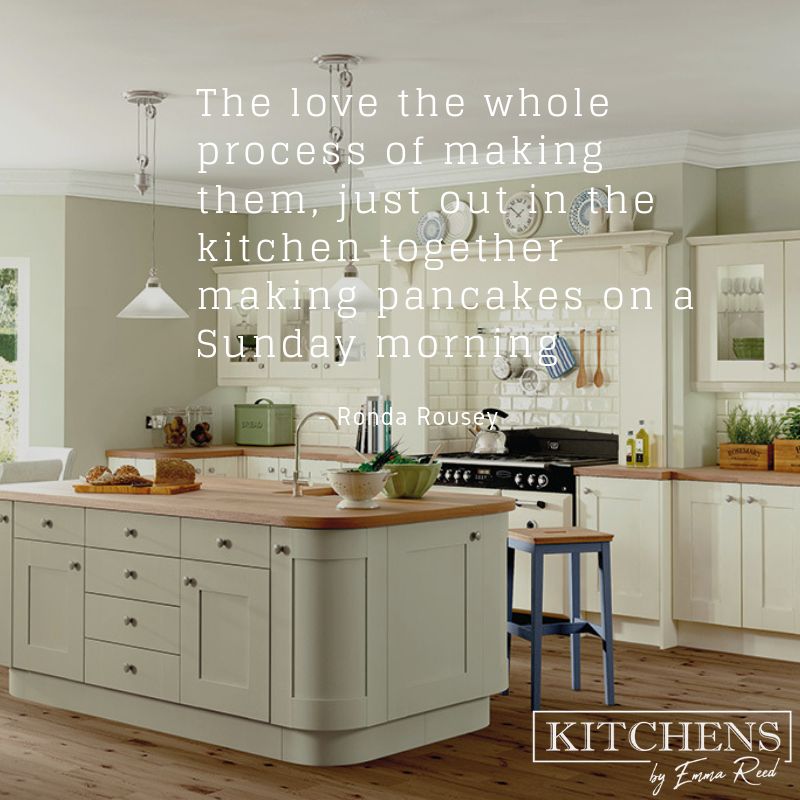 All of these quotes are inspirational, especially when you think of your own family and the memories that you make together in the kitchen. The one that stands out for me though is the one about making pancakes together on a Sunday morning. Is there anything more heart-warming than this? Your tradition may be making brownies on film night or Saturday morning breakfast for your mum, but the core value remains the same: spending time with each other, making traditions and memories that last forever.
18. "Good food and a warm kitchen is what makes a house a home." - Rachael Ray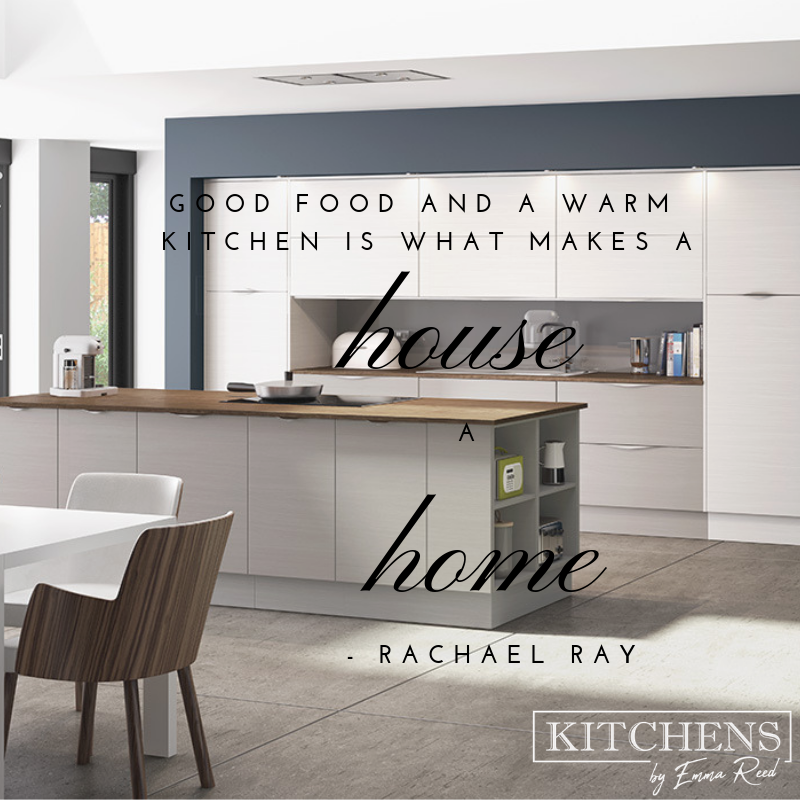 19. "The kitchen is the heart of every home, for the most part. It evokes memories of your family history." - Debi Mazar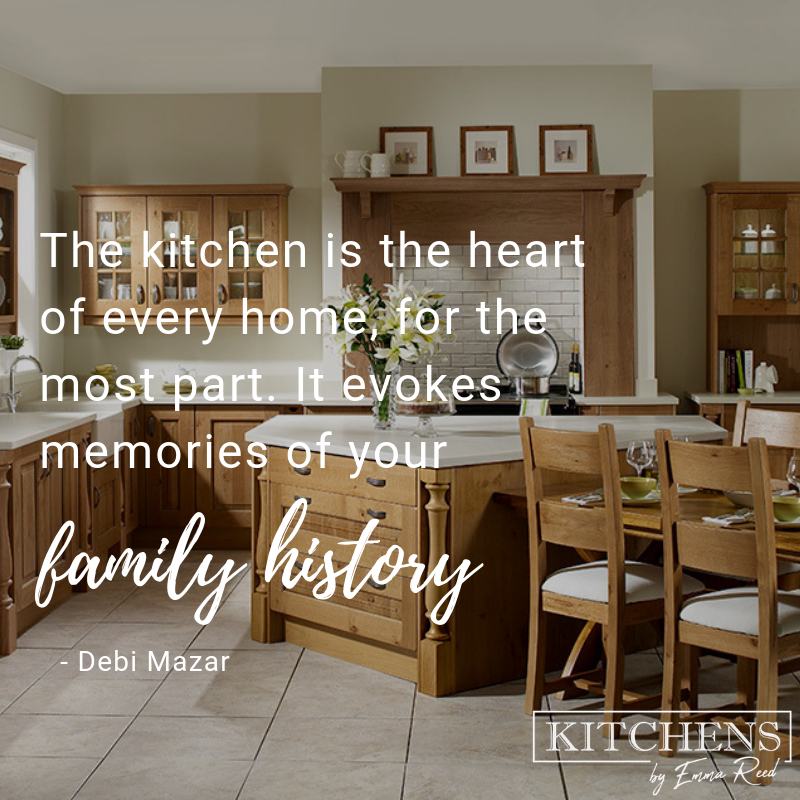 20. "The kitchen is the heart of the home."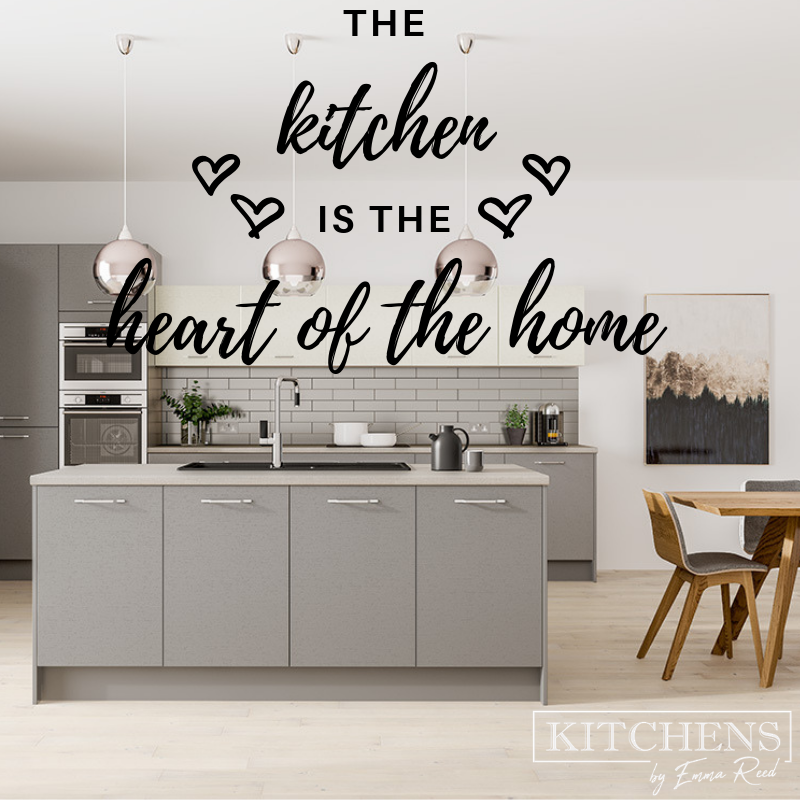 They say the way to our hearts is through our stomachs, so the kitchen must be the heart of the home!
So there you have it, my top 20 favourite inspirational kitchen quotes. These quotes strike a chord with me every time that I read them and they remind me just how important it is to have a kitchen that you truly love. When you see just how much our kitchens are a big part of our lives and the setting for so many memories, it somehow puts things into perspective and inspires us to make it into the kitchen that we dreamed of!
Create the kitchen of your dreams
As a kitchen designer, I love creating a stunning space where life is easy and memories are made! So, if your kitchen needs upgrading, modernising or a complete renovation, let's have a conversation and see what you could do with your space.
A new kitchen with a specialist design is more cost effective than you may think – just get in touch with us today for a free in-store kitchen design consultation and we'll show you how.
Emma Reed – Kitchen designer – 01792 712000
Looking for more kitchen advice and inspiration? Check out some of our other articles!