As offices begin to re-open, it's clear that some of us aren't as eager to return as others. In fact, (given the option) more and more of us are choosing to continue working from home. But despite all the benefits of remote working (like avoiding rush hour traffic), you still need an office. Thankfully, with the help of this easy guide, we can teach you how to create an office space in your kitchen. No matter your budget, style or square footage, we have a solution for you.
1. Upgrade your breakfast bar
A breakfast bar is a wonderful addition to any kitchen. Not only are they perfect for cooking and hosting - but they also provide you with an idyllic workspace solution. Power isn't a problem, as integrated plug sockets allow you to charge your laptop whilst you're working.
As for storage, integrated cupboards and drawers are perfect for your office supplies. Or, if cupboard space isn't on the cards, why not add a laptop shelf underneath your breakfast bar? This way, when five o'clock rolls around, you can quickly stash your work away, ready for the next day.
2. Create an office cabinet
If you're wondering how to create an office space in your kitchen without constantly being reminded of work - don't panic! We have a solution. Office cabinets are designed to fit your entire home office into one simple cupboard space. With an integrated desk, shelving and cupboards, all you have to do is pull up a chair! And the best part? Once you've finished, it's completely hidden behind floor-to-ceiling doors that seamlessly match your interior.
3. Include a dual-purpose desk
While you might like the idea of having a bespoke office in your kitchen - sometimes it just isn't necessary. For a (more affordable) temporary solution, try designing a space that will be just as useful after you return to the office.
For example, try extending one of your countertops. This way, it can serve as both a desk and a work surface for cooking. Alternatively, you could incorporate a floating desk. When you no longer need it for work, it can display your favourite cookbooks and house plants.
4. Design an integrated office space
Nobody wants their home office to stick out like a sore thumb - especially when they've spent so much time (and money) on creating a beautiful kitchen. The solution? Opt for an integrated workspace.
By choosing the same kitchen worktops and cabinetry, you can create an office space that seamlessly matches your kitchen. Whether you prefer gold hardware, marble countertops or sage cabinetry - we can design your fully functional, multi-purpose office space without compromising on style.
5. Work with what you've got
Not everyone has the budget to design a brand new office - and that's okay! There are no set rules for how to create an office space in your kitchen. Try re-organising your cupboards - this is completely free and will create additional storage space for your work supplies.
Inexpensive additions like chalkboards and under cabinet lighting can also help transform your space. Both are welcome additions to any kitchen whilst also optimising your working conditions.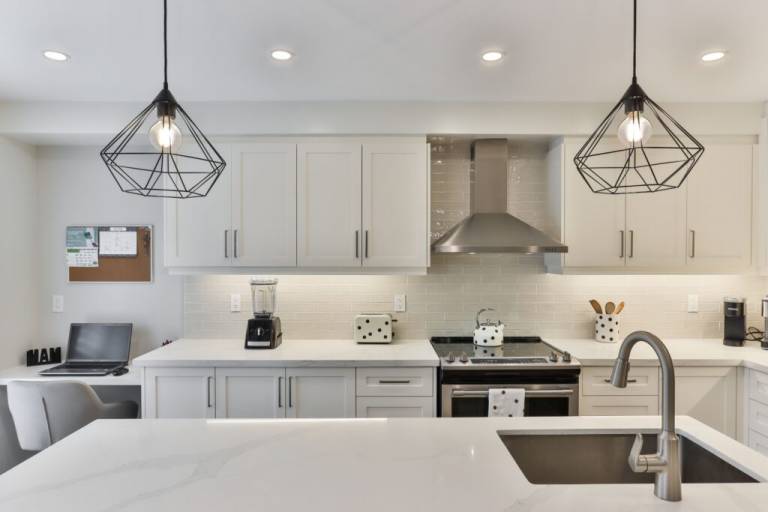 If you've said adios to your old office cubical, we hope that these suggestions have given you some inspiration. We truly believe that learning how to create an office space in your kitchen can transform the way you work. Not only will you have a designated workspace, but your brand new office will be the envy of every zoom call.
__________________________________________________
Need help designing your dream kitchen?
As a kitchen designer, I love creating a stunning space where life is easy and memories are made! If your kitchen needs upgrading, modernising or a complete renovation, let's have a conversation and see what you could do with your space.
A new kitchen with a specialist design is more cost-effective than you may think – just get in touch with us today for a free in-store kitchen design consultation and we'll show you how.
Emma Reed – Kitchen designer – 01792 712000
A few more from us…