Many of us have our own ideas for what we want our dream kitchen to look like; the difficulty comes when we try to find an existing kitchen range that fits all of our requirements. That's why many kitchen companies offer a planning service so they can create a CAD drawing to show you how your kitchen could look. A kitchen designer, however, has more experience and knowledge to create something more inspiring.
To show you what designing your own kitchen involves, this article outlines the design process and takes you through a recent example of working with a client from their kitchen idea to designing it and making it a reality.
Kitchen design: the process
The kitchen design process helps you make the right decisions for you and the space that you have to work with within your home. The steps from idea to reality are as follows:
The initial conversation – here we will discuss what you want and need from your kitchen, what desired features you would like, what space you have to work with, and what your budget is.
Measuring your space – it's important for us to see and measure your space for ourselves so that we can give you the best advice when it comes to making difficult decisions.
Reflection – we've created our initial design sketch, now it's time for us to discuss it and for you to reflect and request any changes.
The technical survey – when a design has been agreed on and is ready to go, we just like to double check that all the dimensions are correct so that the kitchen can be installed efficiently.
Installation – we recommend using our expert fitters to install your kitchen to perfection or you can use your own fitters. Our installation teams are very competitive in comparison to other companies.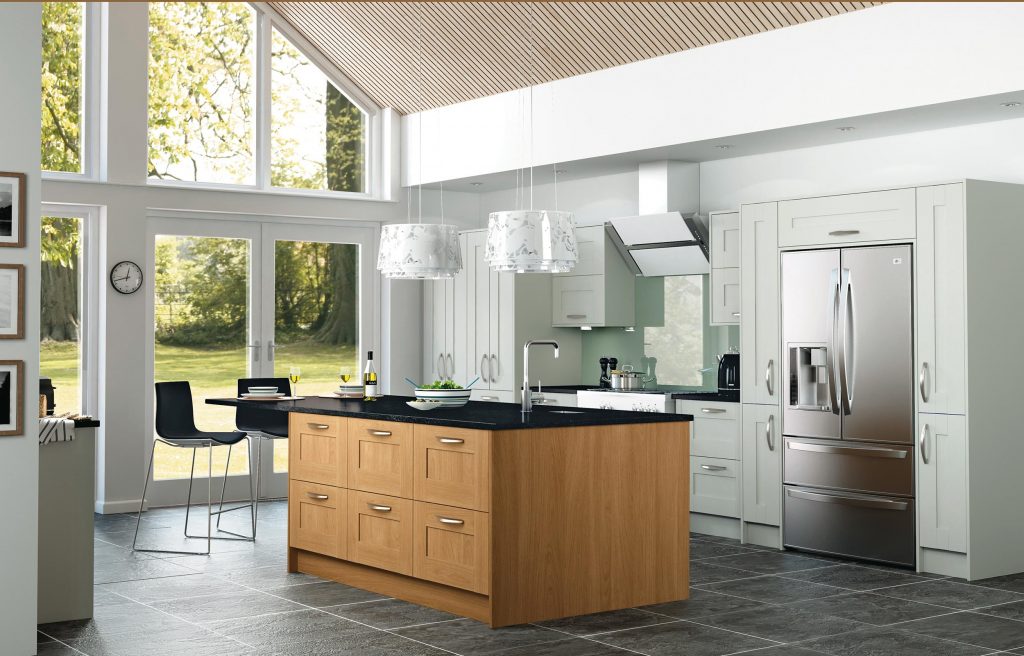 A case study: designing a client's dream kitchen
I've recently designed and installed a kitchen for a client who had just moved to Swansea from elsewhere in the U.K. They obviously didn't know anyone in the area, but after doing their research on social media, they decided to pay me a visit.
From the initial consultation that we had in store, I managed to get a rough idea of their needs and wants, what they considered essential requirements, and their vision for what they wanted to create. Colours were one of the most important design elements to them, so we quickly found two that complement each other in the first session.
Worktops were also something that they had a clearer idea about and this was our first design challenge. They knew that they wanted solid surface worktops but didn't want granite so they were leaning towards opting for wood. To help them make the best decision, I took them through the advantages and disadvantages of wood worktops and gave them an alternative option better suited to their needs and space: Minerva worktops. After showing them a sample and talking them through the benefits of this blended acrylic worktop, they both soon fell in love with this stylish yet durable product.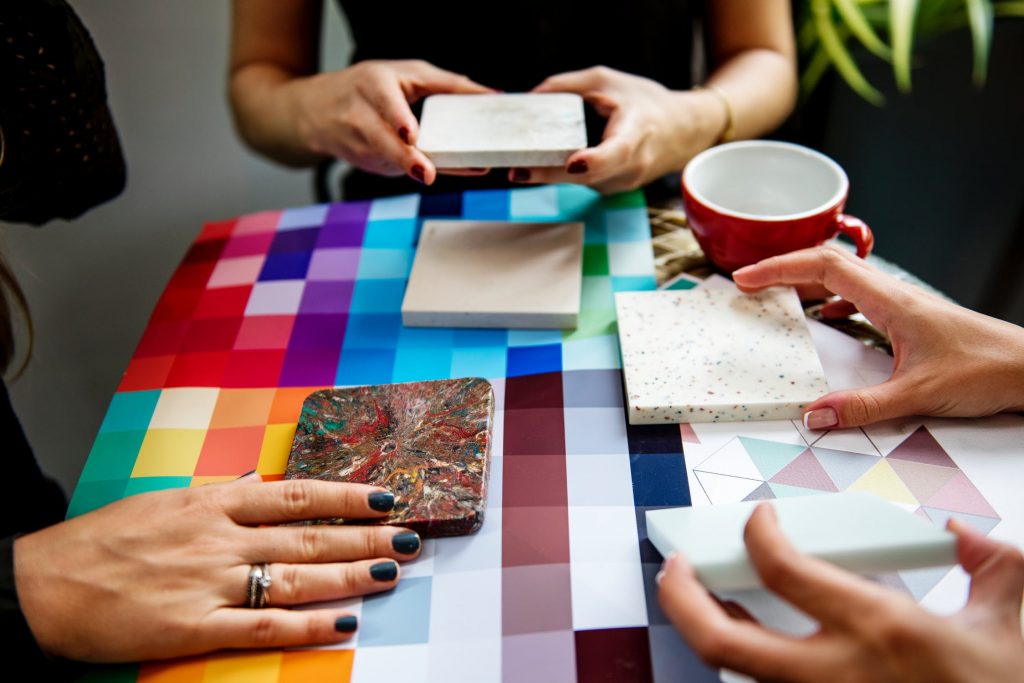 Another kitchen feature that they were quite certain on having was a USA style fridge freezer. At first, they were quite insistent on it. I thought it crucial to highlight, however, that the kitchen design that they had gone for was a sleek handless style, therefore a USA appliance would be very cumbersome in the design and would stick out from the run of units. To help fit their needs as much as possible, I showed them a matching set of tall Caple Integrated Fridge and Freezer side by side which they felt could work.
After having this initial conversation and getting a real feel for what their dream kitchen would look like for them, next we arranged an appointment to measure their space. Often, clients bring in their measurements when they come for a design consultation but I always like to go out and get a feel for the space that they have myself. A visit gives me a clear perspective on their space as well as the lighting in the room which can be the crucial difference between a kitchen design being good or great.
On arrival for the visit, I was met with a stunning 3 storey apartment with the kitchen on the first floor. The staircase had a few twists and turns at the top and bottom and it was soon clear that a bulky USA appliance would just not fit up the stairs. The current kitchen was a U-shape with a tall oven/micro unit next to a fridge freezer, the desired effect making the space feel very closed in. 
Taking a good look at the kitchen's current features, we discussed a few changes that could transform their space:
An induction hob – I suggested replacing the gas hob with an induction model as it would look neater on the worktop and they are more efficient and provide the user with more control.
More storage – there was a small breakfast table area and they wanted to utilise the wall opposite the kitchen. To create more storage, we discussed placing the fridge and freezer there alongside two NEFF hide and slide ovens which they had requested.

A plinth heater – there was a radiator currently on the wall where the new appliances would be placed and they were concerned about losing it. I suggested installing a plinth heater which would be placed under the run of units and would run off their central heating system.
Electrical supply – when discussing the twin ovens being placed on the new wall, the issue about how to get them an electrical supply arose. Having expert product knowledge, this wasn't a problem at all. I was able to inform them that the pyroclean ovens they wanted were available on a 13amp supply as Neff had a range which had been made to allow installation on lower power supplies.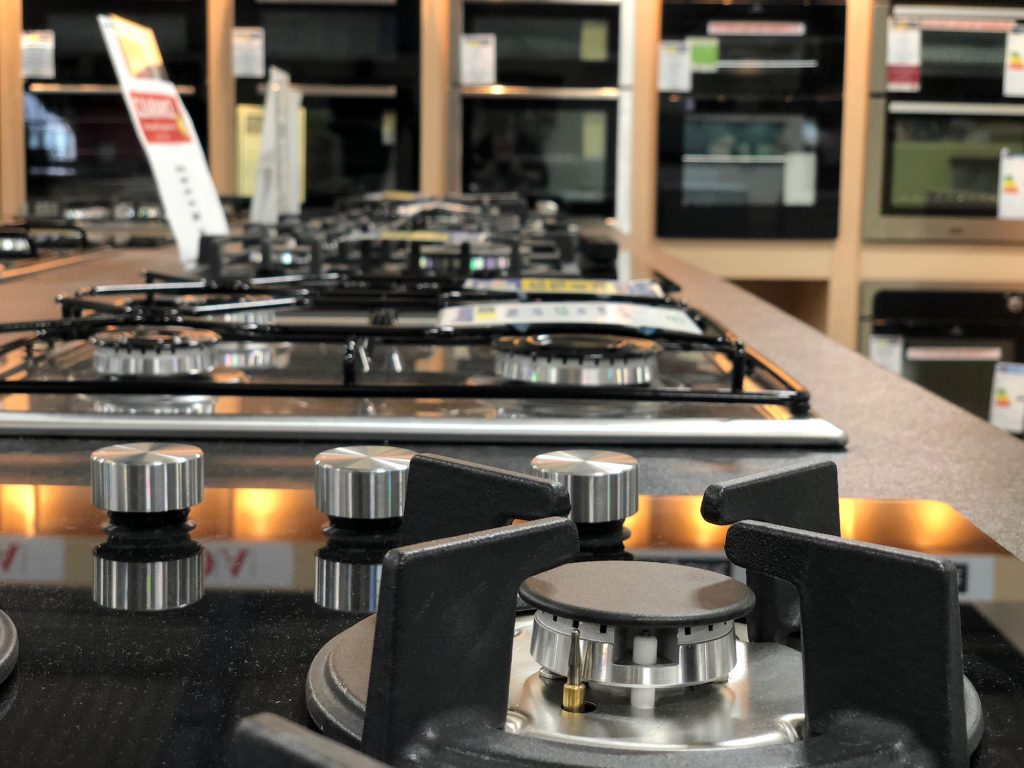 The clients were absolutely thrilled with the results of this visit, especially as they had been to two other Kitchen Companies that told them that they could not have the ovens they wanted as they didn't have the required supply so they had been left very disappointed. This is why I always advocate a home visit. Not only does it allow me to give my clients better design advice, but it also allows us to work through the potential challenges and issues together to make sure that the client gets as close to what they want as possible.

After my home visit, I created a kitchen design over the next week and when we met up again for our next consultation, they were so pleased with the results. The basic core design was now agreed upon, so now this next consultation was all about desired features (which I'd advised them to think about while I was creating the design in the past week). We discussed design additions such as:
a 150 wine cooler
a recycle bin
a splash back for the hob to assist with easy cleaning
a breakfast bar as they still wanted wood features as a material contrast
slide out units for the larder unit and for under the oven for storage of pots and pans
an open shelf unit facing into the dining room to be used as a bookshelf
Once we had our dream kitchen design, the next step was to price it to see if everything was within their budget. They received this quote from me within a few days and I heard back from them a week later asking to book an appointment to pay a deposit.
Now all that was left to do was to order and install their kitchen in their home! I arranged a site visit with one of our fitters, Andy Bowen, and we discussed lighting options, electrics, and new flooring with the clients. They were highly impressed when Andy said he could undertake all the work for them as they would have had to have arranged to get in several trade people for different elements otherwise. Once everything was agreed on, a date was settled and the ordering process began.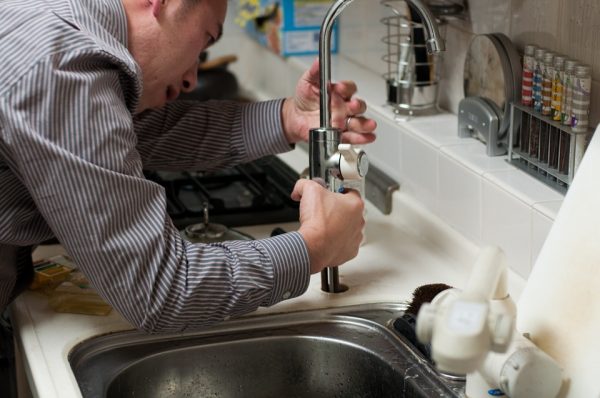 5 weeks later the furniture arrived and Andy carried out the installation in around 9 working days. The clients couldn't believe that the initial kitchen design that they had made was completed and they were absolutely thrilled with the results!
Don't settle for anything that isn't exceptional
Whether you've been through the kitchen design process before and haven't achieved the results that you wanted or you've always wanted to design your own kitchen but don't know where to start, Emma can help you make your dreams a reality.
At KitchensbyEmma, we help you create a working space that suits your every need, making possible what others say isn't.
Emma Reed – Kitchen designer – 01792 712000
Looking for more kitchen advice and inspiration? Check out some of our other articles!