Creating an open plan kitchen can seem daunting. Whilst they promise more space, better lighting and a hub for socialising - with so many designs to choose from, it's difficult to know what is best for you. Thankfully we've put together our top 5 pieces of advice to help you design the perfect open plan kitchen for your home.
1. Decide how you want to use the space
Before you can begin designing your open plan kitchen, you need to decide how you want to use the space. Maybe you want a larger kitchen for cooking? An official dining area for hosting? Or perhaps some extra living space for the family? Whatever it is, you must be clear about your priorities, as they will be the foundations of your overall design.
2. Design your layout
Once you know what you want from your new kitchen, you can then begin choosing your layout. Designing a floor plan is an important part of creating an open plan kitchen, as it will determine the flow and functionality of the room.
To ensure you get the most out of your space, we recommend consulting a kitchen designer. Whether you want a kitchen-diner, a kitchen-living space, or a combination of both - they're able to create a layout that is unique to you and your home.
3. Find your style
After you've laid the initial groundwork, you can start making some stylistic choices. The aim is to create a cohesive look throughout your entire space, so you want to choose a design that compliments both you and your home.
Our advice is to make sure you're clear on two things: the style and the colour scheme. These two elements will be at the centre of every decision you make. Whether that means choosing sleek cabinetry and striking light fixtures or soft furnishing and wooden finishes - it's these details that tie everything together. So focus on creating an open plan kitchen that is as welcoming as it is functional.
4. Define your zones
To get the most out of your open plan kitchen, we recommend creating specific zones within your space. Using furniture to separate your kitchen from your living room (and vice versa) is an amazing way to create the illusion of separate rooms whilst still keeping an open and airy feel.
We think islands are a must-have when creating an open plan kitchen. They seamlessly separate the kitchen from the rest of the room whilst providing you with extra worktops and storage. If space is limited, don't worry! Just add some stools, and you've created a breakfast bar too.
For the living area, we recommend using soft furnishings to section off that portion of the room. And as an added tip, consider investing in quiet appliances - you'll thank us later.
5. Maximise your storage
Perhaps not your first priority, but we strongly advise maximising your storage space when creating an open plan kitchen. In fact, we insist! Why? Because an open plan kitchen is exactly that - open. Meaning the clutter in your kitchen is also on full display in your living and dining area.
By prioritising storage solutions, you can keep your surfaces clear of clutter, making your space seem bigger and overall more relaxing.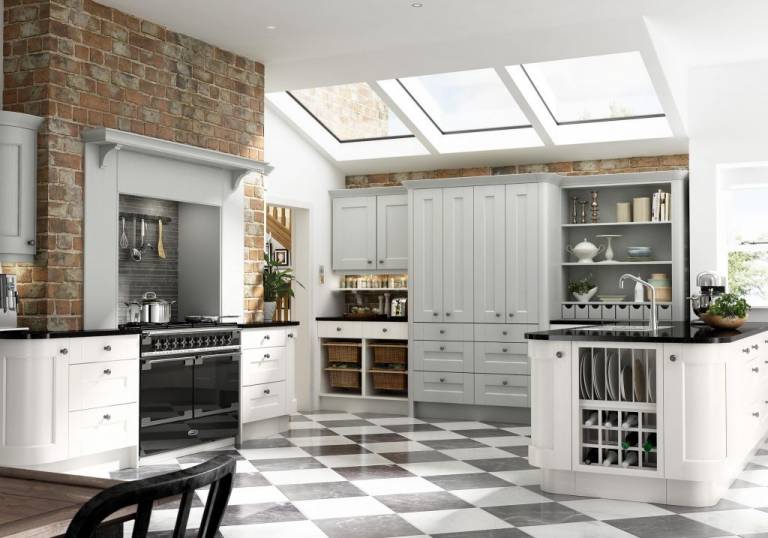 With these five pieces of advice, you'll be on your way to creating an open plan kitchen in no time! Whether you use one, or all of these tips, the most important thing to remember is that functionality is key. The best open plan kitchen is the one that works for you, so design it to suit your every need.
__________________________________________________
Need help designing your dream kitchen?
As a kitchen designer, I love creating a stunning space where life is easy and memories are made! If your kitchen needs upgrading, modernising or a complete renovation, let's have a conversation and see what you could do with your space.
A new kitchen with a specialist design is more cost-effective than you may think – just get in touch with us today for a free in-store kitchen design consultation and we'll show you how.
Emma Reed – Kitchen designer – 01792 712000
A few more from us…