A kitchen layout can make or break a kitchen.
Most kitchens are designed with the 'work triangle' in mind to join the three most essential elements of the kitchen: the sink, the refrigerator, and the oven. While this layout does increase efficiency when it comes to cooking, it isn't always suitable for the other uses that the kitchen is used for today.
Like most things in life, the kitchen has evolved over time into a room that is used for so much more than cooking and preparation. Today, the kitchen has multiple uses; it's the hub of family life, it's an area for hosting and socialising, it's a room that has become inclusive with the rest of the home.
A good kitchen layout also depends on a range of factors that need to be considered. To choose a kitchen layout that suits you and your space, you need to ask yourself - what is the size and shape of your space? What is your cooking style? Do you spend more time at a particular workstation than another? Do you want a kitchen primarily focused on cooking and prep or do you want to combine it with your dining or living space?
Only when you know exactly what you want and need out of your kitchen can you choose the best kitchen layout for you. If you don't, then you run the risk of finding out later that it isn't working for you (but now you are out of pocket quite a lot!).
To help you choose the right kitchen layout for you and your space, here is our quick guide.
1. One-wall Kitchen
What is it?
A one-wall kitchen does exactly what it says on the tin: the layout involves all cabinets and appliances mounted on a single wall in a line. In terms of the 'work triangle,' having the three workstations (sink, fridge & oven) in a straight line increases efficiency when it comes to preparation, cooking and cleaning.
Best for: studio flats & loft apartments as they utilise minimum space.
Design tips: never place the three main workstations (sink, fridge & oven) side by side as you need free worktops to work on between them. If you need more space, then you can always add in a mobile island! When it comes to visual decor, consider opening up the cupboards to create the illusion of a bigger space.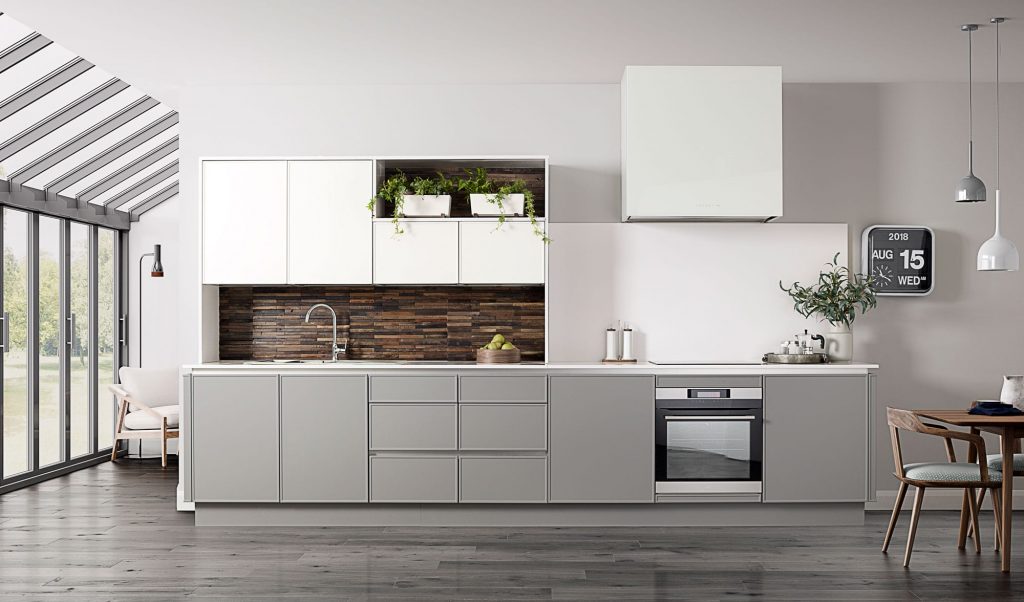 2. Galley Kitchen
What is it?
Named after the diminutive ship's kitchen, the galley (a.k.a the parallel kitchen) is one of the most efficient kitchen layouts. Comprising of two rows of cabinets running parallel to each other, this kitchen style allows an effortless workflow as well as plenty of foot traffic with no issues.
Best for: narrow rooms or open plan if you have an island in the middle.
Design tips: if you have a narrow space, stick to paler colours for the walls and avoid having tall units or too many wall units. The last thing you want is to clutter the space. When it comes to the 'work triangle,' we recommend separating the cooking zone from the wet zone (e.g. sink on one side and the fridge and oven on the opposite side).
3. U-shaped Kitchen
What is it?
Also known as the horseshoe kitchen layout, the U-shaped kitchen creates an efficient work triangle whilst also providing additional floor, counters and cabinet space. This layout has three walls of cabinets and appliances joined in a U-shape.
Best for: medium to large-sized rooms. It is also ideal if you spend a lot of time cooking in the kitchen.
Design tips: a practical layout would include having the cooker and hob at the centre with the sink and fridge at either end of the U. Make sure to use specialised storage solutions to make the most of the space in your corner cupboards and invest in a high-quality, striking surface as you have a lot of worktop space on show. Something like Corian or Quartz would do the trick.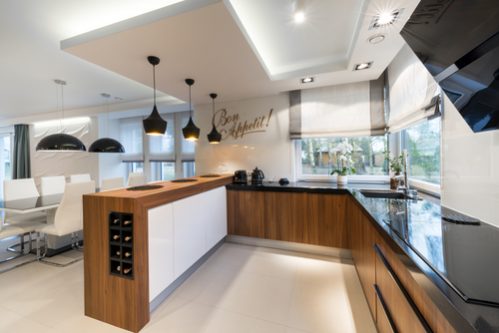 4. L-shaped Kitchen
What is it?
The L-shaped kitchen runs along two walls at a right angle creating an 'L' shape. While the layout may feel open, it still offers sufficient functionality and efficiency, especially if you have the fridge at one end of the L, the oven/hob on the other and the sink in the middle.
Best for: small family homes or for rooms which have limited floor space.
Design tips: consider installing built-in appliances for a clean look. If you have the space, a dining table or a small island can really complete the room and will accommodate socialising.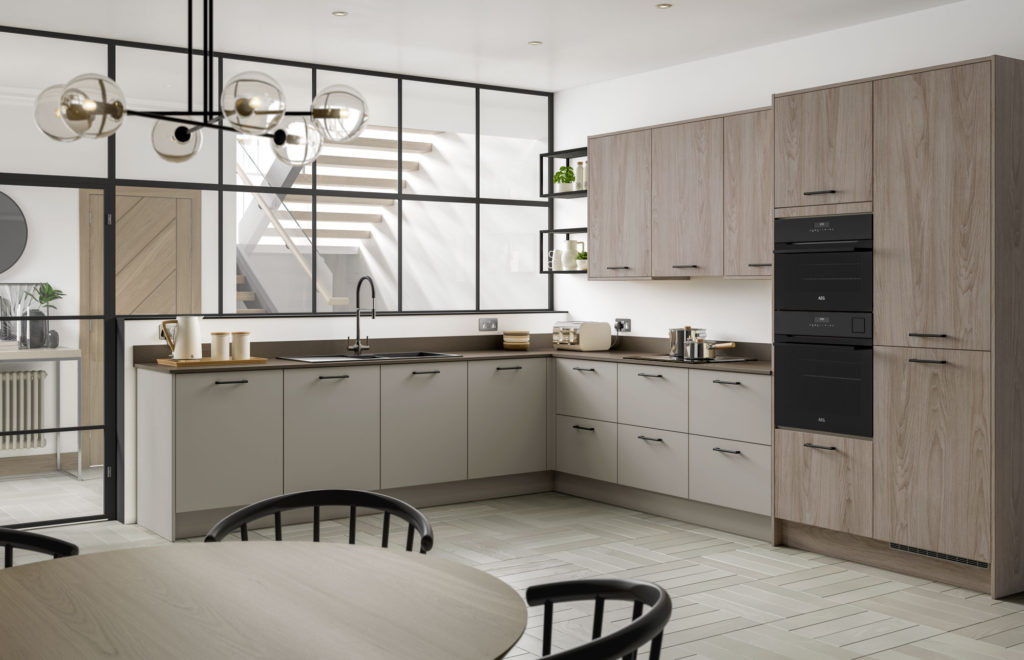 5. Island Kitchen
What is it?
Arguably the most popular kitchen is the island kitchen. Why? Because an island adds more worktop and cabinet space, an area for appliances and the sink; it can also be used as a breakfast bar or a place to entertain! Islands also have the power to evolve L-shaped kitchens into a horseshoe layout, and one-walled kitchens into galley styled ones.
Best for: large rooms or open-plan spaces.
Design tips: make sure that there is sufficient room between the island and all cabinetry so that you can open all doors and drawers. Consider adding a worktop overhang to create a breakfast bar seating area or a stepped-down surface for an informal dining table.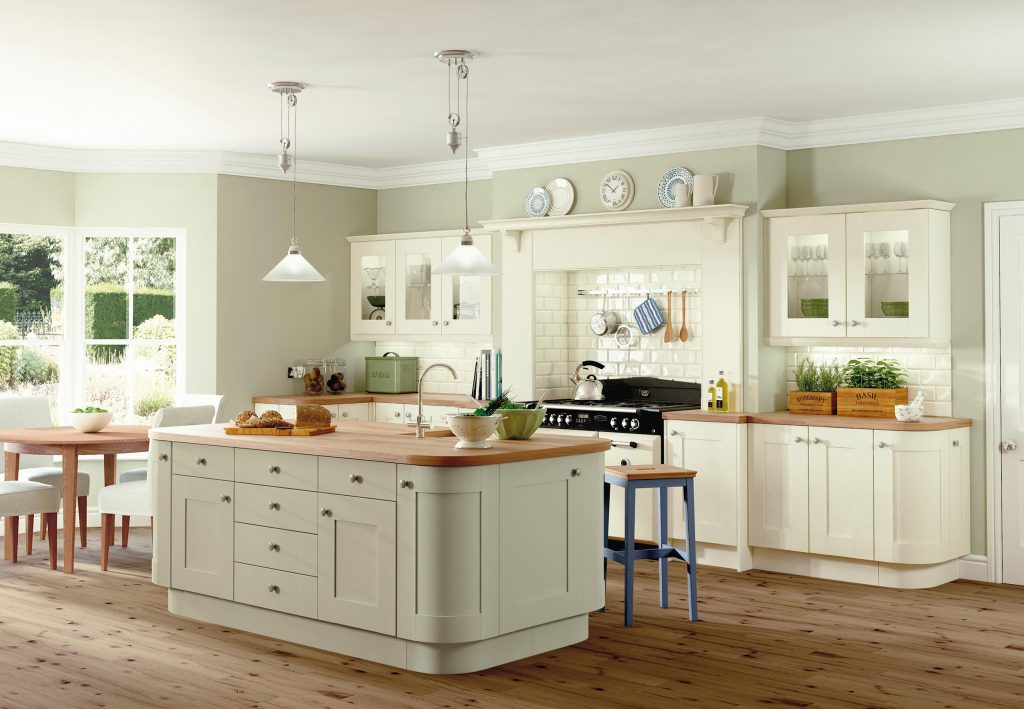 While you may love a certain kitchen range or how it looks, it might not be the best choice for what you want to use it for or for the space that you have in your home.
As difficult as it might be, always try to choose your kitchen layout based on the size and shape of your room, what you will use it for, and how you will want it to flow. Trust us when we say that everything you invest in it then will be worth it!
Create an efficient space that's safe and comfortable for all the family
As a kitchen designer, I love creating a stunning space where life is easy and memories are made! So, if your kitchen needs upgrading, modernising or a complete renovation, let's have a conversation and see what you could do with your space.
A new kitchen with a specialist design is more cost-effective than you may think – just get in touch with us today for a free in-store kitchen design consultation and we'll show you how.
Emma Reed – Kitchen designer – 01792 712000
Looking for more kitchen advice and inspiration? Check out some of our other articles!