Want a new kitchen but don't have the funds? Or are you planning on a remodel, but don't know where to start? Whatever your position, we have some remodel tips that can transform any space from outdated to modern and timeless.
The important thing to keep in mind when renovating and remodelling is the big picture. Every change and design idea needs to be thought of in terms of function as well as aesthetics, to ensure that your resulting kitchen is an effortless space that you can live and work in. With this in mind, here are 8 simple remodel tips to get started with!
Remodel Tips to Spruce Up Your Kitchen
Open Shelving Offers Many Benefits
Many people think that having open shelves can clutter a space, but it actually achieves the opposite. By simply adding open shelves to your kitchen, you can create a spacious and airy feel to your space, whilst also saving on much-needed cupboard storage!
Wide Walkways are Important
When designing or remodelling a kitchen, it's important to think about its use and how many people will be using the kitchen. For example, walkways in a kitchen should be at least 36 inches wide normally, at least 42 inches wide where there's a cooking zone and at least 48 inches wide in a cooking zone with two people. The wider the walkways, the more aesthetically pleasing the space will be to the eye and the easier it will be to work and socialise in. Bear this in mind when planning kitchen islands and peninsulas.
Always Consider Inside the Cabinets
One of our top remodel tips is to always be smart with your storage space, as if you think about inside your draws and cabinets when planning renovations, you could free up valuable countertop space! If you have deep draws, consider an upper-level insert to make the most of the upper space or use in-drawer pegs to keep everything in place. With drawers, you can simply use drawer dividers to easily store multiple utensils that would otherwise be loose.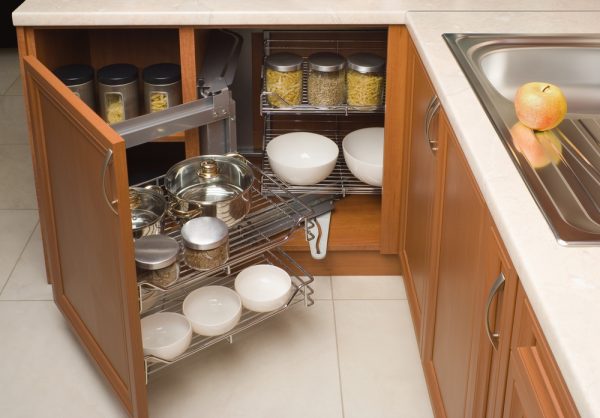 Avoid Corners to Save Space
If you're updating your cabinetry, stay clear of corners! Corner cupboards waste so much space and if designed poorly, can result in doors opening and banging into one another. To increase space and ensure proper function, plan space for the door's clearance, ensure it swings away from adjacent cabinetry and invest in a swing mechanism that pulls the contents out of the cupboard for ease of use of its contents!
Choose Your Focal Point Wisely
Another favourite of our remodel tips, is choosing the focal point of your new kitchen. From a design point of view, a focal point of the kitchen is essential to make a statement, drawing the eye immediately to this feature and then allowing it to take in the whole space. By choosing your focal point, be it splashy tile, copper accents, a statement hood, wooden floors, or bright kitchen cabinets or patterned countertops, you can then complement the main feature with a few quieter details here and there to create an overall pleasing space.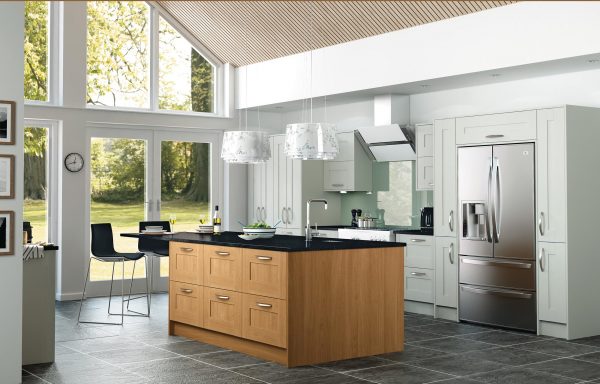 Create Kitchen 'Stations'
Great remodel tips when considering both aesthetics and function, always recommend to keep your kitchen in categories or stations. For example, in an area where you have the kettle or coffee machine, you should consider where you would put your appliances and gadgets that you will need. Will you put up hooks to hang your mugs above? Perhaps a small open shelf where you'll keep your colourful coffee pots or tea bags? By grouping your kitchen into uses and storing your accessories that you'll need together, you are ensuring that the workflow of your kitchen is the best that it can be.
The Best Embellishments are Practical Too
Although there are some design elements that are purely decorative, many embellishments that stand out more are those that come with a handy practical solution. Something simple like an elegant dowel rod with pierced corbels to keep your utensils in reach or an island with legs and feet or wheels for mobility or use as a breakfast bar. Get creative and give your kitchen a practical flare!
Don't Forget to Display Your Personality
Although there will always be showroom kitchens that we can fall in love with, the best way to make a design yours is to display your personality. Do you have a stunning jug that you bought abroad or a funky dining set that is too good to hide? Opt for glass-front cabinetry doors or open shelving to display them proudly!
So what are you waiting for? Implement these remodel tips when you're sprucing up your kitchen and watch your space transform right before your eyes!
We offer free consultations if you need help or advice with your kitchen design…
As a kitchen designer, I love creating a stunning space where memories are made! So, if your kitchen needs upgrading, modernising or just give it that much-needed breath of life, let's have a conversation and see what you could do with your space.
A new kitchen with a specialist design is more cost effective than you may think.
Emma Reed – Kitchen designer – 01792 712000